He was appointed as the Director General of Quality and Environmental Assessment for Ecological Transition barely six months ago and this civil engineer has had to act as plumber To unblock the first major administrative plug caused by the avalanche of renewable projects presented in recent years. Previously in the government of Castilla-La Mancha, Marta Gómez Palenque (Cuenca, 47 years old) currently heads the department of state responsible for decision-making on environmental impact assessments of proposed large wind and photovoltaic farms of more than 50 megawatts (MW) We do. Who can proceed with the process and who cannot.
Question. The Ministry of Ecological Transition had 31 months to evaluate the avalanche of renewable files (one file can bring together several projects). What does this mean for your department?
answer. We're not going to deny that the volume that we've dealt with has overwhelmed us, it's made us nervous, but it's been a beautiful moment, because you realize that whatever Happening, you are contributing to this need to deploy renewable energy.
P. How many files have finally been assessed and how many have received a positive environmental impact statement to continue with their construction?
R. 202 files have been evaluated, of which 154 are positive, 36 negative and 12 archived.
P. Are any files with January 25 deadline still pending for resolution?
Information is the first tool against climate change. Subscribe to it.
to subscribe
R. Not in the capacity of the ministry. There are autonomous communities that have publicly stated that they have not been able to review all the files and there are still some projects of autonomous capacity, which are connected to the distribution network, taking into account the date after January 25. You can get resolution. Which he accepted the technical and economic terms of connection as per the norms of CNMC.
P. The 154 files positively assessed by the ministry represent how many megawatts?
R. The total volume managed by the ministry has been 35,879 megawatts (MW) and valuations have been favorable for 27,943 MW, of which the majority, 24,752 MW, correspond to photovoltaic, 2,897 MW wind and 294 MW hybrid installations. But it doesn't end with the January 25 milestone, we have completed evaluation of 202 files and now have 300 more in our portfolio, with the expectation that entity packages will continue to enter.
P. With these 24,752 MW of photovoltaics, added to the more than 15,200 already in service, the current target for this technology for 2030 will be achieved without counting the parks already managed by autonomous communities. How does this change expected renewable targets?
R. A Positive Environmental Impact Statement is not a direct passport to construction. Administrative authorizations are still to be obtained, not only from parent body, from city councils, from hydrographic associations, from cultural heritage, from natural heritage of autonomous communities… The developer still has a long way to go until he can Might as well create his project. Having said that, we should also bear in mind that the European Commission and the EU are all increasing renewables targets due to the war in Ukraine, and Spain is going to increase them accordingly. Furthermore, the goal is to reach CO₂ emission neutrality by 2050 and the sooner the better.
P. How many people have worked on environmental assessment of these projects in the ministry?
R. In total we will be about 50 people in the environmental assessment team. We do not work only on renewable energy projects, we should also evaluate plans, programs and other projects. What has been done to plan internal teams so that 90% of the employees of the General Sub-Directorate for Environmental Assessment can evaluate renewable energy.
P. These are the largest wind and photovoltaic projects above 50 MW that the ministry is evaluating. Do you know what happened to the smaller projects in the various autonomous communities that also had to be resolved by January 25?
R. We've been talking to him throughout the process and we plan to have meetings for a week or two, but I don't know the final number.
P. 76% of the files assessed by his department have received a positive environmental declaration. Is this percentage higher or lower than normal?
R. It is within normal. This sounds like a lot, but it should be kept in mind that projects that receive a positive declaration are generally modified until the environmental impact is known and a resolution can be issued. In fact, we can be on the 75% of projects that have had revisions. There are wind projects with 30 wind turbines that we have reduced to seven, and photovoltaic projects with less than half the area. Environmental assessment is a guaranteed techno-administrative process that extends in time from these comings and goings. That is why we have finally resolved in the last month, because you have to be absolutely sure that the project can come to fruition.
P. What do you think about the backlash against large renewable projects coming up in different parts of the country because of their impact on the environment?
R. Here we act with the maximum possible objectivity and environmental impacts are analyzed in accordance with our environmental assessment legislation. All environmental announcements that turn out to be negative because we are not sure they will not create an impact on the sector, that come out positive we can assure that they will not.
P. But aren't these installations harmless too?
R. One aspect to be kept in mind is, in the projects appraised, corrective measures are taken, compensatory measures are taken and an environmental monitoring plan is required during construction and during operation. If any unforeseen effects appear at these later stages, the project is subject to the incorporation of new measures that the autonomous community and we as a state environmental body establish. This means that there is a guarantee that the project will have no impact on the environment. Of course, subjectivity also enters here, but we evaluate with the maximum possible objectivity and the effects are thoroughly studied.
P. Has the new simplified procedure to exempt certain projects from environmental assessment been implemented?
R. We are implementing a simplified procedure since Royal Decree 6/22 of March 2022. Spain was ahead of the process, later approved by the EU due to the current situation and the need to accelerate the expansion of renewable energy. But this process does not mean that it is not guaranteed. This does not exempt the promoter from giving us an environmental impact study, a preliminary project and an executive summary, where he tells us what impacts his project will create in the environment and how he is going to mitigate them. With this information, the background we have and in consultation with the autonomous communities, we determine whether the project can continue through this route of environmental assessment report or we send it for a general environmental assessment.
P. In addition to the 154 renewal files that have received a positive general declaration, how many projects have been able to pass this express process without a declaration?
R. So far, considering both the January 25 milestone, and subsequent files submitted, 128 requests to process with environmental assessment reports have been received and 33 have proceeded (1,891 photovoltaic MW and 135 wind MW ). Of the rest, 30 have been rejected, 35 withdrawn, 18 will undergo general evaluation and 12 are still under analysis.
P. The new law approved now makes this process more flexible for renewable projects. Do you still think the process is warranted?
R. We cannot forget the current context, Europe is asking us to deploy renewable energy because of the war in Ukraine and we have spent the last months of 2022 in a negotiation process which is reflected in regulation 2022/2577. In its article three, this European regulation clearly establishes that renewable energy projects, their construction, their exploitation and their connection, are in the best public interest. This means that processes can be reduced to a minimal expression. Renewables deployment needs to be a priority for all, but Spain has been the only member state that has managed to incorporate some of these ideas into regulation, claiming to ensure environmental balance. We have tweaked Royal Decree 6/22 a bit more and issued Royal Decree 20/22 with more simplifications due to the European mandate, but we have balanced the need to deploy renewable energy with the environment. protection.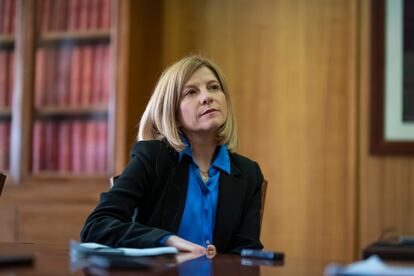 P. Environmental assessment technicians and ecologists have warned of the lack of environmental guarantees in this express manner and the suppression of consultation projects for public information.
R. This is not true at all, a prior consultation that had already been done in Royal Decree 6/22 continues. In any case, from the ministry, we are looking at how we are going to disseminate this information so that it is accessible to all citizens and reduce this deficit as far as possible. In any case, environmental guarantees are not relaxed. With the knowledge we have, it is extremely difficult for any project to be approved in this way in an area of ​​high environmental sensitivity, as projects can go into a general environmental assessment if we determine there is minimal impact on the area.
P. Of the 154 renewable files that have passed the General Environmental Declaration favorably, how many are in areas of high environmental sensitivity?
R. You have to cross the database and the final projects that promoters will give to get construction permits are not ready yet. There is a lack of procedures with various organizations which may reveal its inefficiency. In any case, if they do exist after all, they are a tiny minority.
P. Doesn't even that tiny minority have any environmental impact?
R. Most of the projects are located in low sensitivity areas and the ones we have seen are in high ecological value areas, many suffer from orientation variations and setbacks [reducción de superficie] Precisely to keep them away from the place of greatest value. Here we have ensured, as far as possible, that there is no impact on flora, fauna or ecological corridors. And if there are conditions, for example, photovoltaics with steppe birds, then we have introduced compensatory measures. We have come to establish that, for every hectare occupied by a photovoltaic plant, the promoter will have to acquire three hectares in the same area to develop agro-environmental measures that recreate bird habitat .
P. With such a huge volume of projects, how is it possible that there is no common map available to all with the exact location of all the projects still being approved?
R. Yes, it is true that we do not have that map. I think it will be something that will come with time. In any case, I stress that we do not know for certain whether all projects that receive a positive environmental impact declaration are being built.
You can follow the climate and environment on Facebook why Twitterpoint here to get our weekly newsletter