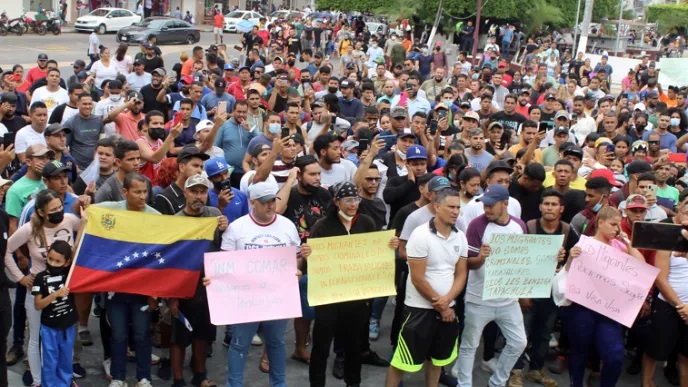 MEXICO CITY — Nearly 5,000 migrants from various countries, mostly Haitians seeking asylum at Mexico's southern border this Monday, forcibly entered the offices of the government's Mexican Commission for Aid to Refugees (COMAR).
Migrants had gathered since the weekend, forming a long line and completely blocking a road on the outskirts of Comar in Tapachula, a city on the border with Guatemala.
Foreigners grew tired of waiting for Mexican authorities to attend to their asylum requests.
Besides Haitians, there are Venezuelans, Cubans, Peruvians, Panamanians and other Central American countries, and they piled up in the absence of officials.
Yanela, a Cuban expatriate, lamented that they remain unanswered on public roads, for which she believed that the authorities should organize people by country so that there would be more order and agility in their processes.
"We want the papers to remain legally in Mexico and continue to travel to the northern border with the United States," he said.
Migrants arrived from Sunday night to sleep in order to move in and occupy the space to shift.
"We came in on 31 December, we saw a huge crowd of people, it became a real chaos and disorder, so it is important that the authorities act on the matter, because it could get out of control," he commented. Jordi Armando.
Given the demands, Komar officials warned migrants that they would only serve families with children, so other adults would have to wait their turn in line.
The facts reflect record migrant flows into the United States, with the Office of Customs and Border Protection (CBP) detaining an unprecedented number of undocumented immigrants in fiscal year 2022, more than 2.76 million.