If there's one thing money can't buy, it's good taste. For everything else: MasterCard. This sentence could be the conclusion of this article in which we show you one of the most painful insults ever inflicted on a sports car icon like the Porsche 911. Based on the current generation Porsche 911 Turbo S, Mansory developed the P9LM EVO 900. A car that won't leave you indifferent and may make Porsche purists' eyes water.
The entire car was "decorated" with one. Mansory line body kit, that is, exaggerated to the extreme and not at all discreet. It is a built-in body kit forged carbon fiber, of very high quality and prohibitive price. But that doesn't make it pretty: at the rear of the car the design is particularly elaborate, with a two-level spoiler, a central air intake for the engine and aerodynamic lips everywhere. Turquoise tones mix with the carbon fiber, which is visible in a gradient.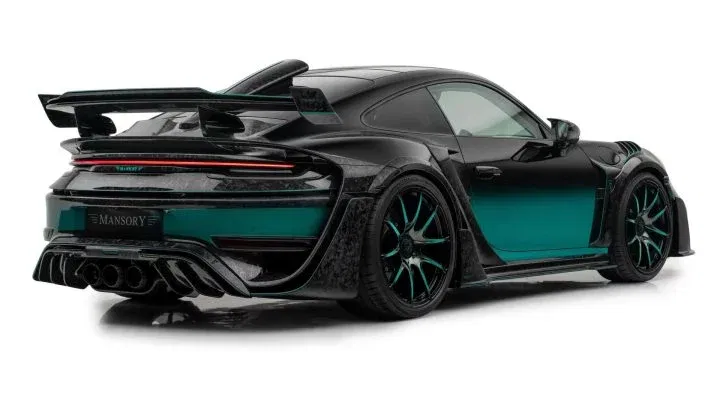 I would like to make this clear at this point Mansory's work is a work of art in terms of technique, precision and quality. But the same thing would have happened if Michelangelo had created a plump man relieving himself instead of his David. Impeccable execution, but an initial idea that isn't quite enough. The rear of the car has a third spoiler above the optics of the car, and in the diffuser we have three exhaust pipes in the purest Honda Civic Type R style. I tried, but I admit I can't get it anywhere.
At least the interior will be an oasis of calm from this baroque overdose, right? The question is rhetorical, the interior is even more depressing. Various shades of turquoise and white are mixed into the carbon fiber. All leather pieces have different stitching or geometric shapes. Even the floor mats are made of leather and the steering wheel has supposedly ergonomic bulges. The preparation also affects the mechanics of the car, a 3.8-liter boxer engine with twin turbo that produces a whopping 650 hp as standard. It's not a slow car.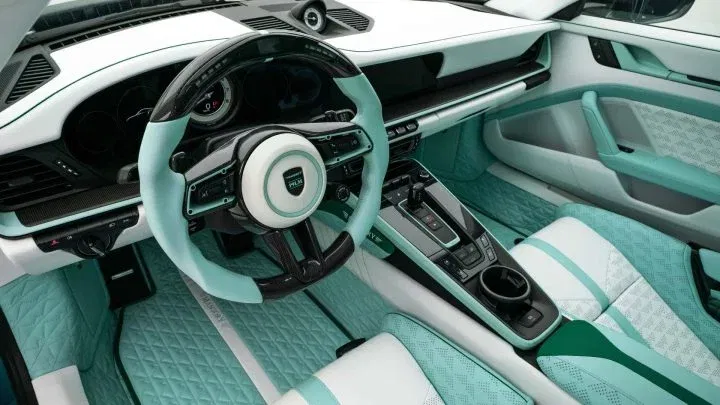 Money can't buy good taste, but it can buy cars like the Mansory P9LM 900 EVO
The engine gets new larger diameter turbos, a new intercooler, the exhaust you saw in the pictures and we imagine a deep electronic reprogramming. There was no talk of reinforcements in the transmission or all-wheel drive, but the end result was 900 hp power and a maximum torque of 1,050 Nm. On paper he is capable of doing this From 0 to 100 km/h in just 2.5 seconds – 0.2 seconds less than standard – and its top speed is 340 km/h.
The price is not publicly known, but such conversions can be as expensive or more expensive than the starting vehicle. The only positive thing about this case is that They are just sacrificed, I mean 10 units are made of the Porsche 911 Turbo S with P9LM 900 EVO package from Mansory.