How many ice ages have there been on Earth, and can humans survive in them? — Mason C., age 8, Hobbs, New Mexico

First of all, what is an ice age? Ice ages occur when the Earth has been cold for a long period of time – millions to tens of millions of years – causing ice sheets and glaciers to cover most of its surface.
We know that Earth has experienced at least five ice ages. The first occurred about 2 billion years ago and lasted about 300 million years. The latest began about 2.6 million years ago, and in fact, we're still technically in it.
So why is the Earth no longer covered in ice? This is because we are in a period known as "interglacial". In an ice age, the temperature fluctuates between cold and warm levels. Ice sheets and glaciers melt during a warm phase, called interglacial, and expand during a cold phase, called glaciation.
We are currently in the most recent warm interglacial period, which began about 11,000 years ago.
What was it like to live in the Ice Age?
When most people talk about the "Ice Age", they are usually referring to the last glacial period, which began about 115,000 years ago and ended with the beginning of the current interglacial period about 11,000 years ago. .
At that time, the planet was much cooler than it is now. At its peak, when the ice sheet covered much of North America, the global average temperature was about 46 degrees Fahrenheit (8 degrees Celsius). This is 11 degrees Fahrenheit (6 degrees Celsius) cooler than the current global mean annual temperature.
The difference may seem insignificant, but that era covered much of North America and Eurasia with ice sheets. The Earth is also drier, and the sea level is much lower, as most of the Earth's water is trapped in ice sheets. Dried grasslands are common. So are savannas, or hot grasslands, and deserts too
Many animals that existed during the Ice Age were familiar to you, including brown bears, caribou and wolves. But there are also megafauna that went extinct at the end of the Ice Age, such as HugeMastodon, the sharp-toothed cat and the giant lizard.
There are differences of opinion as to why these animals became extinct. One of them is that humans hunt them to extinction.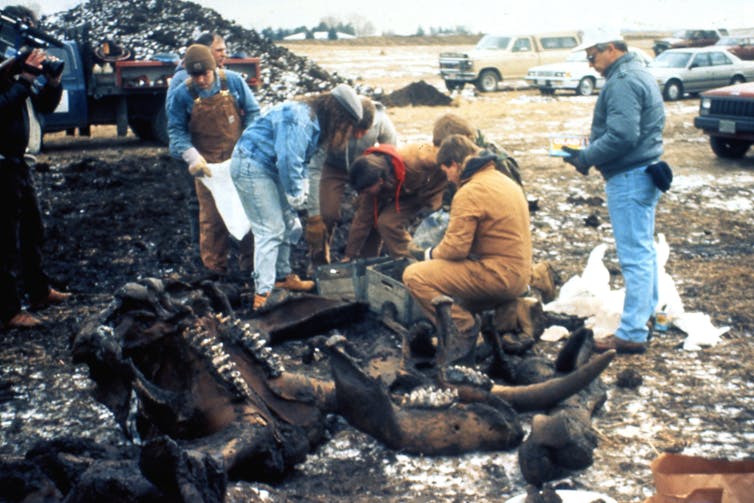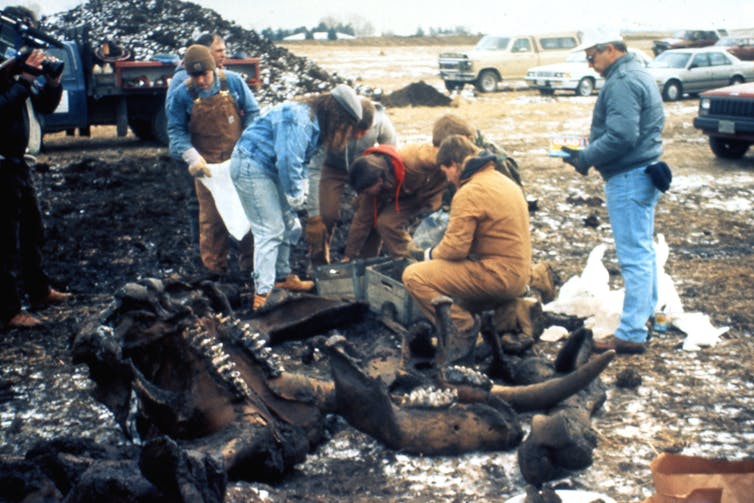 Wait, Were There Humans During the Ice Age?!
Yes, people like us lived in an ice age. Since our species, a wise manAppeared in Africa about 300,000 years ago, we have spread all over the world.
During the Ice Age, some populations remained in Africa and did not experience the full effects of the cold. Others migrated to other parts of the world, including the cold glacial environments of Europe.
And they are not alone. At the beginning of the Ice Age, there were other hominin species – a group that are also our direct ancestors and closest relatives – throughout Eurasia, such as Neanderthals in Europe and the mysterious Denisovans in Asia. Both groups appear to have become extinct before the end of the Ice Age.
There are many ideas about how our species survived the Ice Age when our hominin cousins ​​did not. Some think it has to do with how adaptable we are and how we use our social and communication skills and tools. And it seems that humans did not stand still during the Ice Age. Instead they moved to a new area.
It has long been believed that humans did not enter North America until the ice sheets began to melt. But fossil footprints found in White Sands National Park in New Mexico suggest that humans have been at the height of the last ice age in North America for at least 23,000 years.
---
Do you have any questions you would like to ask an expert? Ask a parent or an older person to help send us your questions.
While submitting the inquiry, ensure that you have entered your abbreviation, age and city of residence. you can:
---
Arina Apsarini from the University of Binas translated this article into English.