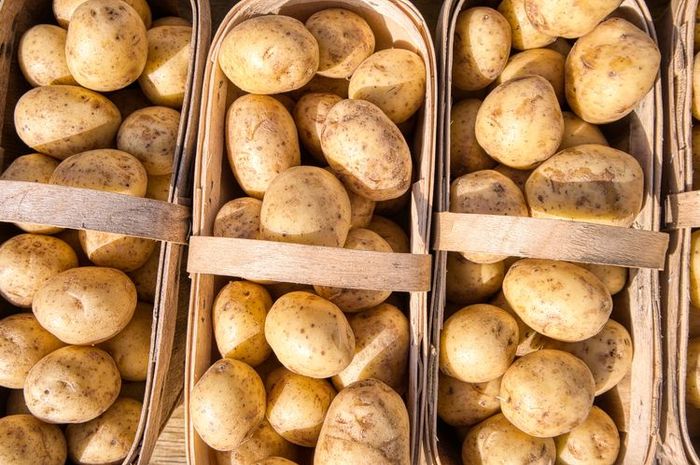 Unsplash/Eric Prouzet
Potatoes, can be used as a natural wart remedy to get rid of genital warts.
GridHEALTH.id – Genital warts (condylomata acuminate) is very common. But many cases go undiagnosed.
Most cases of genital warts are caused by human papillomavirus (HPV). There are more than 120 types of HPV, but low risk types (lrHPV) 6 and 11 are the types that cause genital warts.
These HPV strains do not usually cause cervical cancer. The 14 most cancer-causing HPV types include types 16, 18, 31, 33, 35, 39, 45, 51, 52, 56, 58, 59, 66 and 68.
It is important to remember that getting rid of external genital warts does not mean that you have gotten rid of the HPV virus. Although rare, HPV can cause genital warts and cervical cancer. We may also have more than one type of HPV.
Viruses that can cause genital warts can remain dormant in the body for a long time. So even if we treat the warts and get rid of them, they might come back.
According to a 2012 research review, there is no one standard treatment for genital warts that is approved by healthcare professionals.
Different doctors may use different treatments for genital warts, depending on the type of wart or how long you have had it.
Treatment may include taking medication, freezing the wart, cutting the wart, and removing the wart with a laser.
We can also try to treat genital warts by using natural home remedies.
One of them is using potatoes. People claim that potato juice can "reduce" warts, but there are no studies on its effectiveness.
To try this method, cut a small potato in half. Rub the cut side of the wart until it is covered in potato juice. Repeat twice a day.
Can genital warts go away naturally? For some people, genital warts go away on their own within 2 years. But it is important to get treatment to speed up the process.
If we have HPV, will we get genital warts? No, having HPV does not mean you will automatically have genital warts.
We can help treat genital warts at home. But we still have to see a doctor to check for and treat sexually transmitted infections (STIs) that may be causing warts.
If an STI causes warts, you may need additional medication to treat the condition and prevent transmitting the infection to any sexual partner.