After being announced globally in Bangkok, HUAWEI has finally brought the HUAWEI MatePad Pro to Indonesia. HUAWEI MatePad Pro is a powerful tablet with a PC-like professional performance that is perfect for both productivity and entertainment. Present as the lightest 11-inch tablet, weighing just 449 grams and is crowned as the thinnest 11-inch tablet with a thickness of just 5.9mm.
Apart from its very slim and lightweight design, HUAWEI MatePad Pro is also backed by OLED FullView display technology with high refresh rate of 120Hz which delivers bright colors, sharp scene details, dynamic motion and good color saturation capabilities in various lighting conditions. produces. ,
HUAWEI MatePad Pro also comes with the highest screen-to-body ratio for a tablet in its class of 92% and is the first Huawei tablet equipped with the latest HUAWEI Sound, 6 speakers with Ultra Bass enhancement that delivers Best audio experience for cinematic entertainment.
To support productivity, this tablet is paired with the latest Smart Magnetic Keyboard to enable it to be used in three modes of usage, namely Laptop Mode, Detachable Mode and Studio Mode.
In laptop mode, magnets and Bluetooth will easily connect the tablet to the keyboard for a laptop-like display. The keyboard can also be charged wirelessly. While in detachable mode, the keyboard can be detached from the tablet, but still connected via Bluetooth.
For creative workers or note-taking tasks, the Studio Form may be the most comfortable mode to use, with the keyboard stand supporting a steady working angle of 120° to 165°. To ensure a real PC-like experience, the Huawei Matepad Pro features 1.5mm of travel for a comfortable and efficient typing experience.
HUAWEI MatePad Pro also uses Enhanced Signal 1.0 technology in a hidden antenna embedded in the rear of the keyboard which is useful for amplifying the signal from the tablet. With Enhanced Signal 1.0, tablet users can enjoy enhanced network signal coverage anytime and anywhere for better work efficiency and productivity.

Overall, this tablet is also backed by Huawei M-Pencil (2nd generation) and comes in a white color wrapped with polymer silicone resin to make it easy to hold and easy to use.
Thanks to the 'Take Snippets' feature developed from the stylus, you can not only capture the content contained on the tablet's pages one by one, the user can continue to screen capping page by page even when switching from the web page. can. Various applications.. Users can take notes in any application even while watching videos by activating the annotate feature.
HUAWEI MatePad Pro is also supported by the cross-app color selection feature. This feature expands color options with just one touch to transfer color references from one application to another.
For example, if the color palette in a note-taking application such as HUAWEI Notes or Mojing Paint is inadequate, users can retrieve colors from the browser or from the gallery of photos that have been taken to get the true colors.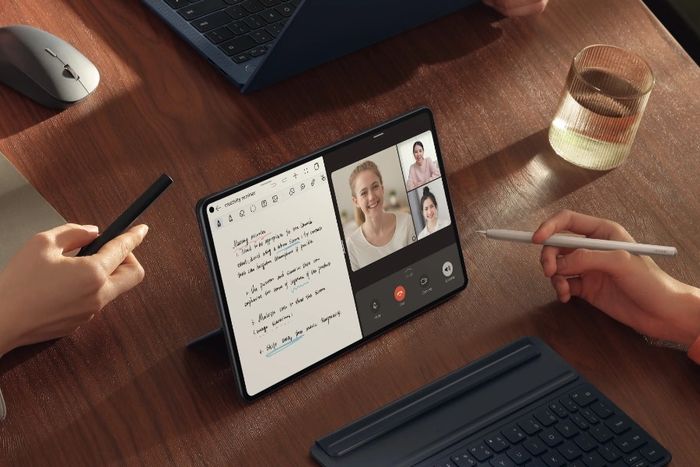 First HarmonyOS 3.0. with
HUAWEI MatePad Pro is the first Huawei tablet to feature the advanced quality HarmonyOS 3.0 operating system. Presents the best PC interface for multitasking, flexibly allowing users to open up to 4 tasks simultaneously from different applications from a single application.
Updates to the multi-window feature are also available on this tablet, ranging from mini floating windows to flexibly adjusted for a PC-like experience. With this capability, users can do many things at the same time.
AppGallery offers HUAWEI MatePad Pro users a great selection of apps to enhance productivity. Various important applications like WPS Office, Microsoft Office and Zoom can be downloaded from AppGallery. Supports creation and ability to access files in a variety of formats, including Word, Excel, PDF, PowerPoint, Forms, and more.
Apart from this, users can also back up their data on HUAWEI Mobile Cloud, which makes it easy to access these files on multiple devices.
Pricing and Availability
HUAWEI itself has not disclosed the official price and has only announced that its first sale via pre-order will take place on August 16 – 26, 2022 online through leading e-commerce sites in Indonesia such as Tokopedia, Shopee and Blibly. will begin.
During the pre-order period, customers have the opportunity to get bundled by acquiring HUAWEI Smart Magnetic Keyboard and M-Pencil (2nd Generation) and benefit from supporting applications for a total of IDR 4.1 million. In addition, later customers can also get HUAWEI MatePad Pro offline at HUAWEI authorized experience stores, Iraphone and other sales partners.