It is the first airline to receive the new Airbus standard with operational improvements and greater comfort, privacy and spaciousness in all cabins.
Samadhan Interpresses11/01/2023
The new Iberia A350 NEXT aircraft, with the registration EC-NXE and named Ciudad de Quito, made its maiden flight, IB6845, from Madrid to Buenos Aires, with a surprise for 352 passengers, timed to coincide with the Christmas dates: A gift of some of the latest generation Panasonic wireless headphones, as well as an amenity kit specially designed for all cabins on this flight, and a cocktail made as part of the on-board service.
The newly released A350 Next Airbus is part of a new standard from the manufacturer, of which Iberia has been the launcher, and is also the first to be equipped with the new Business, Premium Economy and Economy cabins.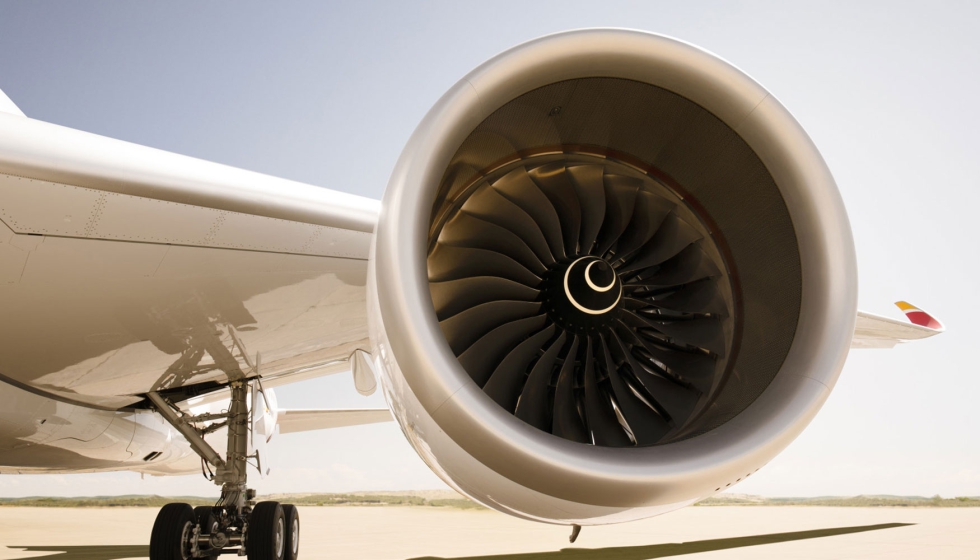 This new aircraft included, among other things, improved behavior at low speeds.
greater operational efficiency
Customers traveling from Spain to Argentina were able to verify the benefits of this aircraft, which has new Airbus standards, specifically the 4, 2022 standard, and includes improvements that increase its operational efficiency and customer comfort , because its cabins are wider.
This new generation aircraft, equipped with the latest technology and designed to fly with maximum efficiency, is built with the most durable materials on the market. In addition, the weight of the aircraft has been reduced by one tonne through structural improvements and lightweight equipment, which enhances its efficiency and significantly improves its performance at the most demanding airports from an operational point of view. gives. & high.
This also includes improving the behavior at low speeds. In particular, they have new flap positions that allow the pilot to select the most optimal configuration for each takeoff; And the retraction of the landing gear is faster, so that the airplane reaches a configuration that presents less aerodynamic resistance sooner.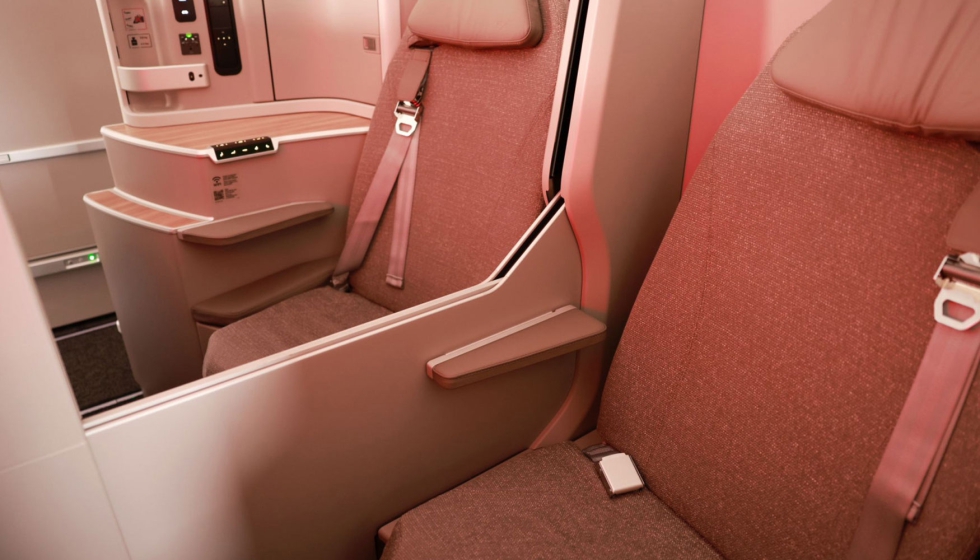 With an independent door and a closed seat structure, Business Class provides each customer with more personal and exclusive space.
Quantitative Leap in Customer Service
In conjunction with the induction of this new generation of A350 aircraft, Iberia is also launching a new product that enhances the travel experience for its customers with a wider cabin, which is available across all its Economy, Premium Economy and Business classes, with greater comfort and Provides better features.
Among the most outstanding innovations, the new aircraft enhances comfort with more privacy, spaciousness and a new lighting environment in all cabins. In addition, it offers state-of-the-art in-flight connectivity and entertainment so that customers can enjoy the in-flight experience to the fullest.
class business
With an independent door and a closed chair structure, each customer is offered a more individual and exclusive space. All seats in this class have direct access to the aisle, and the central ones – called the Honeymoon – include an automatic separator. The chair, with a new design, wood finish and other details that provide comfort and warmth, has a leather headrest and more space for personal items. It becomes a completely horizontal bed, now five centimeters longer, and the number of each seat is projected into the aisle, to facilitate its location when the cabin is dark during rest periods.
Turista Premium
Iberia was a pioneer in the launch of premium economy cabins on its routes with Latin America. This class now also offers more privacy, thanks to the chair's enveloping structure, which also includes articulated headrests that recline and adjust both sides of the head for greater customer comfort. As a novelty, the seat includes a touch navigation panel and a remote control for on-board entertainment with specific gaming functions.
tourist class
The cabin of the new Airbus A350s is wider, which Iberia has taken advantage of to increase the width of each seat by one centimeter, while maintaining the same number of seats per row as its other A350s, thus investing in greater customer comfort. , In addition, the headrests are articulated, they fold and adjust on both sides of the head, as in the rest of the cabin. And under the inflight entertainment screens, the seats include a convenient support for supporting and charging personal electronic devices.

More privacy is offered in premium economy class (left), thanks to the seat's enveloping structure. For the Tourist Class (right), Iberia has taken advantage of the fact that the cabin of the new Airbus A350 is wider, increasing the width of each seat by a centimeter.
IFE Next on the big screen
Another qualitative leap of these aircraft comes from the new generation inflight entertainment system developed by Iberia in collaboration with Panasonic and called IFE Next.
It features a more modern, interactive and intuitive design. Its platform uses the most advanced technological systems in the industry, and the screen offers 4K resolution that protects the eyes and includes a night light to avoid disturbing other nearby customers.
In addition, the new A350 includes larger screens in both premium economy (12 to 13 inches) and economy (10 to 12 inches) classes.
Business and Economy Premium seats have a secondary screen, located in the lower back, which is activated to broadcast messages from the crew without interfering with the reproduction of content. So it doesn't stop the reproduction being seen by the client, but both appearing simultaneously.
A key feature of the new entertainment system is that it allows Bluetooth pairing of individual wireless headphones across all seats and cabins, which also translates into greater freedom of movement and greater comfort for customers. Normal headphones on board (noise cancelling in business and premium economy cabins) will continue to be offered for customers who do not have their own or prefer those provided by Iberia.
In addition, each seat has USB A and C connectors as well as universal power outlets so that customers can charge their devices.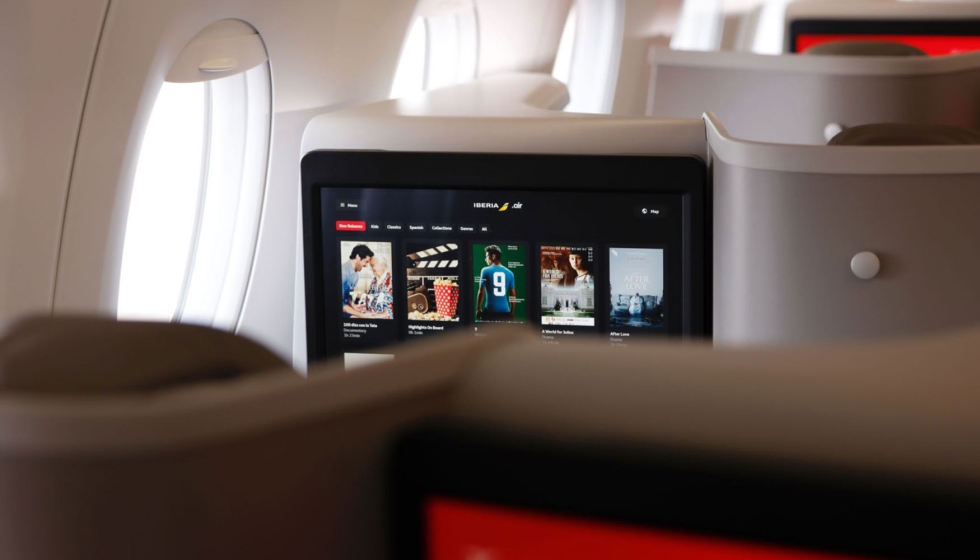 The new A350 includes larger screens in both premium economy (12 to 13″) and economy (10 to 12″) classes.
more welcoming environment
This new generation A350 features 6 distinct lighting environments: waking, dining, resting, sleeping, boarding, take-off and landing, providing ambient lighting suitable for each moment of the journey across all cabins.
In the toilets, the taps work without contact and coatings have been made with antibacterial substances that improve hygiene in these places.