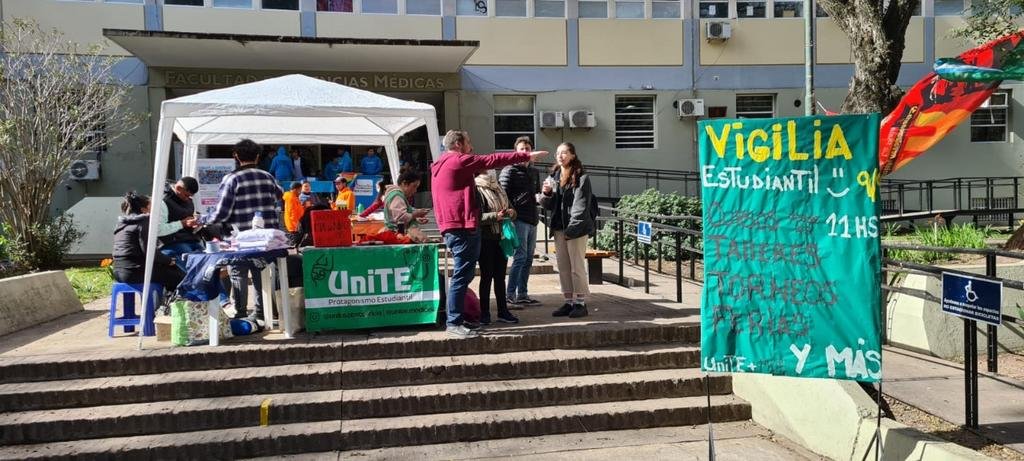 From the debate about the difficulties imposed by the study system, the demand for more classrooms, more activity and better organization, with more teachers and classrooms to avoid bochazos and with the loss of 9 out of 10 students who attend the medical faculty . Dream of becoming a health professional. At that time today there is discussion in the academic community which connects about 300 students in the entrance exam round with free admission up to about 8 thousand at present. The painting was displayed again yesterday, at a claim day where it was chosen to teach university officials on topics of anatomy or medical techniques as a sign of the need to consolidate the work.
The "Japanese style" protest, as ironically remarked near those classes (alluding to the Asian technique of expressing dissent by over-producing), was organized by the student group Unite (it held more than a decade). led the faculty until a few years ago), followed by repeated bochazos in medical courses, both first year and advanced courses. From the end of the first semester, fail lists were disclosed that would reach 80 and 90 percentiles in subjects such as Anatomy and Infectious Diseases. At the same time, according to student complaints, there were difficulties in the examination of two other careers of that faculty, obstetrics and nutrition.
The table led to a resolution by the board of directors, which aimed to put a magnifying glass on those numbers and the tests that produced them. There were complaints about the use of virtual classes (via video conference or web platforms) instead of classic exchanges in the classroom and in hospital wards, with the student body diagnosing difficulties to set the tone with minimum standards. You learn by examining patients.
It was cut with restrictions due to the pandemic, but even with the "new normal" in the rest of the faculties, medicine continues to screen. At least that's what they claim to Unite: "We lack attendance, we don't have drills. We cannot prepare by Zoom", indicated a student leader in the middle of Dawa Diwas yesterday morning.
Unite argues that the percentage of attendance is "too low". Through a statement, it was said that "officers" of the faculty "determined not to return to full attendance" after a period of isolation and that "this was linked to a project of poor training and sanctions."
A few days earlier, after a bochazo in Anatomy, it was reported from that group that "95 percent of students don't make it to the end of the race." Yesterday the position was reinforced by indicating that "many had been abandoned or thrown out because they did not have the necessary equipment for the study."
By the middle of the last decade, the faculty went from about 3 thousand students to 33 thousand. The impetus was fueled by the cancellation of the qualifying entrance examination in 2015, which was pointed to excessive demands.