The presidential candidate of La Libertad Avanza, Javier Miley attended a private meeting of the Oil Club What It brings together the most important business people in the hydrocarbon sector. In front of a full hall, he explained the key points of his proposal, asked for their support and directed the greatest criticism at Together for Change. Accompanied by his key energy advisors, he left to winks, applause and laughter.
It's in the middle of the election campaign Oil Club a company that describes itself as a "social, sports and camaraderie" space for the oil industry invited Milei to one of its meetings at the Libertador Hotel in the heart of downtown Buenos Aires.
It was supposed to be a lunch, but the day before it was changed to a breakfast because Milei had to attend Meeting of Congress to discuss profits. Nevertheless, there were 200 people in the room, there wasn't even room at the tables and even the chairs had to be replaced. "A year ago, Milei came to one of our meetings and there weren't that many people there. Now hearing it creates great anticipation" said one of those present.
Milei was praised by Alejandro Bulgheroni, President of the Petroleum Club, and from the company Pan American Energy Group: "We are called by one of the protagonists who managed to bring about a turning point." It is important to be present in the oil industry. It is impossible to predict the future, so it is important to listen the suggestions of people who want to build, that's why we invited Milei to our home."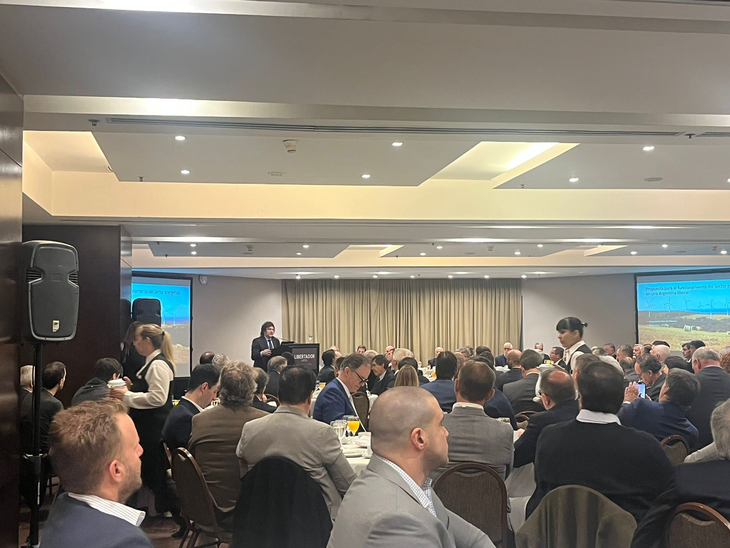 Milei began his speech with an initial remark to the gathering: This is what he told them wanted to vote in Congress to abolish the income tax something he had held back: "I will vote whenever taxes are reduced, I don't care about political calculations." After almost an hour of speech, Bulgheroni asked him if he could stay to answer questions from those present about what is common in this room. "I have to go to Congress to cut taxes" he replied and left.
As in every speech to economic sectors, Milei outlined the main points of his economic program, emphasizing what he calls "first generation" reforms He estimated that the entire plan could be implemented within a period of 45 to 55 years. One of the sentences that resonated the most was when he questioned those who criticized him for giving in on his plan to adjust public spending: "Baglini doesn't apply to me, the closer I get to it, the more I want a chainsaw" indicated when referring to the radical theorem Raul Baglini which states that the degree of responsibility for a party or political leader's proposals is directly proportional to their ability to come to power.
From 170 to 10 taxes
Milei expected a critical situation in the future: "Everything is ready for the worst crisis in Argentina's history. "It's not for the improvised." He mentioned his program, which includes four basic points: a state reform with eight ministries, a "modernization of the labor market" with a model like that of the UOCRA, an opening of the economy and a monetary reform.
First, he explained his fiscal program, which, when completed, will include a 13-point adjustment of GDP: he spoke of abolishing discretionary transfers to the provinces, ending public works, continuing a privatization program and abolishing privilege schemes. . "They say the chainsaw plan is a screwdriver, it's going to be a pretty big screwdriver. "Only someone like me, who hates the state because it is a criminal organization, can do that." Milei assured. Only after the cuts did he say that the tax cut would come, from "170 to 10" taxes.
In another section, he reiterated his monetary reform of dollarization and the abolition of the central bank and asked those present for support: "With financial engineering we would have 30,000 million US dollars, the interesting thing is the business opportunities that exist." The bonuses could be with that be multiplied fourfold. You can directly influence the result. This can already be seen in various high-risk funds."
Political reorganization
He expressly did not mention any specific proposals for the oil sector. He mentioned initiatives such as the abolition of tax on reinvested profits and said ongoing contracts would be fulfilled. When he finished, his main energy advisor said, Eduardo Rodríguez Chirillo he spoke for an hour and showed a PowerPoint presentation 10 ideas for the short term and 13 for the medium term and answered questions.
Despite the three-thirds scenario, Milei was particularly critical of JxC in front of the business audience. He said that the rift between JxC and the FdT was "wrong": "The JxC radicals voted for the expropriation of YPF and are responsible for the rent law," he gave as an example. For the future, he assumed that he would observe a political realignment: "On October 22nd a new scenario will begin, these very nefarious forces will be fragmented and we will find ourselves in a new political equilibrium, with a new order in ideological terms."
As for how he will seek votes, he expects that he will try to "improve oversight" and "seduce" those who did not vote. "They are already disillusioned with it The status quo" he described.
Without mentioning his own names, he was very critical of JxC's main leaders. "They're worried about things I did years ago, but in their ranks there are people who threw bombs, I didn't kill or kidnap anyone," possibly alluding to Patricia Bullrich's past. He also indirectly referred to the economist Carlos Melconian who sharply criticizes dollarization: "Before with mustaches, now without, that is just as dishonest and immoral." Even when he ratified the abolition of the central bank again, he fired against it Federico Pinedo Bullrich's right hand: "Pinedo's grandfather was involved in the Central founding scam."
The targeting of JxC rather than UxP may have been intended for the audience that heard it. The Petroleum Club is considering inviting Patricia Bullrich to one of its meetings next week, although Economy Minister and UxP candidate Segio Massa is not currently scheduled to attend.