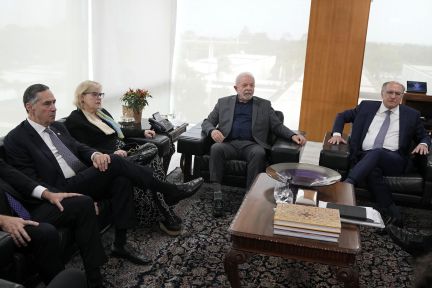 joint letter of the three powers of the state
The presidents of Congress, the executive power and the Supreme Court have signed a joint note on Monday where they request that "institutional measures be taken in accordance with Brazilian law" in connection with the Bolsonaro attack on the three state power buildings in Brasilia.
The note bears the signature of Lula da Silva as President of the Republic; Arthur Lira (Chairman of Deputies); Veneziano Vita Rego (Acting President of the Senate) and Rosa Weber (President of the Supreme Court). The text, agreed after a meeting at Planalto Palace, outlaws "terrorist, barbaric, criminal and coup" acts registered on Sunday.
The text of the letter is as follows:
note in defense of democracy
The forces of the Republic, the defenders of democracy and the Constitutional Charter of 1998, condemn the terroristic, barbaric, criminal and coup d'état actions that took place yesterday afternoon in Brasilia.
We stand united so that institutional measures are taken in accordance with Brazilian law.
We call upon the society to maintain peace to protect peace and democracy in our motherland.
For the country's progress and social justice, the country needs normality, respect and work.
Luiz Inacio Lula da Silva President of the Republic
Venetian Senator Vitale do Rego, Interim President of the Senate
Federal Deputy Arthur Lira President of the Chamber of Deputies
Minister Rosa Maria Pires Weber President of the Federal Supreme Court"
Photo: Lula meets with the highest officials of the Brazilian state in Planalto. ( Associated Press)