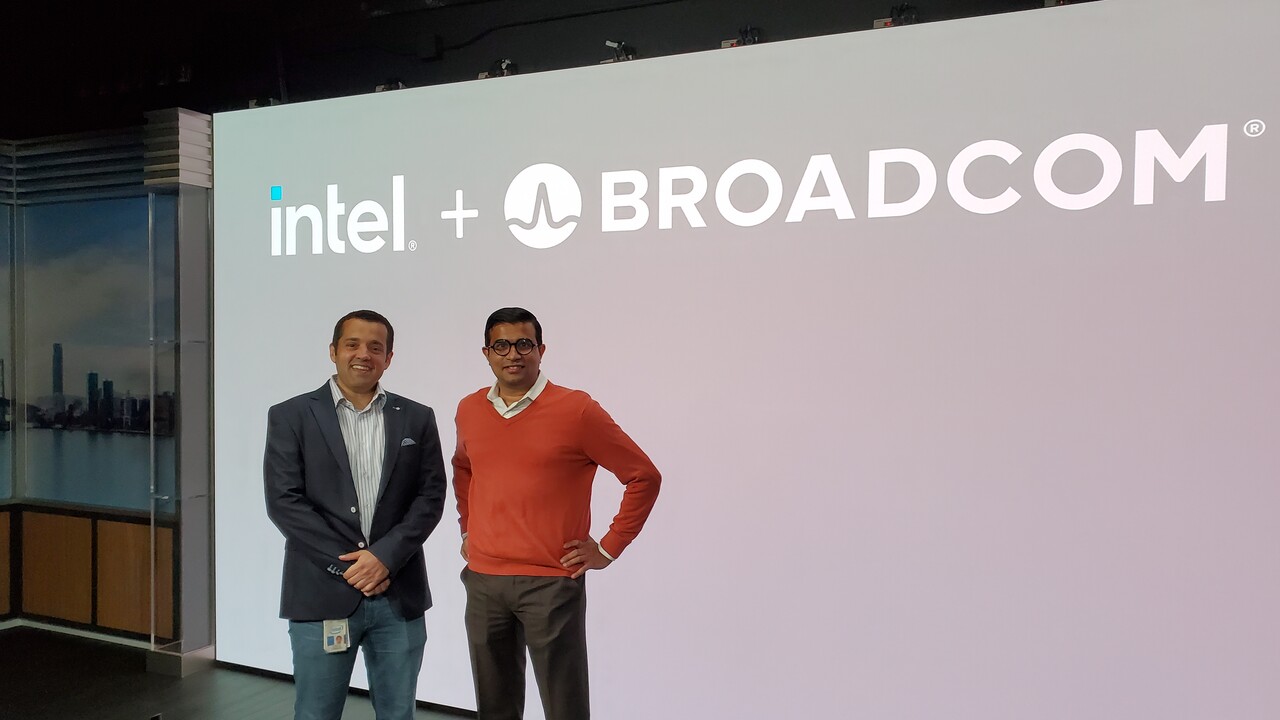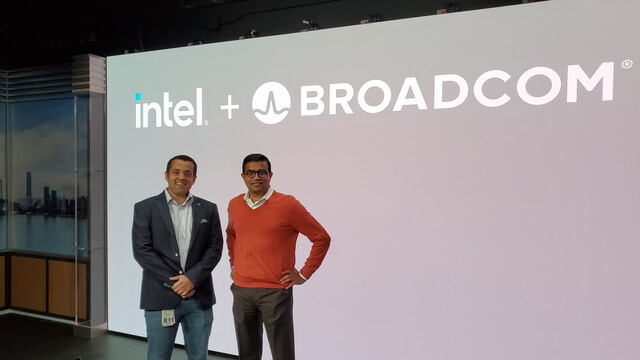 Intel and Broadcom have shown cross-manufacturer use of Wi-Fi 7 for the first time. Transmission rates of just over 5 Gbit/s were achieved. An Intel notebook already equipped with Wi-Fi 7 and a Broadcom access point with Wi-Fi 7 was used for the demonstration.
Systems with Wi-Fi 6 and Wi-Fi 6e were also used to illustrate the higher transmission speed of Wi-Fi 7 for performance. A little over 1 Gbps was achieved with Wi-Fi 6, but 2 Gbps with Wi-Fi 6e and the new 6 GHz band that this standard offers. Wi-Fi 7 thus achieves 2.5 times the speed of Wi-Fi 6e. Works as a Dell Latitude 5430 notebook with 12th generation Core i5. Intel's Wi-Fi 6 AX200 was used for Wi-Fi 6 and 5 GHz, the AX211 chipset for Wi-Fi 6e and Wi-Fi 7 as Intel has not yet announced the Gail Peak 2. The Asus ROG Rapture GT-AXE1600 used for Wi-Fi 6 and 6e is a prototype of a Broadcom tri-band access point for Wi-Fi 7. The server, another Latitude 5430, was connected to the router via 10 Gbit/s (Sonet Solo 10G) and measured with iPerf 3.11.
Intel has released a video of the demonstration.
faster and less delayed
Wi-Fi 7, the marketing name for IEEE 802.11b, is set to become the wireless standard for the next 10 years, requiring high transmission speeds and low latency. Wi-Fi 7 should offer both, requiring, among other things, the widest frequency band in the 6 GHz range with 320 MHz still unlicensed, and the use of multi-link operation for simultaneous connections on multiple bands. is done. Wi-Fi 6E currently uses a maximum channel width of 160 MHz. In addition, QAM-1024 modulation has been changed to QAM-4096 modulation.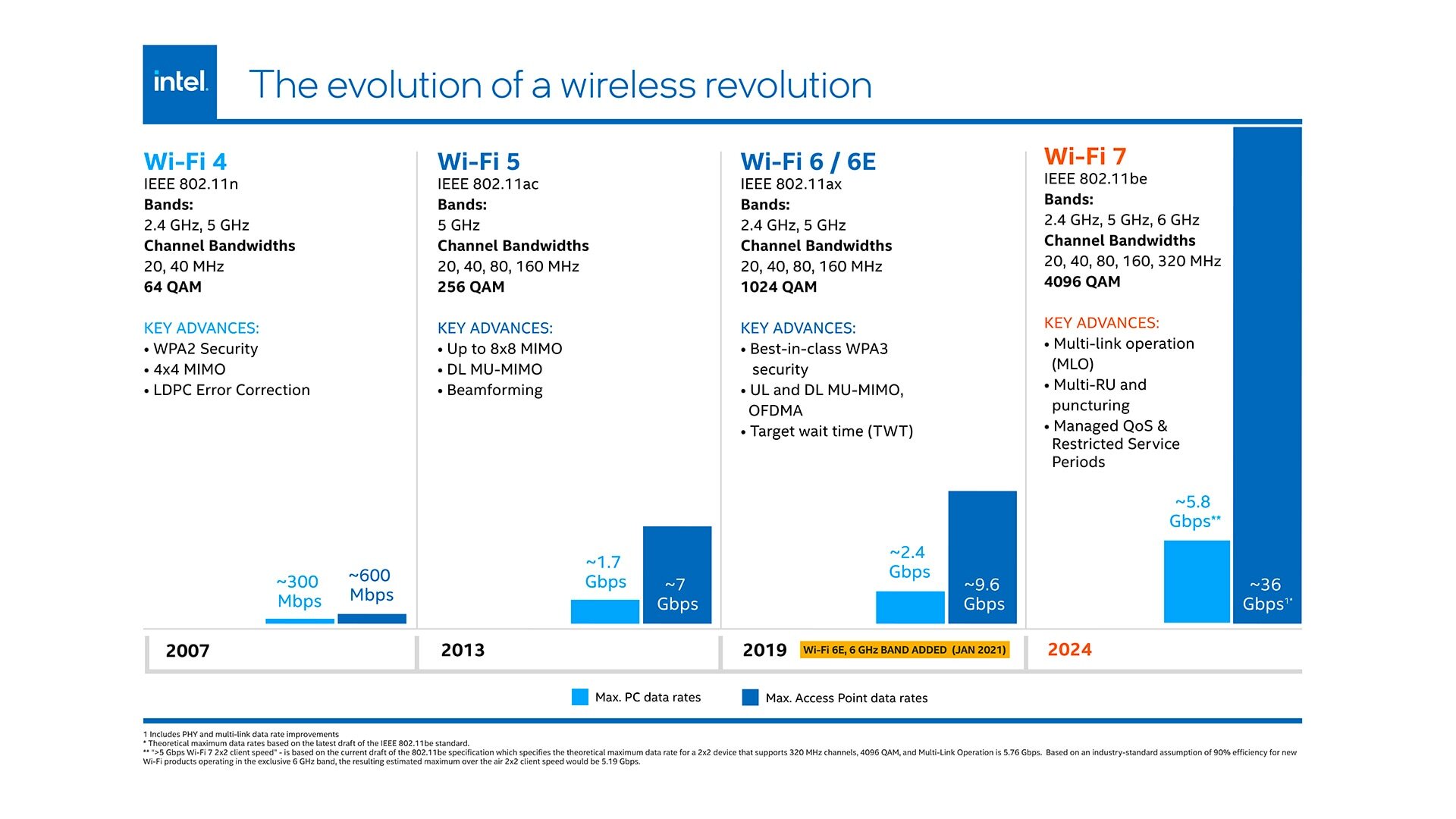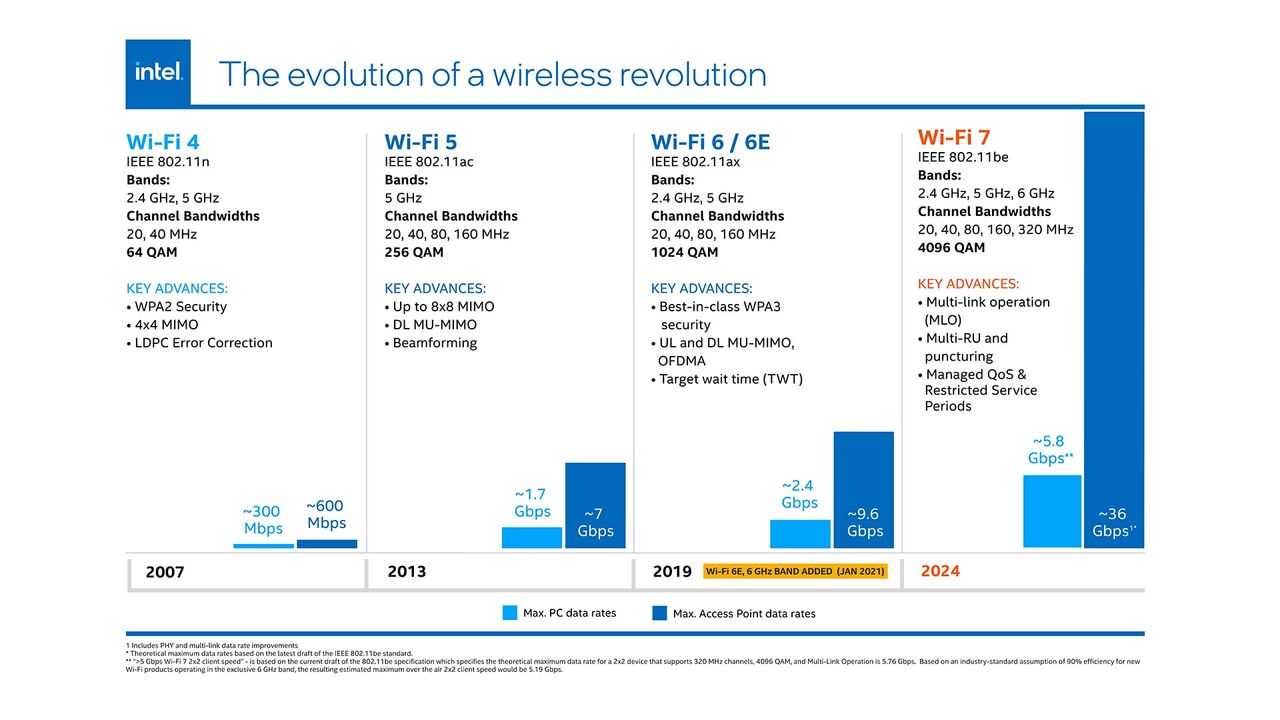 16K-Streaming and Virtual Reality
With fast radio standards as ever, streaming (Intel and Broadcom are already talking about 16K media streaming) and the use of virtual reality headsets with radio connections should benefit greatly from the improvements. The latency should be 15 times lower when using a VR headset. In overloaded wireless networks, the latency is 100 times better in the worst case.
According to both companies, the differences between Intel and Broadcom for Wi-Fi 7 that have now been demonstrated should also be used to develop products for official certification of the standard.
The first device only in the second half of 2023
However, end customers will have to wait a bit longer for the new standard, as devices with Wi-Fi 7 probably won't be available in stores until the second half of 2023. As always, expensive equipment will be equipped with it first, before gradually addressing the mass market.
Qualcomm also supports 5 Gbit/s. receives
Competitor Qualcomm unveiled the first Wi-Fi 7 chipset at MWC in Barcelona in late February this year. The company also demonstrated a connection with 5 Gbit/s at IFA in Berlin last week. Two 160 MHz channels at 5 GHz and 6 GHz were used and data was transmitted between the router and a prototype smartphone from Qualcomm.
Computerbase received information about this article from Intel under an NDA. The only requirement was the earliest possible publication date.