The 2023 CNBC Disruptor 50 list highlights four Israeli companies that are revolutionizing the industry with their innovation and vision. BeeHero, Orca Security, Snyk and Wiz are leaders in various fieldsFrom technology for business hives to cyber security in the cloud.
These companies, based in the United States but with their R&D in Israel, demonstrate that cooperation between countries can have a significant impact on the global economy.
Israeli Companies: Leaders in Innovation
On CNBC's Disruptor 50 list, BeeHero stands out with its technology that promotes healthy commercial hives. His revolutionary approach is transforming beekeeping and helping to ensure crop pollination around the world.
On the other hand, Orca Security has been established as a benchmark in agentless cloud securityProviding reliable and efficient solutions to companies in an increasingly digitized environment.
New Frontiers in Security and Application Development
The Snyk company stands out on the Disruptor 50 list with its application security products for developers. Its focus on vulnerability prevention is essential to ensure software development in a context where cyber security is paramount.
for his part, Wiz has established itself as a benchmark in cyber security in the cloudProviding innovative solutions that protect companies from ever-evolving digital threats.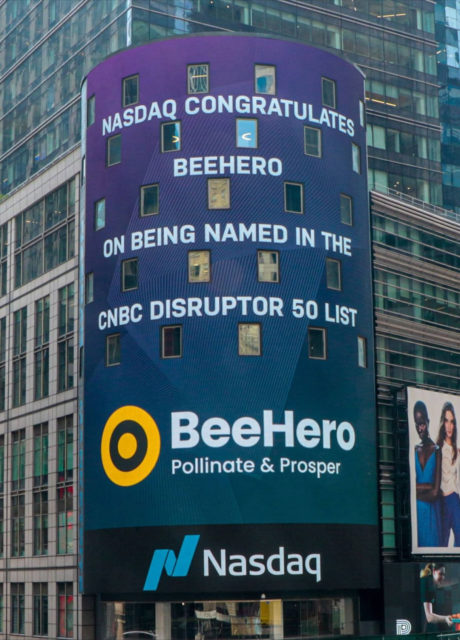 Nasdaq applauds in Times Square for BeHero's inclusion in the CNBC Disruptor 50 list. photo courtesy of BeHero
innovation in many areas
The 2023 Disruptor 50 list isn't just limited to cyber security companies. It also includes leading companies in sectors such as healthcare, energy, supply chain and finance.
These advances show how Israeli innovation is spreading across a variety of sectors and making an impact on society and the global economy.
Crises as drivers of innovation
CNBC editors note that, despite economic difficulties, revolutionary ideas continue to emerge and disrupt established markets.
Crises are often a breeding ground for disruptive innovation, as they spur consumers and companies to seek more efficient and technological solutions to new challenges. The Israeli companies on the Disruptor 50 list are a clear example of how adversity can be a catalyst for change.
Summary:
Four Israeli companies stand out on the 2023 CNBC Disruptor 50 list: BeeHero, Orca Security, Snyk and Wiz. Based in the US but with R&D in Israel, these startups are innovating in hive technology, cloud security and application security products. Despite the downturn, they demonstrate the ability of crisis to drive innovation and growth by challenging established norms. Israel consolidates as a center of technological innovation.