Down in the polls, the Prime Minister is meeting with his caucus this week in London, Ontario. If many representatives believe that a new message is needed, some dare to discuss changing the messenger.
Words that would have been hard to imagine just a few months ago. But, lip service, away from the cameras, elected Liberal officials issued a serious warning to their leader, Prime Minister Justin Trudeau: "If things don't change in the next four to six month," said a deputy under the cover of anonymity, the Prime Minister should think again if he is the right leader for us. »
A second liberal elected official advances the same cause: When the message does not fit the population, it is the message that changes, or it is the messenger. One of two things must happen.
These statements echo more difficult weeks on the ground, marked by the discontent of many voters, and a significant decrease in voting intentions in the polls.
Last week, for example, the Abacus firm gave the Conservatives a 14-point lead over the Liberals nationwide. With 40% of voting intentions, Pierre Poilievre can even imagine a victory in the majority territory.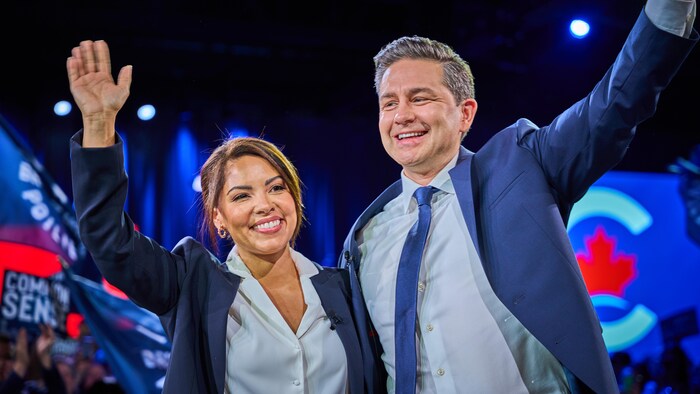 Pierre Poilievre and his wife, during the conservative convention in Quebec
That said, not all MPs are going for it, and many Liberals still believe Justin Trudeau remains their best weapon to defeat Pierre Poilievre in the next election.
But these doubts around the leader's leadership, embryonic as they are, suggest tense discussions in London in the coming days.
I've never heard so much grumbling in a caucus added a Quebec MP, who thinks it's just a bad time to pass and that it's possible to change things: Many have seen other she specified.
All the same, the former head of communication for Mélanie Joly and director of TACT, Jeremy Ghio, believes that Justin Trudeau and his colleagues have reason to worry: Bad polls mean unhappy MPs. The unhappy MPs are the MPs who all have a say in the strategy, who speak anonymously and criticize the government's position.
Act quickly
Radio-Canada spoke to about ten MPs for this article and, while most of them continue to support Justin Trudeau as leader, many agree that changes are needed. Many elected officials know that Pierre Poilievre's economic message resonates with a segment of the electorate. We need to talk about affordability, affordability and affordability says MP for Kings-Hants, Nova Scotia, Kody Blois.
Perhaps a sign that Justin Trudeau heard the message: returning from India, he had to make an announcement on housing on Wednesday, when he arrived in London.
But more concrete solutions to encourage housing construction – which, moreover, will not start grow like a mushroom warns an MP – several elected officials are talking about the need to communicate more effectively what the government is doing, especially when it affects the cost of living: daycare at $10 a day and Canada's child benefit are two you are a good example.
There are many things that the government has done and maybe we are not bragging enough, frankly.
Yukon MP Brendan Hanley agreed: There are many relatively simple messages from the Conservative Party, sometimes even simplistic. Maybe we are more effective in our communication methods.
An elected official from a rural region believes the Liberals should avoid scattering their message and priorities: We have to make choices, he specified. If, for example, housing investments are announced, perhaps less funding should be provided for social infrastructure, such as community centers: It's time to show the way to a balanced budget added this MP.
Justin Trudeau showed no plans to return to zero deficit in the last budget, and his NDP leadership agreement risks limiting his room for maneuver.
Shadow of Poilievre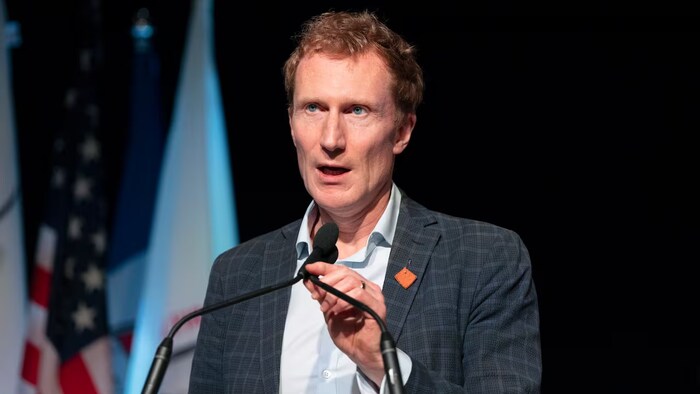 Minister Marc Miller described Pierre Poilievre as a "charlatan". (Archive photo)
Many MPs are also hoping for more targeted attacks against the Conservative leader, Pierre Poilievre. We gave him carte blanche to introduce himself last year, said an elected official on the line. It is necessary fight misinformation that he threw at us, he added.
In an interview with Radio-Canada, the federal Minister of Immigration, Marc Miller, also thinks that a more combative approach is needed: We are still torn as to how to deal with someone like that. (…) I say that we should not ignore his stupidity.
For Justin Trudeau, there are many options to answer. Even before Canadians can be convinced that he is the right person to continue running the country, he has to prove to his team that he is still the right person to lead them.