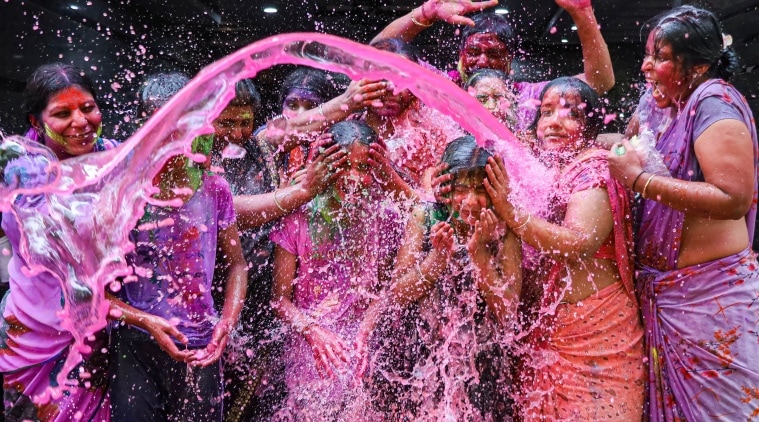 Bengaluru: People play with colors and water, in celebration of the festival of 'Holi', in Bengaluru, Friday, March 18, 2022. (PTI Photo)
Bengaluru's Aster CMI Hospital, in association with the Indian Institute of Science (IISc), launched an artificial intelligence (AI) lab on Friday. The Aster-AI lab is a collaborative lab, set up with the aim to build cutting-edge AI products in the healthcare domain and bridge the gap between clinical medicine and technology by training healthcare professionals in AI.
Speaking on how technology is transforming the healthcare system in India, Dr Azad Moopen, founder chairman and managing director of the Aster DM Healthcare conglomerate, said, "With the use of AI, doctors and medical providers will now be able to deliver more accurate diagnosis in the fastest possible time, which can aid the treatment journey. Also, AI would be a big leap towards predictive and proactive data analytics, which will improve preventive care recommendations for patients. We are really glad to partner with IISc, which will open doors for healthcare professionals to undertake research and better utilize AI tools to understand their patient's disease patterns and improve treatment outcomes significantly."
As many as 2,262 fire incidents have been reported in Karnataka's forests in the past two months. The Forest Department has received 4,234 fire alerts in January and February alone. However, the number of incidents was 2,323 across the state last year during the same period.
Prabhash Chandra Ray, Additional Principal Chief Conservator of Forest, said: "The department creates fire lines at sensitive areas so that fire does not spread. Fire watchers are roped in and protection camps are set up. We also receive fire alert data, which is sent directly to forest staff. Based on the input, staffers reach the location and give feedback on the action taken. If fire is noticed outside the boundary, the feedback is shared accordingly and if it is within the forest, they will extinguish it and share the picture of the action taken."
,