Kenyan President William Ruto has accepted "full responsibility" for the deaths of more than 200 people at the base of a Christian sect in the country's south and promised that authorities would "get to the bottom of the matter" to clear up the deaths.
"I take responsibility that, as president, this should not have happened. What I promise Kenyans is that we will get to the bottom of the matter," Ruto said during a press conference with several local media. Said.
"We have taken full responsibility," he said, adding that the cult leader, Paul Mackenzie, and his "associates" were "arrested and brought to court more than once and then released, at which point they saw the need to continue his criminal." activities in the name of religion. ,
Organs missing from victims of a sect in Kenya
In this sense, Ruto pointed out that "this man is a terrorist" and that "some of the people responsible for this decision by the government should be held accountable. This sort of thing should not have happened."
Prominent leaders of the sect, headed by Mackenzie, urged followers to fast unto death under the promise that they would meet Jesus Christ in a new life.
More than a hundred bodies, mostly children, were discovered in April in East Africa's Shakhola forest.
During the conference, the Kenyan president also pointed out that he has not yet visited the sect grounds in Malindi because the place has been "declared a crime scene", criticizing former and current prime minister opposition leader Raila Odinga. .
"How does it help for a political person to go there? Are you a security expert? doctor? Is he going to take out the dead bodies? He thought.
Furthermore, Ruto defended the barring of media access to these lands in Shakhola, saying that "there is no visual to report on what is."
"What is there to hide about the graves and the dead? If they had gone to Shakhola, would they have recorded the graves and decomposed bodies to show to the Kenyans? she questioned.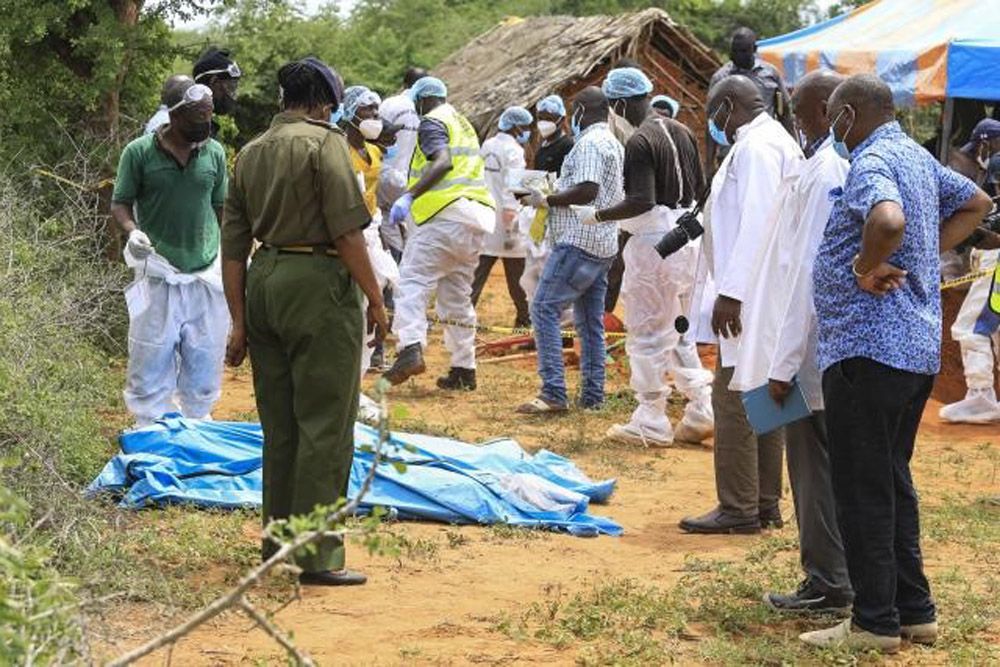 Finally, he rejected the possibility of imposing regulations on the Church and advocated "being a self-regulatory body".
Over 60 dead on base of Kenyan sect leader
"We want to establish with religious leaders how we can agree a mechanism that guarantees that criminals and bandits do not take advantage of religion and faith to cause harm," he said.
Autopsies of victims found in the Shakhola forest revealed the absence of some organs, according to court documents, which adds to earlier results where suffocation and starvation were established as causes of death.