A century from Pakistan-born opening batter Usman Khawaja lead a strong Australian batting performance on the opening day of the second Test in Karachi.
Khawaja fell agonisingly short of a ton in his first Test back in the country of his birth last week, but could not be denied this time, reaching 127* at stumps.
Together with Steve Smith (72), Khawaja lead Australia to a commanding position of 3-251 at stumps on day one.
Australia's total could have been greater if not for Pakistan's determination to keep the run rate down, even at the expense of trying to take wickets.
For an extended period after the tea break, Pakistan employed spinners from both ends whose sole ambition was to bowl so wide of the batter's leg stump there was little viable way to play them.
The umpires called several wides, but the majority of deliveries for the best part of an hour were padded up to by batters, who were determined not to get sucked into the trap.
Though mostly legal and very much a viable defensive tactic from Pakistan, it made for bleak viewing on the first day of a Test match.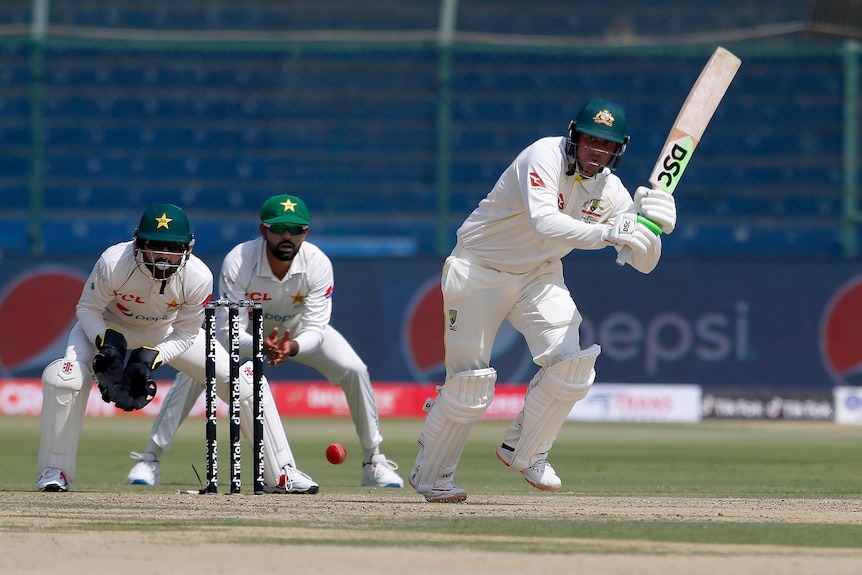 The go-slow had been forced by the hot start Australia got off to, with Khawaja and David Warner (36) weathering a good opening spell to score freely for much of the first session.
But things swung in Pakistan's favor when Faheem Ashraf caught Warner's edge with a fine delivery that seamed away from the left-hander, presenting a simple catch to keeper Mohammad Rizwan.
Things got even better for the hosts when Marnus Labuschagne was brilliantly run out by Sajid Khan for a duck. It was Labuschagne's first Test duck since his debut, also against Pakistan.
Smith joined Khawaja in the middle shortly before lunch, and it seemed as if the pair would remain until stumps, only for Hasan Ali to find an edge in the penultimate over of the day.
Faheem moved late but quickly to take an excellent catch at second slip, leaving Smith short of a century again.
Still, with promise of some life in the pitch later in the Test, Australia finds itself in a fantastic position after day one and will be determined to make this first-innings total a significant one.
Look back at how the day's action unfolded in our live blog,
Live updates
Pinned
THAT'S STUMPS! Australia 3-251 (Khawaja 127*, Lyon 0*)
So that's day one in the books. A memorable one for Usman Khawaja, who was at his classy best today as he carried his bat through to stumps and made a fantastic century along the way. The significance of the moment makes it extra special, but Khawaja is in a man in some ridiculous form right now and deserved this one just as much as he deserved one in Rawalpindi.
That late wicket of Smith puts a bit of a dent in Australia's work, but they remain in a fantastic position after the first day of this Test. The Aussies will know that the best bowling conditions will come late in this Test, so going big in this first innings tomorrow will be crucial. Please join me then as we see what day two has in store for us – until then, goodnight!
90th over – Shaheen Shah Afridi to bowl the last over of the day
So Nathan Lyon has come in as a nightwatcher and defended out one ball from Haseen. He will be pretty keen to let Khawaja deal with Shaheen's last over of the day now.
No dice though. Khawaja takes the single and let's the nightwatcher do some nightwatching.
An awful short ball down the leg side to start from Shaheen, a waste. Rizwan is on his haunches again having copped another ball to his hand.
He's around the wicket to Lyon now, who clips to fine leg and is not allowed to get off the mark by Khawaja. Smart from Ussie, no need for Khawaja to face anything else tonight.
A full one now, well defended by Lyon. Two to come.
Well defended by Lyon, one to come.
Last ball, here we go.
DROPPED, Lyon is put down at short leg! Hit it straight at the fielder's hands, and he moved them away! Lyon gets away with one from the final ball of the day.
STEVE SMITH IS OUT! FROM NOWHERE! WHAT A CATCH!
Well that's woken us all up! Smith played a pushing shot off the back foot that he didn't need to and got a thick edge to the cordon. It looked like he might get away with it, but Faheem Ashraf at second slip has taken a blinding catch low down at second slip. He was slow to move, so I'm not sure he was expecting it either.
There's been an extended check from the third umpire to make sure the catch was taken cleanly, but there's no doubt there for me. Smith departs, he misses out again. A big one for Pakistan!
89th over – Hasan to bowl his last of the day
Thought he was good in his first spell, shame we haven't seen much of him with the new ball.
Khawaja defends and scurries through for a quick single.
Rizwan's got his sore hands again. This happened late on day four in the first Test, when it seems like every ball is hitting the wrong spot and causing him immense pain. It's a tough life for a wicketkeeper.
88th over – Nauman Ali is back
So we're back to spin after seven overs with the newie. Three more to bowl tonight.
Smith is comfortable as you like defending all six of those. Twelve more balls to be bowled tonight, and I think everyone just wants to get off the field as quickly as possible.
87th over – Hasan Ali into the attack
Khawaja on strike, leaving plenty alone outside the off stump.
BEATEN, Top ball! Little bit of seam movement and bounce away from Khawaja there, and he pulled his bat out of the way abruptly to make sure he didn't follow it with an edge.
A good first over up from Hasan. A maiden.
86th over – Faheem continues
Wide of the off stump, Smith unlikely to be tempted.
Four, Or maybe he will be! Wide half-volley, just smoked through the covers for four. Vintage Steve Smith.
Just that boundary from the over. The new ball not really sparking Pakistan into life just yet.
85th over – Here comes Shaheen
Khawaja is quickly onto the back foot, driving to point for one.
Smith drives to mid off and sets off for a quick single.
Swing and a miss from Khawaja, missing out on a wide half volley.
Shaheen winds the over up with a full toss, that Khawaja is unable to score from.
Another over down. Five to come.
84th over – It's Faheem
Smith resolve in defense. Stumps just around the corner.
No swing at all from Faheem. Bit surprised Hasan Ali isnt bowling here.
And it's another maiden.
83rd over – Shaheen charging in again
Khawaja on strike, eyeing off stumps.
LBW SHOUT! Shaheen fancies it, but I think Khawaja nicked it. Probably missing leg anyway. Doesn't have a whole lot going for it really.
Khawaja middled it, good not out call.
FOUR RUNS! Shaheen gets too full and too straight, and that is right in the Khawaja zone. He clips it through square leg for four.
Over bowled.
82nd over – Faheem Ashraf gets a go
FOUR! And Smith belts him straight back down the ground for four. Half-volley, smacked to the rope.
After that loosener, Faheem was bang on the money. Smith defends well and sees out the over. Not as much swing for Faheem as there seemed to be for Shaheen.
81st over – Shaheen Shah Afridi will take the new ball
We've got 10 overs or about 50-odd minutes to play tonight. Chance for some excitement tonight.
Khawaja on strike, leaving one alone that swings just a little bit.
THROUGH HIM! Shaheen gets one past Khawaja and through to the keeper. They're considering reviewing… something? No real conviction so no review.
Wait! They have reviewed! Presumably for a catch behind. First replay shows he's missed it by miles though, so this should be a quick one.
Yeah, not out. Review gone.
Shaheen a bit all over the shop, but it's a maiden all the same.
80th over – Azhar to bowl it
I don't know what's happening now, the players are standing around discussing something.
Ultimately we get going again, and Smith drives to long off for one.
Beamer, a head-high full toss. No ball called as Khawaja pulls it away to the deep for one.
Another full toss, this one only at Khawaja's shin height though. One more.
Over bowled. Let's get that new ball going and start playing cricket again.
79th over – Babar will have another one
And Smith will start off by turning off his pad to fine leg for one.
Khawaja sees through the rest of a pretty rapidly-bowled over. The new ball is just one over away.
78th over – Azhar Ali to bowl now
Some leg-spin. You'd have to assume the new ball will be taken in three overs' time.
Big juicy full toss is played out to deep midwicket by Smith for one.
Khawaja drives now, and finds some space through the off side. He'll help himself to two.
And now one more to long off.
Smith out to deep square leg for a single.
Five runs from that over.
I just got on. I take it by the score that this pitch is a highway like the last one?

-Doc
Honestly, the pitch is fine. It's a bit slow, and a little bit up and down but that should almost be encouraging the bowlers. There was legitimate reverse swing for the quicks in the half-hour before tea, and both batters were troubled by it. But we haven't seen a single over from them since the break. It's baffling.
77th over – Babar Azam has brought himself on
We're into the part-time offies now.
Khawaja cuts to deep point for the one run.
One more for Smith down the ground.
Aaand over bowled.
76th over – Sajid to bowl to Khawaja
Khawaja drives but picks out the man at cover.
Now Khawaja finds a gap, cutting fine down to third. Great fielding on the rope by Hasan saves the boundary, but Ussie gets through for three.
One more single each to Warner and Khawaja completes the over.
,