Actor Kirk Cameron and evangelist Franklin Graham teamed up for a special stop on Cameron's Brave Story Hour tour over the weekend, with events held Saturday at the Billy Graham Library in Charlotte, North Carolina, attended by 1,000 people.
The result was the reading of two books full of faith, patriotism and family values.
Cameron was welcomed by Graham and his staff, and the publicist opened the event with a prayer before the actor read from his children's book "As You Grow". Cameron led the procession with songs such as "God Bless America," "The Star-Spangled Banner," and the Pledge of Allegiance. According to her editor, Trent Talbot, this was a welcome respite from Cameron's other tour venues, which often rebuffed her attempts to speak and organize events.
It was great to welcome Kirk Cameron to the Billy Graham Library in Charlotte today to read his children's book "As You Grow" to kids and their families at two events. Then, hundreds of people lined up to meet Kirk and have him sign one of his books. I appreciate that Kirk takes… pic.twitter.com/qKrpEcFBDc

— Franklin Graham (@Franklin_Graham) May 13, 2023
Talbot said, "Although most of the libraries on this tour have opposed us and made our lives as difficult as possible, it is a pleasure to be greeted so graciously by the wonderful staff of the Franklin Graham and Billy Graham Libraries." the founder of Brave Books told CBN's Faithwire in a statement. "The people of Charlotte showed up in incredible numbers and had a fun and healthy story time in a beautiful library."
And he continued: "It was a great day and a great victory for the good guys!"
As CBN's Faithwire previously reported, some public libraries have tried to block Cameron from holding the event. However, it has left some places behind.
Graham said in a statement before the event that he found it "outrageous" that so many activists and librarians tried to stop Cameron's performance, trying to get him to "shut up and sit".
Graham added, "But Kirk isn't afraid to stand up for what's right, and I couldn't be more proud of him." "Goes to show that across the country, even in far-flung towns, there are far more people who want to hear what Kirk has to say than a drag queen."
The evangelist praised Cameron for boldly bringing "God's voice of truth" to the people.
The experience also deeply inspired many of the attendees.
"His ministry is impressive," said Ricardo Arran, an assistant who came with his wife and children. "His audacity to tell the truth and [apoyar] For the family and the unborn… We love what you're doing."
And a former teacher named Jaimie, who spent nearly 20 years in public schools before leaving school because of what she described as being "untouchable," was full of praise for Cameron and the event.
"I love it. I love it," he told the Billy Graham Evangelistic Association. "I love how she didn't just read the book, but talked about each image and what it meant to her on a personal level."
The Billy Graham Library program came full circle for Cameron, who met the late evangelist Billy Graham in 1989, when Graham received a star on the Hollywood Walk of Fame.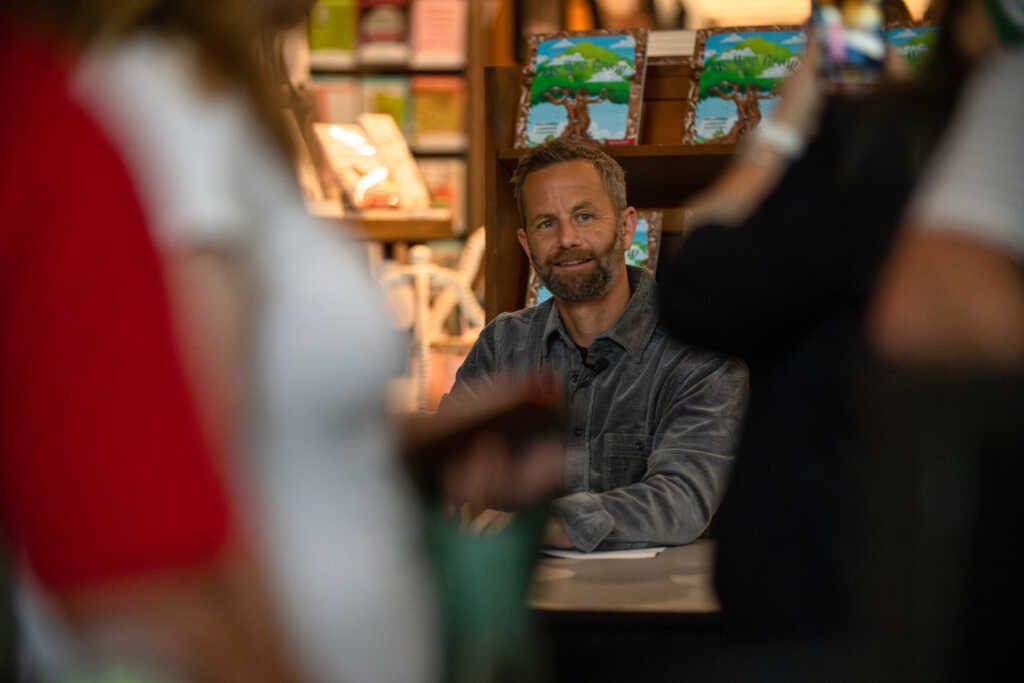 The actor, at the time a newly discovered Christian, reflected on his conversation with the elder Graham this weekend, telling the Billy Graham Evangelistic Association that the late preacher told Cameron he didn't want star fame, but wanted him. Hope this helps. He reached more people for Jesus.
"As a new Christian, this means a lot to me," Cameron said.
Three decades later, Cameron helps spread the same evangelical message at the Billy Graham Library and beyond.