One is inside Ferrari and the other bears the colors of McLaren. One was born in Spain and the other is from the UK. Both dream of becoming F1 world champions.
We are talking about Carlos Sainz j Lando Norris. There are obvious differences between the two, but what unites them is the good vibes and great relationship they have. CarLando in its purest form.
The Spanish driver made his debut in Formula 1 in 2015 under the leadership of Red Bull while the British did the same in 2019 McLaren exactly at the time when Sainz was in the team.
During the two years they shared a team, they developed a great friendship that continues to this day.
Ferrari's and McLaren's had very funny moments that showed how well they get along and showed the world that CarLando exudes chemistry on all four sides.
This good harmony can also be observed on the pitch, where they always try to help each other if possible, even if on paper they seem to be enemies.
The proof of this was what happened to him GP Singapore 2023in which Carlos Sainz gave Lando Norris DRS so he could defend against George Russell. who had pushed hard from behind and threatened not only to take second place away from the McLaren driver, but also to steal victory from the Madrid native.
Lando Norris surrenders to Carlos Sainz's intelligence in his victory at the Singapore GP 2023: "He did what he had to do, he was tactical."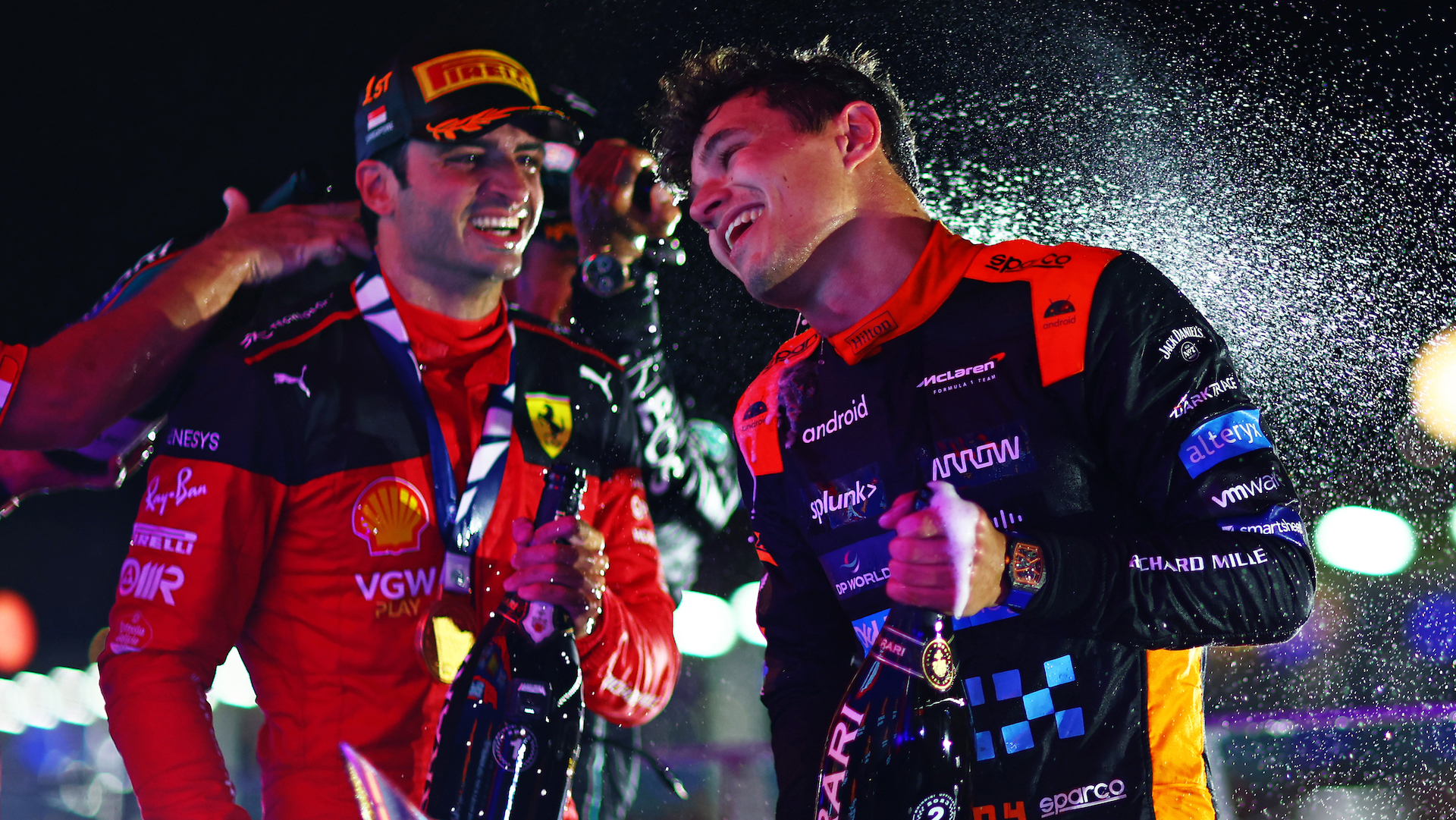 "It was a complicated race, it will always be tough, but we managed it perfectly. A great stop and we finished ahead of Charles, which was the first task we accomplished." said Lando Norris In DAZN after his Second place at the Singapore GP.
"Then the strategy at the end, that the Mercedes stops, is a better strategy on paper, but then you have to overtake and I defended brilliantly and C."Arlos also helped me, which meant he couldn't overtake and DRS helped me stay ahead of George a little longer.".
"His best career was helping me, and my best career was helping him.. It was a great race, lots of points, another podium. I'm very happy for the entire team, especially about the improvements. We tried to take a step forward and that's exactly what we did, so we are very happy with the result".
"Carlos did what he had to do, there are even moments when he drove very slowly, he won, he was intelligent, he was tactical. At the end of the race we had better pace than him, but not enough to overtake him."
"Considering that George was five or six seconds faster and was able to overtake me, I would never have overtaken Carlos, who was only a tenth faster than him." He had a great race, I'm happy for him, he's done a great job recently, in Monza, here and in the last few months, so congratulations to him"he concluded.
Lando Norris and his nice thanks to Carlos Sainz for his help in Singapore to contain George Russell: "He was very generous with that DRS."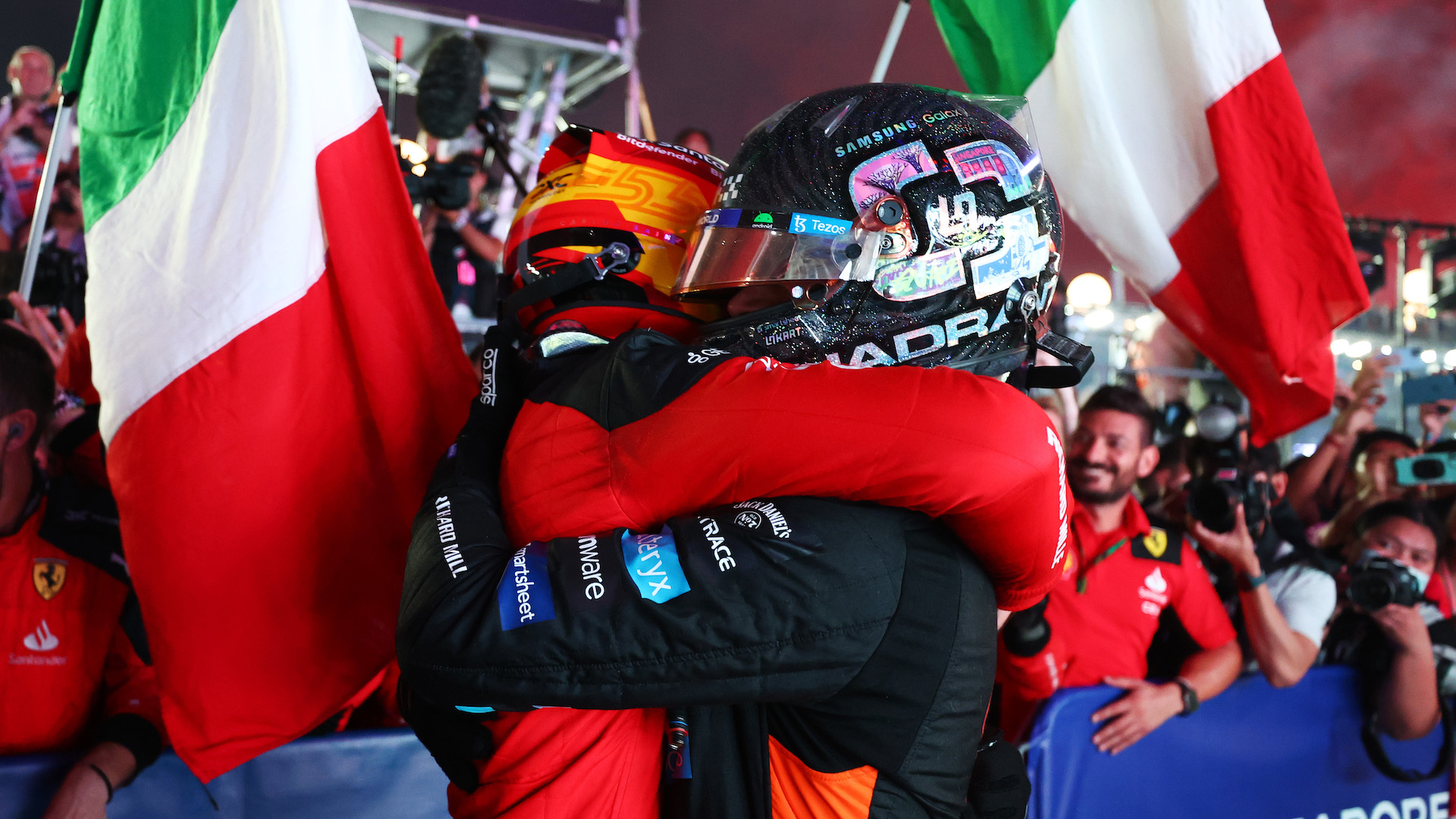 Getty
Lando Norris corresponded to Marina Bay his best result in Formula 1 and that was thanks in part to the help of Carlos Sainz, for which he was very grateful.
"Carlos helped me very generously with this DRS. It helped my career, but also his."explained the British pilot.
"We knew it would be complicated since the Mercedes stopped, we knew it would be difficult to overtake them, but we managed to keep them at bay, we are second, we did what we could had to do, and then, even more, I'm very happy."
On George Russell's accident on the last lap: "I also touched the wall on the last lap, I think he copied me, but he made it worse. I feel sorry for him because he fought hard and was one of the fastest on the track today."
"It helped me a little in the final corners, I was able to relax and score points for the team. Carlos, Lewis, Charles… We all pushed each other, it was stressful but it paid off." completed.