President Biden is headed to Europe for an emergency summit with NATO to rally new sanctions against Russia and to discuss energy in Europe.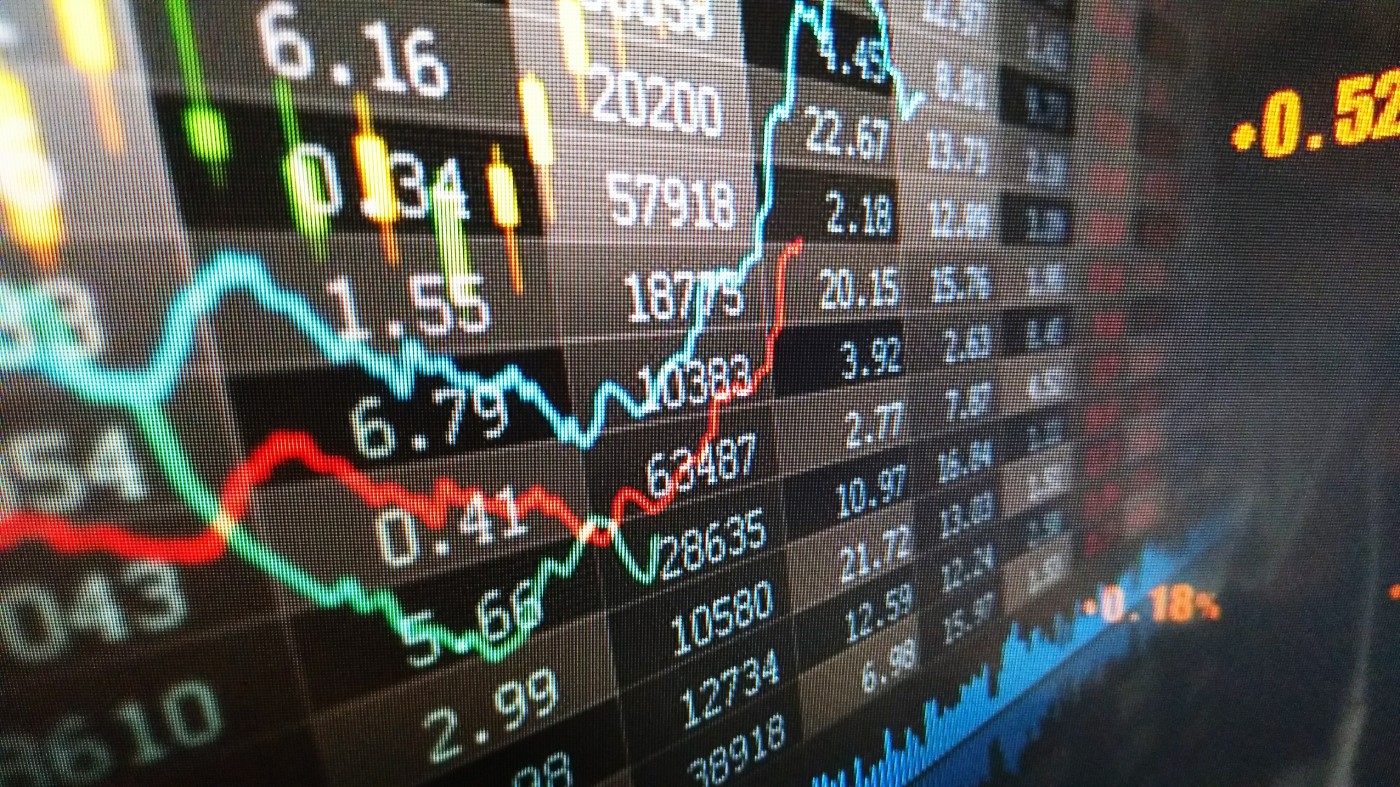 5 min read
Photo by Getty Images
Key Takeaways
Markets Tumble as Investors Absorb Rate Hikes, Russian Invasion Impact

President Biden Heads to Brussels

Adobe, General Mills Shares Move in Opposite Directions
Joe Mazzola, Director of Trader Education, Charles Schwab
(Wednesday Market Open) US markets were backing off from Tuesday's gains as investors continue to digest the Federal Reserve's interest rate rhetoric coupled with ongoing hits to the economy tied to the Russian invasion into Ukraine.
Investors continue to debate whether the Fed tightening will stem a recession or cause one in the US
All three major indexes were moving downward as Treasury yields fell and oil prices climbed; Industry data pointed to another drop in US crude inventories, according to the American Petroleum Institute. Official government data from the US Energy Information Administration, expected to be announced later Wednesday, could give more insight to inventories.
Potential Market Movers
There's plenty on the today's docket that might impact trading. Fed officials, including Chair Jerome Powell, are speaking throughout the day and are expected to further drive home the need to raise rates.
President Joe Biden is headed to Europe to meet with NATO leaders, the European Union and the Group of Seven leading industrial countries in back-to-back emergency summits. He's expected to rally for new sanctions on Russia and energy aid in Europe.
He's also expected to push world leaders to rally support from China, which may or may not be building an alliance with Russia.
Crude oil prices are popping again, sitting around $112 per barrel this morning with some energy experts looking for $160 a barrel. Oil prices, as we've seen in recent weeks, are a moving target and could shift amid energy sanctions against Russia.
Adobe (ADBE) and General Mills (GIS) are rocking amid earnings news, but in opposite directions.
ADBE shares were headed lower after the software maker reported better-than-expected sales and earnings that were overshadowed by a weak forecast for the second quarter. For the first quarter, ADBE earned $3.37 per share on $4.26 billion in revenues, outpacing Wall Street's expectations of $3.34 per share on $4.24 billion in sales.
Looking ahead, ADBE expects to deliver $3.30 per share on $4.34 billion in sales, below Wall Street's forecast of $3.35 per share on $.4.4 billion in revenues. Analysts worry ADBE's exposure to the Russian invasion could impact sales as well as the softening economic outlook in Europe.
GIS is headed higher after lifting its full-year forecast as consumers continue to cook and eat at home, juicing demand above pre-pandemic levels. Recent price hikes are helping to offset supply issues, the company said. GIS turned in earnings of $0.84 a share, beating expectations by $0.06 a share though revenues of $4.54 billion were slightly off expectations of $4.56 billion.
Reviewing the Market Minutes
US markets turned a blind eye to recession fears Tuesday as leading indexes moved decidedly upward after Monday's downward slide.
The Dow Jones Industrial Average (DJI) tracked higher throughout the day, finishing at 34,807.46, up 0.7%, while the Nasdaq (COMP) added 2% to settle at 14,108 during its most volatile quarter since the first three months of 2009, according to The Wall Street Journal,
The S&P 500 (SPX) pushed over 4,500 early on and held on, ending at 4,511.79, higher by 1.1%. It has now recovered some 50% of losses sparked by a January sell-off. Ten of the 11 S&P sectors were tracking higher, led by consumer discretionary, rising 2.45%, and communication services, higher by 2.01%.
The lone laggard was the energy sector, backtracking by 0.66% but still holding a good grip in the green. Energy joins financials as the only two S&P sectors trending higher on the year, up 37% and just 1% respectively.
All three indexes are poised to finish the month on higher ground. So far, the S&P is up 3.1% on the month, and the Dow and Nasdaq have advanced by more than 2%.
Nike (NKE) was among the Dow leaders, pushing ahead 2% after reporting earnings that handily outpaced analyst expectations. Of particular note was how the athletic behemoth is managing it supply-chain issues that have been bogging it down for much of the past year.
The Cboe Volatility Index (VIX), the so-called fear index, lost more steam for the fifth-straight day. That typically indicates investors believe there is short-term upside ahead, but as with most trading events, past performance is no guarantee of future performance. It ended the session at 22.85, calming down after a rocky period over much of the past two weeks.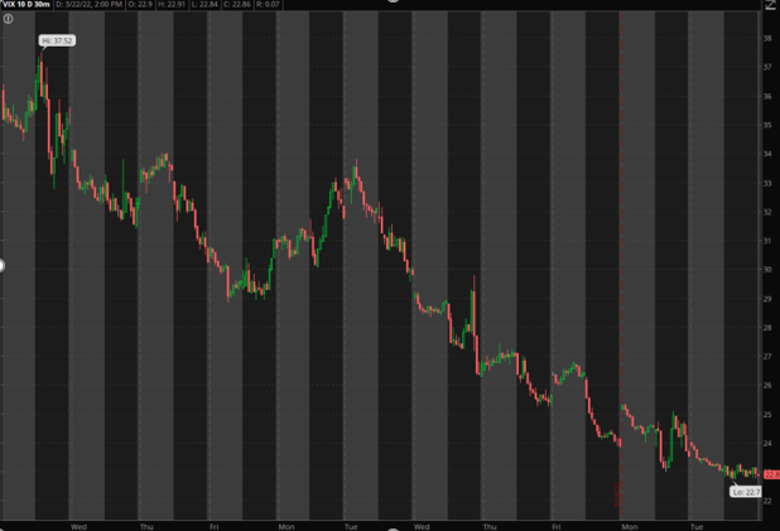 Three Things to Watch
Beijing Loves US Investors: Chinese regulators are considering allowing US regulators to inspect audit working papers of some Chinese firms that do not gather sensitive data, Reuters reported Tuesday.
The China Securities Regulatory Commission (CSRC) was among regulatory agencies that told top internet companies to prepare audit documents for the 2021 financial year, the news agency reported. Beijing looks to be willing to make concessions to end an audit stand-off "that has put hundreds of billions of dollars of US investment in Chinese companies at stake," the report said.
The move is aimed at keeping Chinese companies listed on American stock exchanges, which is a step US authorities are leaning toward, Reuters said. In December, the Securities Exchange Commission (SEC) finalized rules to delist some Chinese stocks, identifying 273 that were at risk.
Mortgage Rates on the Move: No surprises here. Mortgage rates edged up to a fresh 52-week high Tuesday, topping 4% as Federal Reserve members continue to support interest-rate hikes into 2023.
The 30-year fixed rate stood at 4.72%; its highest rate since December 3, 2018, according to Mortgage News Daily. That represented a 1.29% jump in the last year and more than half a percentage point in the last month.
The Mortgage Rate Upshot: Rising rates have a tendency to trigger other events. Coming at a time when housing supply is at record lows, which is pushing prices higher by double digits, it's prompting some homebuyers to opt for adjustable-rate mortgages (ARMs), according to CoreLogic data. ARMs offer low rates initially that adjust after a certain period, and then annually.
In its latest data, the share of ARMs more than doubled to 10% in January. In the same period a year ago, ARMs as a percentage of mortgages stood at 4%, which is a 10-year low.
Higher rates are also expected to slow sales, according to the National Association of Realtors. The industry group now expects sales to pull back in a range of 6% to 8%.Notable Calendar Items
March 22: Adobe (ADBE) earnings
March 23: New Home Sales, General Mills (GIS) earnings, HB Fuller (FUL) earnings, KB Home (KBH) earnings
March 24: Durable Goods Orders
March 25: Pending Home Sales, Retail Sales, Michigan Consumer Sentiment
Good Trading,
Joe Mazzola
Helpful Educational Content and Programming
Check out our upcoming Webcasts or watch any of our hundreds of archived videos, covering everything from market commentary to portfolio planning basics to trading strategies for active investors. You can also deepen your investing know-how with our free online immersive courses. No matter your experience level, there's something for everybody.
Looking to stay on top of the markets? Check out the TD Ameritrade Network, live programming which brings you market news and helps you hone your trading knowledge. And for the day's hottest happenings, delivered right to your inbox, you can now subscribe to the daily Market Minute newsletter here.

TD Ameritrade Network is brought to you by TD Ameritrade Media Productions Company. TD Ameritrade Media Productions Company and TD Ameritrade, Inc., are separate but affiliated subsidiaries of TD Ameritrade Holding Corporation. TD Ameritrade Holding Corporation is a wholly owned subsidiary of The Charles Schwab Corporation. TD Ameritrade Media Productions Company is not a financial advisor, registered investment advisor, broker-dealer, or futures commission merchant.