about blue MondayGoogle has announced that searches related to suicide will now appear as the first result on the official site of Linea de la Vida and an initiative of the Ministry of Health in Mexico on personalized attention to mental health and psychoactive substance consumption.
The first result that Google will now display on Lifeline includes the official website as well as a link to call.
Mexico and suicide
Suicide problem on the rise in Mexico, According to INEGI data, in 2021, 8,447 suicides were recorded, which is 1,224 more than in 2019. The most serious problem is among young people between the ages of 18 and 29, with Chihuahua being the state with the highest number of suicides and Guerrero the state with the lowest incidence.
In that age range, the suicide rate in 2021 was 16.2 per 100,000 residents. This is an increase of about 30% compared to 12.4 incidents in 2015. In detail, the incidence rates of suicide by males and females in the age range of 15 to 29 years are as follows: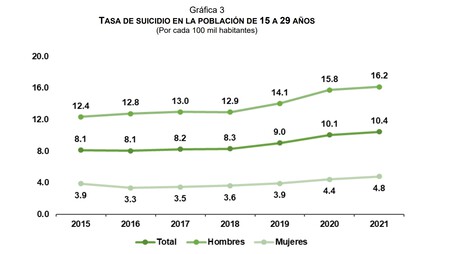 One of the major problems with suicide is that it is surrounded by it. ,It's OK to talk about suicide. Talking about suicide does not incite the act of suicide. suicides are preventable", reads an IMSS entry promoting the use of the Life Line.
If you are in trouble and have thought about suicide and/or know someone who is, call Lifeline at 800 911 2000. The line offers free service 24 hours a day, 365 days a year.