Research by Buzzmonitor indicates that in Mexico TikTok has more than 57.5 million active users, ranking fifth among social networks used by Mexicans.
Buzzmonitor, a multichannel customer service and social media platform, revealed in a recent research Desk that TikTok is the second most popular non-gaming application worldwide and has more than one billion users around the world, with constant growth and penetration. In addition, it boasts a large number of content replicated in other social networks, easily noticeable through its footprint.
Published research indicates that in Mexico TikTok has more than 57.5 million active users, the fifth among social networks used by Mexicans, above networks such as Twitter. This social network had an annual growth of 25% (+ 11 million users) in the country, which made it rise from the eighth place with 46.8% of users to occupy the fifth place in 2022 with 704% of users in 2021.
It is currently the third most preferred social media platform by Mexicans, with 14.1% of users between 16 and 64 years of age. Last year it surpassed Instagram, which has 12.6% of the sample, and is placed only below WhatsApp, which has 25.8% of users and Facebook, which has 35.5%. Its impact and importance in the Mexican market is so high that with 2021 TikTok is in the first position (non-game) mobile downloads, followed by WhatsApp and Facebook. His growth was exponential.
In this sense, it is worth noting that TikTok debuts in order to take seventh place in consumer spending for Mexico in 2023, competing with other platforms such as Disney+, HBO Max, YouTube, Tinder and Star+. Another indicator of the platform's popularity is the volume of searches on Google. Today, TikTok is on all time, according to Google Trends.
Such is the boom of TikTok that the tool has an average usage of more than one hour all over the world. In addition, data from the same report indicates that women are the main users of TikTok, representing 58.3% and that their lifestyle profiles are the most prominent in the country. This content is not only created and consumed within the platform, but is also common in other social networks such as Instagram (66%), Twitter (22%) and Facebook (12%).
Although TikTok is a social network that was born for entertainment purposes, it is now a communication channel for companies that create connections and conversations with different audiences.
Information from Marketin4commerce indicates the 10 best brands placed on the platform in Mexico.
Among the most important elements in social networks is the development and dissemination of influences. TikTok is one of the platforms that has generated a large number of influential people for different audiences, including @kimberly.loaiza with 72.4M followers, @domelipa with 63.6M followers and with @elrodcontreras. 41.5M followers according to Primeweb.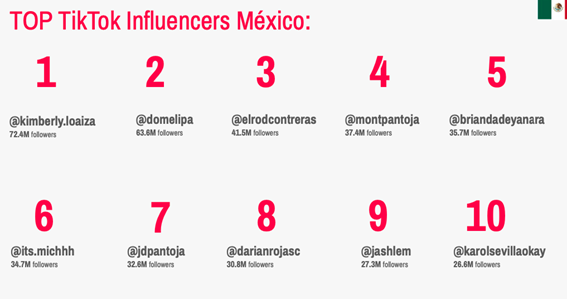 Most of the creators of the innovative 2022 are from lifestyle and include @andresgiohson, @jlynsky23, @cainguzman, @tammy.parra and @marianacantún.
"TikTok is a platform that goes beyond entertainment, it has now become very relevant to the channel of social communication; For this reason, four elements must be considered to maintain an effective communication with your audience: context, audience, script and content. This success of your conversation in and off the platform" Breno Souto, Head of Insights at Buzzmonitor.
With a lot of experience managing social networks globally, Buzzmonitor offers three essential tips for targeting a brand on TikTok:
Understand the channel ecosystem; that is, knowing the context in which the campaign will be conducted, as well as the audience to whom it is directed. According to this, it is important to choose challenges and content that are naturally adapted to the brand (such as imitation or humorous content, which are usually the most viral) and thus create appropriate content that is low due to the characteristics of the platform. -cost and homemade .
Define the central message, referring to the development of its own content and generated by the influence of independent authors and authors of content that are consistent with the target brand.
Define the relationship script in three steps;
Capture: the brand message and content of the project are received by the audience in a natural and coherent way.
Make assertive decisions about new content that reinforces the brand message with audience interests, making the brand more relevant.
Trust, after the consolidation of the brand's message with the audience, the confirmation of the emotional and rational approach between the brand's audience promotes the commercial relationship.
Breno Souto concludes that "the most important steps are to analyze the audience, to identify opportunities, to create a plan for growth, to make it optimized, to maintain constant measurement and analysis;" they create new opportunities and carry out the analysis of trends that are presented all the time."