The Canadian Civil Liberties Association is suing New Brunswick over changes to Policy 713 on sexual orientation and gender identity in schools.
The lawsuit is prompted by Education Minister Bill Hogan's decision to require all LGBTQ+ students under the age of 16 to obtain parental consent to use a pronoun or name other than those assigned at birth.
Minister Hogan maintains that parents have the right to determine the first name and pronoun that school staff should use for their child, regardless of the child's wishes.
The elements of the accusation.
The Canadian Civil Liberties Association is asking the King's Court to overturn this change to policy 713 and recognize that this obligation violates the rights of LGBTQ+ children, protected by the Charter of Rights and Freedoms.
The national body maintains that the new rules require school staff to participate in an approach that aims to alter the gender identity of LGBTQ+ students, despite contrary opinion expressed by social workers and psychologists.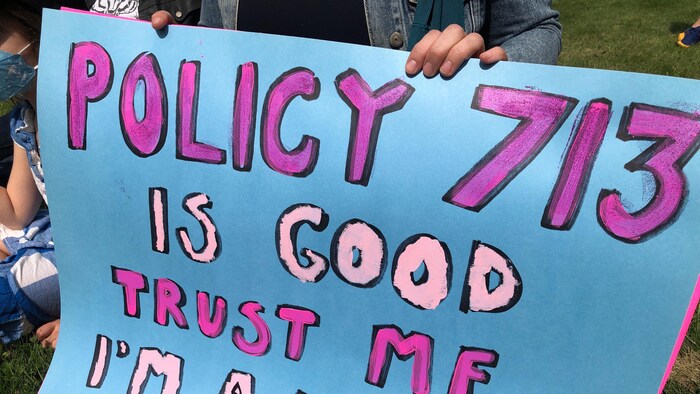 "The 713 policy is good. Believe me, I am a doctor (in education)," this sign reads during a demonstration held on September 3, 2023 in front of the New Brunswick Legislative Assembly building in Fredericton.
According to the Association, the changes to Policy 713 are the result of a process imperfect and unfair implemented by a minister who demonstrates narrow-mindedness and reasonably fears prejudice.
None of these accusations have yet been prosecuted in court. The government has not yet submitted its defense statement to the court.
The notice of claim filed Wednesday is the first step in a long process. Since the Association is not directly affected by what it objects to, it must demonstrate that there is a public interest. You must also prove your accusations.
The Saskatchewan government, which made a similar change to its own policy on the matter, is also the subject of a lawsuit filed by another organization.