In Australia, grandparents are the most popular form of childcare. However, with nearly 30% of Australians born overseas, many families do not have grandparents living nearby.
Border closures due to COVID-19 have made family reunification nearly impossible in the past 18 months.
But our new study of grandparents who come to Australia to care for their grandchildren shows that even in "normal" times, many migrant families struggle to get the childcare they need.
Our research
In addition to the importance of family and cultural ties, grandparents are a highly demanded form of childcare because formal preschool education and care (such as kindergarten) is very expensive.
Overseas grandparents, whom we call migrant grandparents, provide two types of childcare. These include so-called "flying grandmothers" who regularly make short trips, and those who constantly move to care for their grandchildren.
In 2019, we surveyed 12 migrant grandparents from China, Vietnam and Nepal about their experiences. The study consisted of three focus groups with these grandparents, each of whom regularly looked after their grandchildren in the Sydney metropolitan area.
What Migrant Grandparents Do
Migrant grandparents looked after their grandchildren intensively. This support, they said, allowed their grown children to "move forward" in their new country. One grandmother from Vietnam put it this way:
Thinking about my daughter [she] cannot contribute to the country because she has to stay at home to take care of her daughter and family[…] When I come here, I take care of my grandchild and my daughter goes to work.
A grandfather from Nepal put it this way:
My sister-in-law is studying PH [registered nurse]… She completes the course within six months. […] If we are here [it is] very simple.
Migration system of Australia
In recent decades, the Australian migration system has given increasing attention to younger and more skilled migrants. At the same time, the rules for family reunification with aging relatives have been tightened.
Moving to Australia permanently as a grandparent is difficult and expensive. One option is a "paid visa," but it costs about $ 50,000. Another permanent option for grandparents is the no-premium visa, which is cheaper but requires excessive waiting times of over 30 years.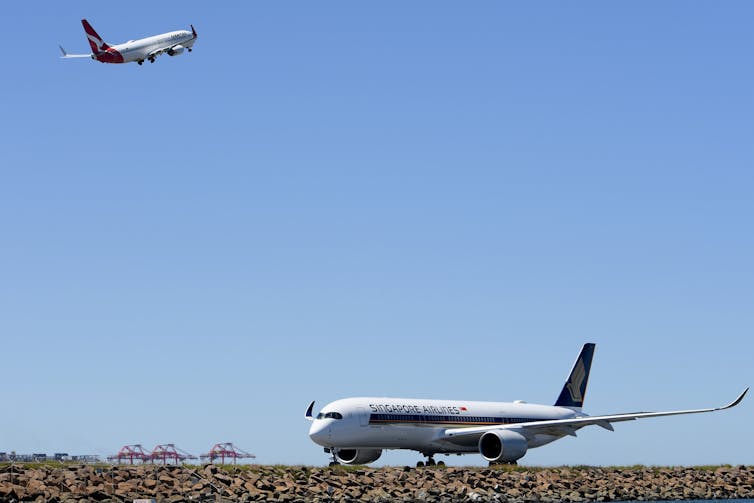 These visas also have strict criteria that at least half of the applicant's children must be Australian citizens or permanent residents. They must also provide assurances that they will pay off any Social Security debts that arise. In 2018-2019, 5,587 paid and 1,218 paid parent visas were offered.
Most grandparents are more likely to rely on visitor visas, which allow them to stay in Australia for about three months, sometimes 12 months (exact numbers are not available as grandparents are not highlighted in government travel / visitor visa data).
In 2019, the federal government introduced a new visa. It costs between AU $ 5,000 and AU $ 10,000 and allows citizens and permanent residents to temporarily bring their parents to Australia for three or five years, with the option of renewing up to ten years. During their stay, visa holders do not have access to public health care or social security and cannot perform paid work.
Impact on the grandparents of migrants
The migrant grandparents with whom we spoke spoke in detail about the problems of the Australian visa system. Many simply could not afford a permanent visa. As the Nepalese grandfather said:
I think if we pay $ 50,000, we can get a permanent visa. So we cannot do this. So for us it is [temporary visitor visa] this is the only option. We are not happy, but what can we do?
Participants from Nepal and Vietnam described how they used renewable visas to maintain contact with their families in Australia. This required constant travel between Sydney, their hometown or third countries. Many said that they now have a fourth or fifth visa. As one Vietnamese grandfather said:
I stay for a maximum of three months and then return to Vietnam. This is my fourth visit to Sydney. For this visit, my wife and I need to leave Australia and return to Vietnam in about a week to fulfill the conditions of our visa.
All of the Chinese grandparents in our study could afford "paid" visas, which provided much greater continuity and security. But even that created vulnerabilities. Although the visa was permanent, grandparents were still unsure of their rights and worried about access to the health care and care they might need as they got older. The translator explained:
They [the grandparents] didn't know if the government could help them when they get old. So they need someone who can speak their language, take care of them, support them.
Their dependence on their children to be eligible to live in Australia also created the potential for exploitative relationships.
Impact on parents and children
Temporary visas not only create problems for grandparents, they are also a source of instability for children who miss caring for their grandparents. As one grandmother told us:
Every time I go back there [in Vietnam]My granddaughter, she misses her grandmother and asks: "Why would our grandmother go back there? I miss you. Who will take me to school?
This uncertainty about caring for grandparents also made it very difficult for adult children to find and maintain decent jobs.
One Vietnamese grandmother explained how every time her three-month visa expired, her daughter had to quit her job because she could not afford babysitting. This pattern was repeated for ten years.
Where to go?
Our research has shown that the migration and childcare regimes in Australia are not the same.
---
Read More: Nearly 40% of Australian families cannot afford childcare


---
Even with a relatively new visa (2019), getting to Australia as a migrant grandparents is difficult and incredibly expensive for many. It is also poorly supported when it comes to health and welfare, making this group of grandparents vulnerable as they age.
Our research highlights the need for clearer, more affordable ways to obtain visas for migrant grandparents. This is also (another) reason for creating more affordable early childhood education and care for all families in Australia.
This article is republished from – The Conversation – Read the – original article.