Nearly a year after Mario Gonzalez was murdered by police in Alameda, California, the district attorney announced that no charges would be filed against the officers involved.
In a report sent Thursday to HuffPost from the Alameda County District Attorney's office, District Attorney Nancy O'Malley said that "the evidence does not justify the criminal charges."
Police in the City of San Francisco Bay Area on April 19, 2021 kneeled on Gonzalez's back for about four minutes, until he died, body camera footage, released After yelling at his family later that month, officers contacted Gonzalez, who was alone in a park with bottles of wine nearby, after a neighbor called about being drunk. Gonzalez spoke calmly with the officers for about nine minutes. Then the police placed Gonzalez's hands behind his back and pinned him down. At least one officer kneeled on him until he stopped breathing and lost his pulse.
The DA report describes the officers as "struggling at the top" of Gonzalez. Even after being handcuffed, lying on the ground with officers on top of him, the report described Gonzalez as "continuing to physically resist" as he was shaking his legs.
"After approximately three minutes and 39 seconds while handcuffing Mr. Gonzalez, Mr. Gonzalez became unresponsive," the report said.
Gonzalez's family has long been calling on O'Malley to charge three officers involved – Eric McKinley, James Fisher and Cameron Leahy – who have all been on administrative leave for the past year. The Alameda Police Department did not immediately respond to HuffPost's request for comment.
In a December report, the county coroner's office declared Gonzalez's death a homicide.
"These officers should be under jail at this point," Adante Pointer, the family's attorney, told HuffPost last week before the district attorney's report came out. He worried that police officers would be turned back on work.
For Gonzalez's family, the past year without him has been "like a nightmare", his mother Edith Arenales said last week.
Gonzalez was 26 when the police killed him. Her son, who is 5 years old and named after his father, often asks where his father is when he is coming home.
"How do I explain that he is not coming back. That they killed him?" Gonzalez's mother said.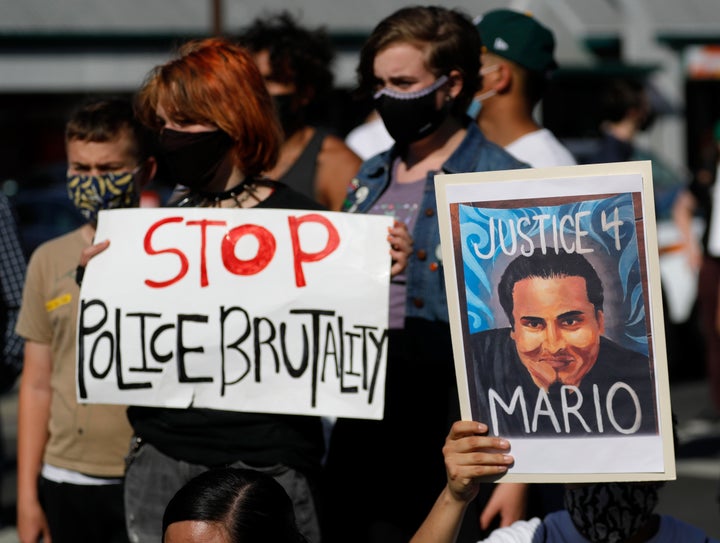 Gonzalez's 22-year-old brother, Gerardo "Jerry" Gonzalez, said last week that he expected to see a "strict accountability process for police who kill people", as well as respond to calls for police officers to change the policy. There are options to give. Investigations and mental health crises.
family is filed two federal civil rights lawsuits – One on behalf of Gonzalez's mother, for the loss of her son, and the other on behalf of her son Mario, for the loss of his father.
Before he died, Gonzalez was caring for his 23-year-old, autistic brother, Efrain, full-time. While his mother was working at a gas station coffee shop, Mario bathed Efren, cooked her food, applied gel to her hair. He would pick up his son from preschool and then feed them both – he loved eggs and homemade fries.
"Mario was a handsome man, very respectable, full of love," his mother said, adding that she loved watching movies and cooking for her son and his brother.
"He didn't deserve to die."