very little, if anything, we know about Georgian gastronomy, That's exactly what diplomat Nino Kiltava thought when she arrived in Spain from her native Batumi shortly before the pandemic. And for this reason, he opened his own restaurant in the Chueca neighborhood a few months ago, which aimed to dispel this ignorance with an attractive, traditional and accessible offer. nunuka is a small BistroWith nostalgic and charming decor that serves typical homemade cuisine and is attended by Georgian staff, the immersion is complete.
Still, it works great for a wide audience. The cuisine of this tiny ex-Soviet country, located next to the Black Sea between Turkey and Russia and stretching across Europe and Asia, develops almost exclusively. Bread, cheese, vegetables and meatElements that work very well for most palates and ages, and that invite you to share, try and discover its various offerings.
glow in nunuka's letter Eggplant with Walnut Paste and Light Almond Sauce (Badrjani Nigvit, 15 Euro), which They are a real delight. For a snack and as a starter, there are vegetable dips (pakhleuli, pumpkin, beetroot and spinach, 16) with a walnut base and homemade corn and sesame bread.
However, its star dish is famous Khachapuri (15), and it is impossible to fail: it is a bread baked at this time, filled with cheese and with the option of adding egg yolk. He too khinkali (15), a baked dough filled with minced meat and broth – there's also mushroom and ricotta stock, in this case 14 euros – which is playfully delicious as it's eaten by biting into the dough, hot broth Dip it and then eat dumplings, which are a kind of dumpling, though much bigger.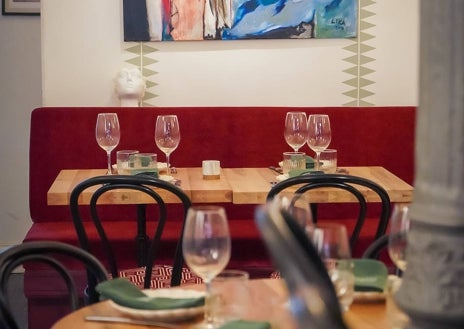 Chef David Narimanashvili offers at Meat Duck Meatballs in Wine Sauce with Barley Stew (24), Grilled Chicken with Smoked Cheese Mashed Potatoes (29), Beef Kebabs with Spicy Sauce (21) and some iberian pork skewers In this case (21).
What to ask for:


Their eggplant, their bread with cheese, khinkali, lamb.

perfect for:


Who love to explore world cuisines and different restaurants.

Rod Price:


3,50 Euro.

Price of Brinjal (Starter):


15 Euro.

Know:


C/ de la Libertad, 13. Closed on Mondays. nunukamadrid.com
in the Georgian kitchen spice and spice Those are important elements and in Nunuka they shine through, though without being overwhelming. among dessertsIts honey and walnut cake provides a deliciously sweet finish that's different from the usual.
Another element that surprises in this corner of the beautiful Calle Libertad is wine listwhich seeks to be representative of Georgia's standing among the countries of the East, although here it is a complete novelty for the vast majority.
Kiltwa wishes to pay tribute to his family and especially to his grandmother, the one who used to make the khachapuri of his childhood for him every day, with this discreet and cozy restaurant. However, it has allowed itself to be consulted by local companies, both in the decoration and in the gastronomic part.