World records are meant to be broken and that seems to be easier these days with running shoes also playing a key role in that. The footwear industry knows that it has the key in its designs with the carbon fiber plate as the protagonist. However, there is one very important aspect that sometimes goes unnoticed and that is none other than the overall weight of the shoe. The lighter, the faster.
And Adidas has managed to develop the lightest competition running shoe to date. In addition, it is also the most exclusive as its price is much higher than the other carbon plate shoes and there are only 521 pairs available worldwide.O. His name is The Adidas Adizero Adios Pro Evo 1 weighs only 138 grams and is equipped with the most innovative technologies which the German house currently owns to help the fastest athletes achieve the best marathon times in the world. Of course, it does not replace the Adizero Adios Pro 3, but is another one in the Adizero family.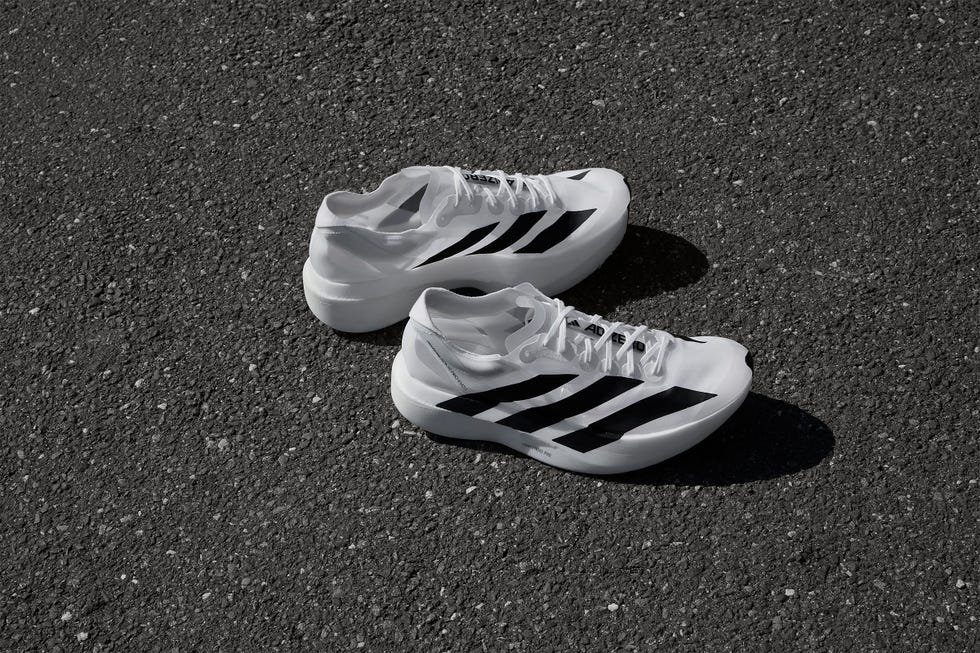 Features of the Adidas Adizero Adios Pro 1
With the motto "Nothing is impossible", these Adizero Adios Pro Evo 1 are the result of years of innovation. "Our goal was to create a running shoe with the best technologies in the Adizero series, but still lighter than any other adidas shoe," says Patrick Nava, Vice President of Product, Running & Credibility Sports at adidas. Words that coincide with what Charlotte Heidmann, Senior Product Director of Adidas Running, tells us to Runner's World, who adds: "We must always encourage innovation to overcome the limits and we achieved it because this was something , that everyone in the world or athletes thought that it would never be possible to achieve this and we did it.
When I ask Charlotte how they made it Adidas' lightest (and therefore fastest) running shoe, she tells me that they "analyzed every element of a running shoe, weighing what we could eliminate or change to reduce its weight , and worked with our top athletes in Kenya. Starting with the fabric from which the entire upper is made, which appears very thin, almost transparent and "acts as a metaphor for its lightness". Additionally, just the three Adidas bars along with the minimalist heel counter, collar padding and laces seem to provide more structure to give the shoe more stability and support.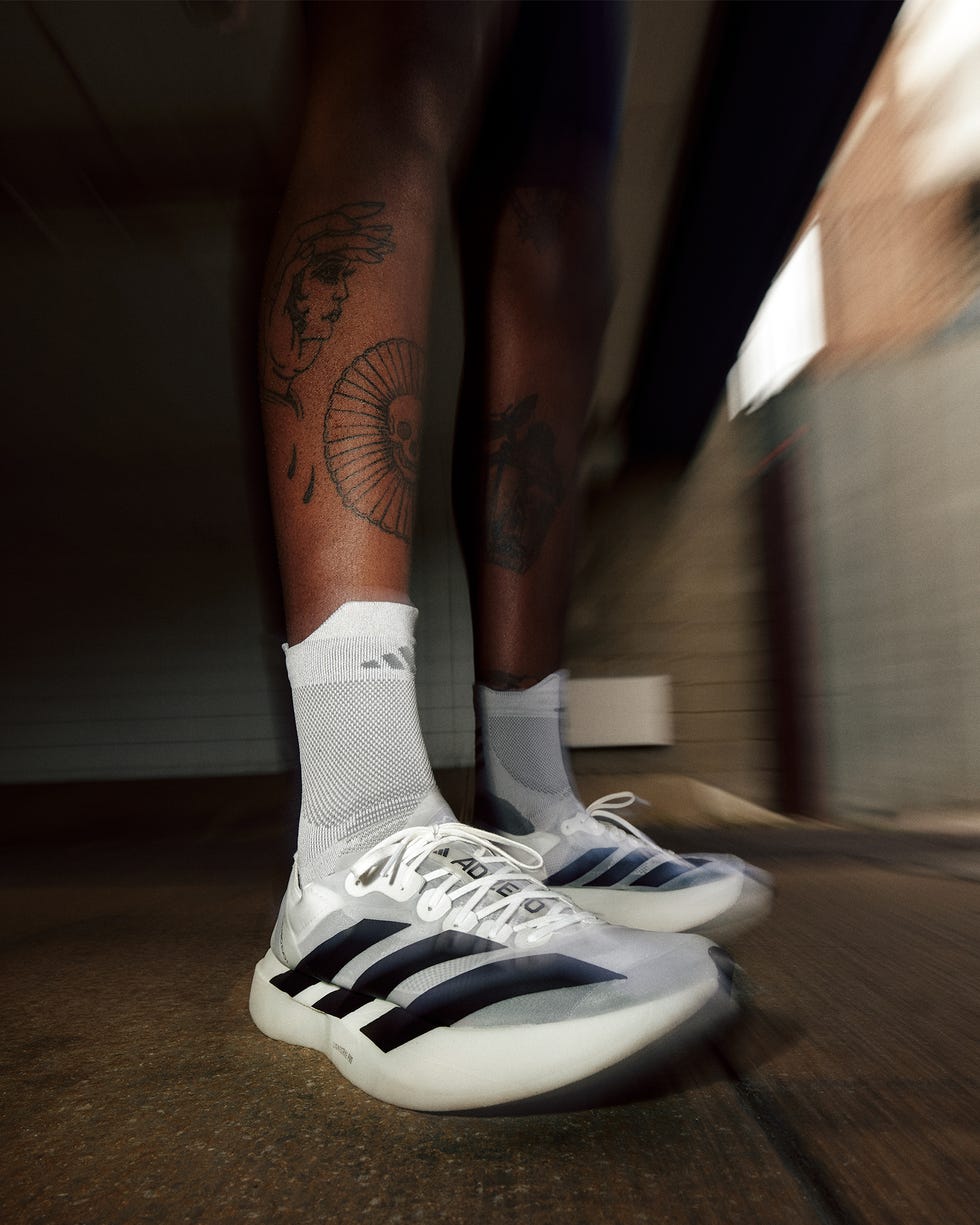 Courtesy of Adidas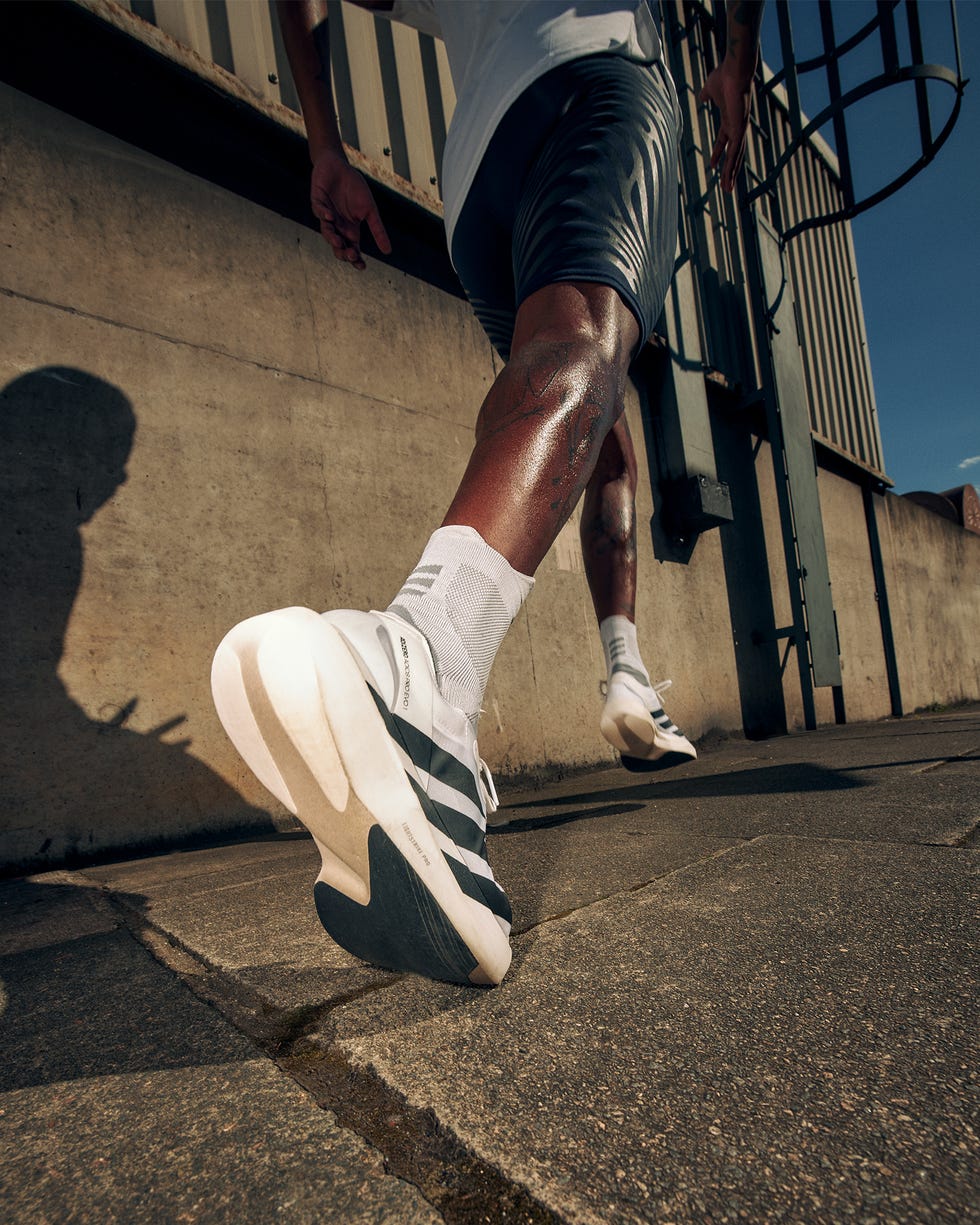 Courtesy of Adidas
The midsole of this Adidas Adizero Adios Pro Evo 1 is also very different, although it retains EnergyRoads 2.0. Not only because they use a LigthStrike Pro foam developed through compression-free molding that reduces weight significantly and also ensures a higher energy return the geometry of the seesaw. "It's completely different, especially in the rocker-shaped forefoot area." which covers 60% of the shoe length. This innovation manages to speed up your stride and improve your running efficiency. The profiles remain maximalist and of course compliant with the law: we have 39 mm in the heel and 33 mm in the forefoot and a drop of 6 mm.
The outsole is also something completely new that we have never seen on a competition shoe before. Charlotte assures us: "It's the thinnest, lightest sole we've ever made." And he's right when he shows it to us in the Teams interview. This is a piece of shiny black rubber that takes up most of the front area of ​​the shoe. "We can't say for sure how many kilometers it will last, but we know that it provides excellent traction on asphalt, unpaved roads and even in wet conditions because we tested it with our athletes in Kenya on many rainy days."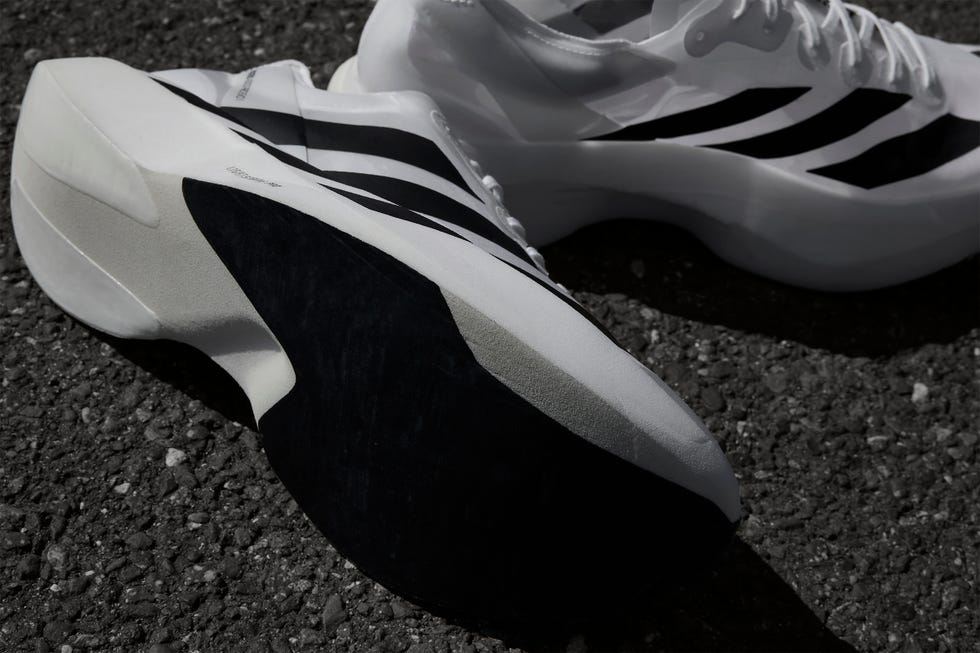 Courtesy of Adidas
To make it even more exclusive, Adidas has only produced 521 pairs of this Adizero Adios Pro Evo 1 so far and at a price of 500 euros. We asked him why this high price is due. "It definitely has to do with the innovation and story around the lightness of the shoe, everything that goes into achieving every part that makes up the shoe," he tells us. Of course, no matter how ambitious they may be, they tell us that all runners will have the opportunity to grab a pair of these limited edition shoes on their website from September 14th.
What type of runner is the Adidas Adizero Adios Pro Evo 1 suitable for?
The Adidas Adizero Adios Pro Evo 1 is currently the lightest competition running shoe from the German brand and one could say from all over the world, but its target group is completely different when you compare it to the current Adidas Flyer. "The difference is clear: the weight between the two: 230 grams for the Adios Pro 3 versus 138 grams for the Pro Evo, but the type of runner is also different.. While the former is suitable for a wide range of runners, the latter is intended only for a select few, particularly the fastest athletes in the world who want to perform at their best on race day."
Adidas Adizero Adios Pro Evo 1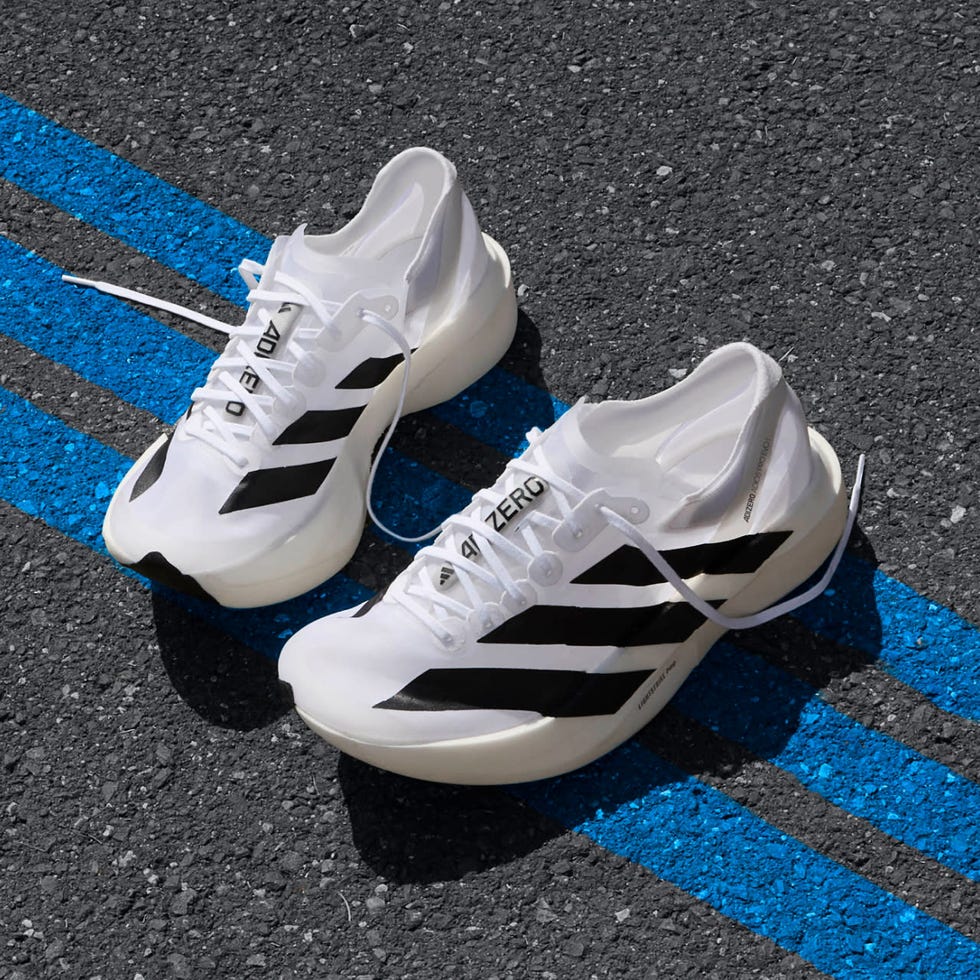 Adidas Adizero Adios Pro Evo 1
Photo credit: Adidas

Carlos is an expert in shoes and other sports equipment. He spends his life running and testing shoes has become his job since he arrived at Runner's World in the summer of 2019. He has no idea how many pairs he was able to try on in a single year. Oh, and it fits a 7.5 US (or a 40.5 in Europe). It works the same on a torn one as it does on a torn one. Try and test the latest running shoes on the market as well as the fashionable sports watches for runners, including windbreakers, belt bags or headphones for your runs… It can also help you find a treadmill, stationary bike or cross trainer. .
It also has the ability to create needs for you. It specializes in finding the best deals from Nike, Adidas, Asics and the rest (and least popular) sports brands. He also likes to hang out on social media to keep up with shoe prototypes, or watches marathons to find out what model top athletes are wearing, and talks about it on Runner's World. Or interview those who know the most about this crazy world of running shoes. Come on, a real sneaker freak (and proud, why don't you say so too). Although he likes to spend some of his time traveling, a pair of running shoes is always a must in his suitcase so he can discover new places in one step. He also spends his time running 10km races and half marathons all over Spain and part of the world. Your next destination? Running a marathon for the first time.
Carlos Jiménez graduated in journalism from the Rey Juan Carlos University in Madrid in 2018 and has since specialized in digital media, working on lifestyle magazines and current affairs websites. From the editorial team of Fuera de Serie (Editorial Team), which covers fashion, beauty and luxury topics, to the Mediaset website as you watch The Ana Rosa Program. With more than 5 years of experience, he has been involved with Runner's World since 2019, but also with Men's Health and Women's Health, where he also expands the sports equipment area.