The German women's national team lost the second game of the Arnold Clark Cup against Canada 0:1. A standard brought the goal of the day.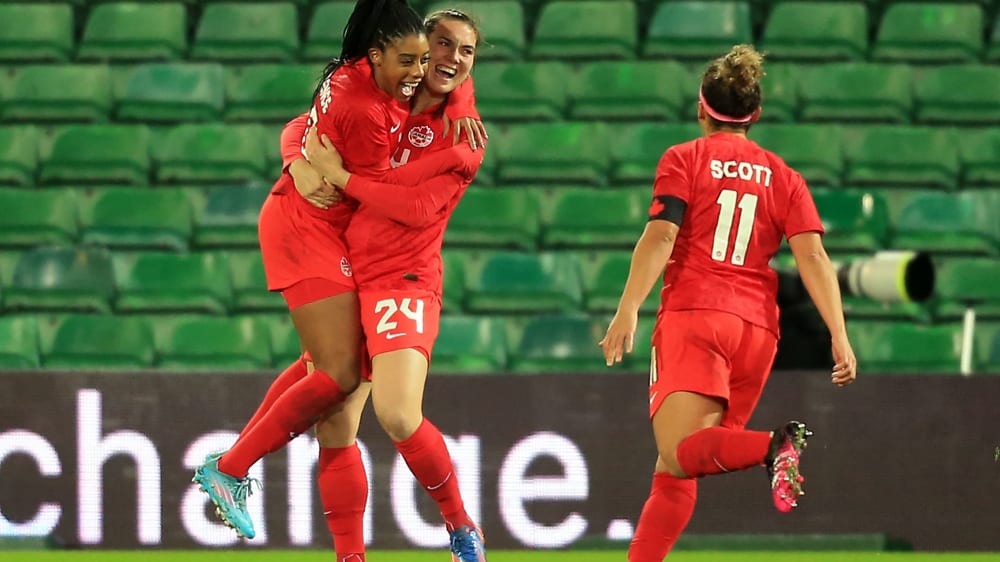 Vanessa Gilles (No. 24) headed Canada to a narrow 1-0 win.
AFP via Getty Images
After the 1-1 draw against Spain at the beginning of the tournament, national coach Martina Voss-Tecklenburg changed her starting XI to seven positions: only Feldkamp, ​​Bühl, Brand and captain Magull were in the starting line-up again.
A set piece puts Canada ahead
The game started badly for the DFB women, because Canada took the lead with the first chance: Gilles headed in a corner from the right to make it 1-0 (7th). It was generally a first half with few scoring chances. The Voss-Tecklenburg team could have had a great opportunity, but a penalty was not awarded after Gilles blocked Magull's shot with his arm. One could have pointed to the point here.

You have
Sheridan3 – Riviere3 Buchanan3Gilles3 Lawrence3,5 – Scott3,5 Lacasse3,5 Quinn2,5 Fleming4 – Beckie4Prince3

Deutschland
Berger3,5 – Doorsoun4,5field camp3 Kleinherne3,5Rauch4 – Bruise3,5 Brand4 Dongus4 clearance4,5 Buehl4,5 -Anyomi4
game info
| | |
| --- | --- |
| Stadium | Carrow Road |
| Viewers | 119 |
Otherwise, Germany struggled offensively for a long time. Shortly before the break, however, there were two good shots: Bühl's shot was parried by Sheridan (42′) and Feldkamp's shot went wide (45-+2). So the Canadians went into the cabins with the narrow lead.
Berger in luck – Gwinn missed the compensation
Directly after the restart, Prince had a good chance to make it 2-0, but she missed (47th). Goalkeeper Berger was very lucky when her emergency brake went unpunished just before the edge of the penalty area (52′). In the course of the second half, the DFB women got into the encounter better and better. Dongus' long-range shot was too central (67′). Substitute Gwinn became more dangerous, and after a nice pass from Anyomi, her low shot was saved by goalkeeper Sheridan (71′). The German women threw everything forward, but the equalizer should not succeed.
This means that the DFB women only have one point after two games in the mini-tournament. It continues on Wednesday evening (8.30 p.m.) with the last game of the competition against hosts England.