The island states of the Pacific – from large Papua New Guinea to the smaller island state of Tuvalu – find themselves in a new influential position while the west and China fight for their strategic support.
Their bargaining power may give them more power to attract international aid to tackle the biggest threat to the region – climate change.
Failure to keep global warming below 1.5 ° C will likely mean that the Pacific island nations will experience more frequent climate and weather-induced disasters, and a greater flood of atolls, islands and rising seas.
For the past 15-20 years, China has increased its involvement in the Pacific region. It has now gained considerable influence and fidelity in the major ocean states of the region, including Fiji, Tonga, Samoa, Vanuatu, and more recently Kiribati and the Solomon Islands.
Pacific island nations have welcomed China's infrastructure initiatives and concession loans, often on terms that are considered more favorable than those historically provided by other countries. Unlike the US and Australia, or international bodies including the World Bank and Asian Development Bank, Beijing does not usually commit its aid to economic and governance reforms.
After years of being regarded as a global backyard where assistance has been determined by donors' agendas, the tables are now turning. This revived focus on the region has benefits for it. Both Australia and New Zealand have recently changed their approach to the region.
The newly elected Australian Government, already the largest aid donor in the region, has promised to increase its contribution. India and Japan have also indicated that they will increase their involvement in the region. The US is similarly reviewing its position.
Some Pacific states – Palau, Marshall Islands, Federated States of Micronesia – seek renegotiation of free association agreements, making the United States responsible for their defense and external security, while providing financial assistance for development. The political situation and the US's renewed interest in this strategic region provide greater strength for the islands to reach improved agreements.
Concerns that negotiations came to a standstill in early 2022 led to the appointment of a special presidential envoy for compact negotiations. But now, if islands decide that the US supply is not attractive enough, there are others, like China, who can step in. There are similar decisions for those island states in the Pacific, the Cook Islands and Niue, which traditionally have a close relationship with New Zealand.
New relationships
Over the years, Pacific Island governments have welcomed assistance, including humanitarian aid, infrastructure projects, support for health systems and education, scholarships for young people, or access to technology. Willie Jimmy, a former Vanuatu finance minister and ambassador to China, said in an interview with Al Jazeera that China's investment in the region provides aid to projects that do not cover the west. "Other donors do not pick up any projects that are not in line with their foreign policy objectives." Former Vanuatu Foreign Minister Ralph Regenvanu also supported China's support for the islands, according to the Independent Australia website: "They are not supposed to be like Australia. They can be just as powerful, but Australia has the gold medal for that. "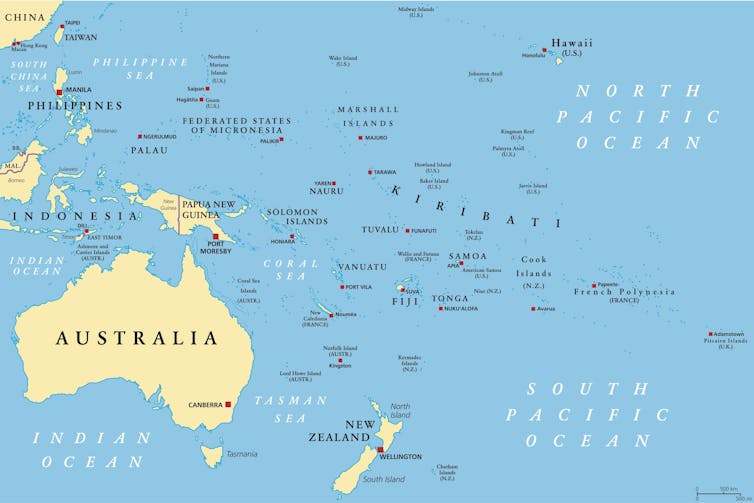 Pacific island states do not see themselves as pawns in an international chess game. They demand respect for their own sovereignty – as evidenced by the Solomon Islands' response to criticism of its recent security agreement with China. According to the Reuters news agency, the former Prime Minister of Samoa, Tuilaepa Sailele Malielegaoi, said about the proposal that the island states in the Pacific were in debt traps: "Some may say that there is a protective nuance to believe that the Pacific nations did not know what they were. do."
Strength in numbers
Pacific Islands countries work together through their regional organizations such as the Pacific Islands Forum, the region's economic policy body, to give themselves more bargaining power. Dame Meg Taylor, former secretary general of the forum, was reported by the Pacific Island Times website, saying: "If we divide into our sub-regions, and then are played down by geostrategic interests, our own interests will be as a collective. severely undermined. "
Early in 2022, China and the Solomon Islands signed a new security agreement, under which it is believed that China will provide police, security and military personnel to assist the Solomon Islands government. This has provoked great concern about China's growing influence among longtime donors of aid and assistance. Pacific Islanders were concerned about undermining regional security agreements.
---
Read more: The Quad: US efforts to counter China's influence in Asia are entering a new era of micro-alliances


---
However, not all advances by China are accepted. China's efforts to reach a ten-country agreement that would cover free trade, police cooperation and disaster resilience have been rejected.
Tackling climate change
As countries on the forefront of climate change, but which have contributed the least to its causes, island nations in the Pacific have been calling for global action for decades.
On the international stage, the island states collaborated on the Paris Agreement and on influencing dialogue at COP26. They also expressed disappointment at the outcome, especially the lack of compensation for climate change.
The Pacific State of Vanuatu will now ask the United Nations General Assembly to refer the question of states' duties to protect people from the adverse effects of climate change to the International Court of Justice for its opinion. If successful, it is hoped that this opinion will provide a stronger, positive international response to support vulnerable, developing countries
It seems unlikely that the current geo-strategic importance of the region will soon diminish. Pacific countries may benefit from this and exert extra influence to get the world to take more immediate action on what they see as the biggest security threat: climate change.