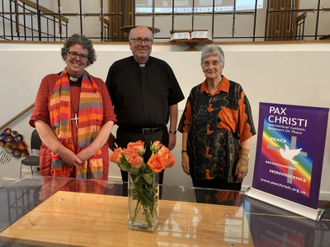 Ann Farr reported the following at the start of the Pax Christi England and Wales AGM on Saturday:, Living in a time of war in Europe, and seeing the disastrous consequences of the arms trade, militarism, nationalism, and occupation, is a clear reminder of why Pax Christi came into being and why our work remains so important. In 1945, the French teacher, Marthe Dortel-Claudot, was convinced that it was important to pray for her country's enemies and, with the support of Bishop Pierre-Marie Thies, started a movement working for peace and reconciliation. It was a very unpopular thing. It required conviction, courage and perseverance backed by prayer; Qualities that we see in many of the peacemakers we promote and with whom we work now. Being part of this global movement of Pax Christi International enables us to face those problems in areas of conflict and enables us to support each other internationally – something we need more than ever because We see conflicts going on around the world.
The Russo-Ukraine War took many by surprise and has been a profound blow to all of us in Europe. For those of us who have been with 'Never Again', it seems almost impossible since the last war in Europe. We look back and see that decisions made after WW1 resulted in outrage and social conditions that led to WW2. It seems that all major conflicts leave that effervescent undercurrent that erupts at some point because pain and injustice are often untold and there is hardly any peace and reconciliation process that demands justice.
Trying to be a peacemaker in times of war has been, and continues to be, challenging. What to say. What to do. How to condemn rising militarism when a country and its people are constantly and illegally attacked;
– when soldiers with false information are being sent to fight;
– When relentless media coverage of war is polarized into black and white, good and bad;
– When conscientious opponents are being forced to fight or criminalized.
– When an entire country is demonized, but we know that thousands of them are protesting nonviolently, the way they can, – – – and being faced with violence and detention ;
When innocent civilians are being killed, injured, displaced and forced to flee for their own safety…. what do we say. What do we do. We are all grappling with these questions.
During the Russia Ukraine war we have been in contact with peacekeepers in both countries, listening and sharing their stories, offering our solidarity and sharing prayer times with them. There can be a sense of hopelessness when we have no control and don't know what to do. But we know that we are called by the gospel to be peacemakers, to listen, to seek justice for others, and to be the voice of those who are not given a voice. Consistency is an important form of peace building; Being with others, listening to them and offering what we can, when we can. In sharing resources, prayers, articles and statements, we hope that all of us at Pax Christi can reflect on events in the light of prayer and the gospel.
The war came on top of other global and national upheavals, pandemics, climate change, the desperate plight of thousands of refugees, and the marginalization of countless people. We have tried to make sure that there is a connection between all these issues. Unethical amounts are being spent on weapons that kill and cripple people, destroy their homes and means of livelihood, deprive them of health care, education, shelter and water, and spend on alternative energy sources. and take care of our environment. Countless thousands of innocent people are fleeing their homes, seeking refuge and refuge, because of the violence and hatred caused by wars fueled by the arms trade.
Pope Francis recently said: "How great poverty arises from the senselessness of war! Wherever we look, we can see how violence strikes those who are defenseless and vulnerable."
Because we want to change that, to see an end to the arms trade, to see an end to nuclear weapons, and to see a world where all people can live in peace and be treated with justice, Pax Christi injustice Continuing to challenge and work. For peace.
Despite the challenges of our precarious financial situation, we have endeavored to ensure that the Pax Christi community continues to implement peace.
Our extremely low income meant that we were unable to appoint a new director, or a new communications officer, when Rachel left. Over the past year the executive has focused on a process of discretion regarding these appointments and we have reached a stage where we can advertise for someone to take us into the future. We received many applications for the post of CEO and the interview process went very well but sadly we were unable to make the appointment. The executive has decided to advertise again in September and we pray you for that process.
I would like to thank Bishop Malcolm, our National President; Fausta and Aisling, Staff Team, Valerie Our editors, our volunteers and executives who have worked tirelessly to ensure that Pax Christi peace work continues in these unusual and demanding circumstances. In particular, I want to thank Joan who was elected as Vice President last year and has done a lot of work and acquired new skills as she manages the website for us. I am very grateful for the support he has given me. In November we thanked and bid farewell to Rachel and we wish her well as she takes on her new job in education.
Thanks also to those who stand below the executive, Margaret Pitt who took over as Treasurer and excelled in that role; Henrietta Cullinan has represented us at national and international meetings on nuclear weapons, Ann Kelly who was co-opted last year and expertly led the working group for the new appointment, and Paul McGowan, who was appointed immediately after her service. The latter was co-opted. The two terms of office and local authority have provided expertise on pension fund-related disinvestment strategies and provided us with a steady stream of reflections on the Gospels and Psalms which are an important element of our website. Many thanks to all of you, we appreciate all the work you have done and look forward to your contribution in the future.
My interactions with members online and in person have brought me joy and encouragement. Sometimes people say, I can't do much right now or I can't go to protests, but then put up posters saying how they share resources and prayer cards with their community, parish or school Write poetry, have done some amazingly creative fundraising and encouraged prayers for our work.
Whatever each member does makes a difference and we spread peace wherever we are. Thank you to all. You have been encouraging, helpful and very generous in many ways. Please continue to spread the word by encouraging others to join us and therefore increase our membership and work for peace.
In worship this afternoon, we will remember Pax Christi members and friends who have died during the year. All of them contributed immensely in establishing peace in the wider peace community and at their doorstep. Here, I'd like to mention a former chairman, Stewart Hemsley, who led us with integrity, enthusiasm and great humour. It was always a pleasure to meet with him. You might remember meeting him at Ash Wednesday events wearing sackcloth and ashes and holding a beautifully made banner by his wife, Anne. Tributes can be found on the Pax Christi website.
Today, of course, we remember Bruce Kent, always with us at an AGM. He has been a constant presence for all of us over the years. Boldly outspoken, deeply concerned about the injustice done to others, and working tirelessly on a range of issues, including ending nuclear weapons and militarism, to achieve peace. His schools, conferences, demonstrations, embassies and all manner of events, his letter writing and constant campaigning have made such a profound impact on many of us, and he continued to do so to the very end. He has made a difference that is impossible to measure. We remember his presence, his questioning interest, his knowledge of history, his wealth of experience and of course his humor that never failed to light up a gathering.
Our love, condolences and the assurance of our prayers go out to Valerie and all of her family and friends.