by Francisco Lujana ,
Mayor Cruz Pérez Cuellar presented the "Juárez Vigilante" security strategy at a public event in Megabandera, where he addressed Juárez and personnel of the Municipal Public Security Secretariat (SSPM).
The strategy envisages installation of 1,000 new surveillance cameras, six highway arches and 3,000 electronic bracelets to protect women at high risk of violence.
He called upon the SSPM and the elements of the society to work as a team and unite to overcome the problems of insecurity.
"If today they ask us if we are where we want, the answer is 'no', but we are changing something, we are doing something different," the mayor said at an event held Thursday afternoon in Plaza de la Megabandera. " In the area of ​​Chamizal.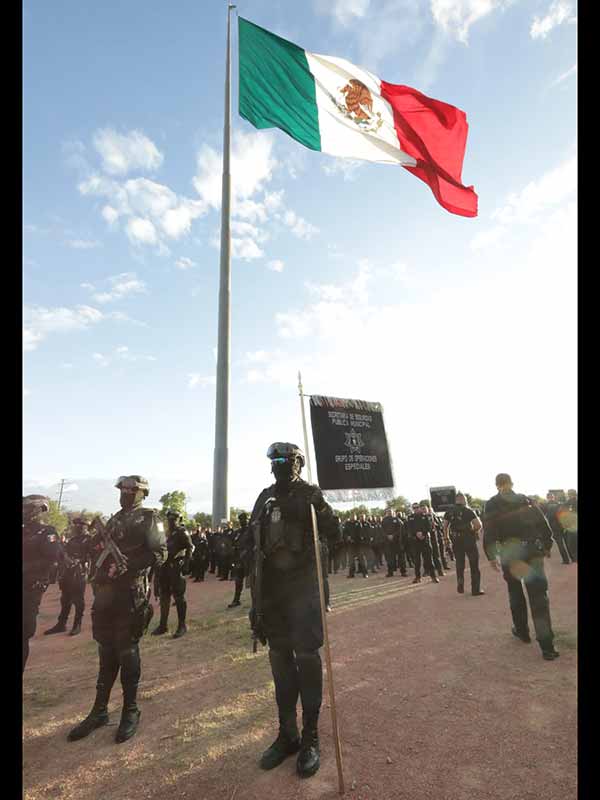 intelligent security platform
The strategy includes installing a thousand new surveillance cameras with state-of-the-art technology; In this regard, he assured that they have demonstrated their effectiveness in places where the authorities have faced security threats.
The cameras will be located at 250 strategic points in the city which will be linked to 276 cameras which are currently monitoring the city from the Immediate Response Center (CERI).
One of its merits is that this technology is programmed to perform intelligent video analysis.
They have the ability to detect and process images of objects and people.
He explained that through these analytical videos that capture faces in different situations, they establish comparisons that are tracked in different databases. With this function it allows to identify suspicious persons or persons of interest.
As part of the strategy, it was promised the acquisition of two mobile command centers to monitor hard-to-reach areas.
He announced that this strategy aims to restore peace in every neighborhood, street and house of the city, together with all the Juarans.
The city president highlights that corporation strength and technology is worthless if you don't work as a team with each gambler.
He addressed a message to the elements of SSPM, which he recognized and thanked them for their work for the benefit of the public.
"I stand before you as the municipal president of Juarez, but also as Juarez; with all humility, gratitude and my greatest admiration for each of you", he expressed.
Finally, he announced that his government had already invested in 200 vehicles equipped as units of Public Security Corporations and was preparing to channel an additional 100 million pesos to operate tactical security equipment and elements of the SSPM. Is.
Officials from the State Public Security Secretariat and the United States Consul General in Ciudad Juárez, Eric S. Kohan, were present at the event.