High-level representatives of the governments of Peru and the United Kingdom held the IV meeting of the Peru-United Kingdom Political Consultative Mechanism in London on Tuesday, which seeks to boost bilateral ties between the two countries.
The IV meeting of the Peru-United Kingdom Political Consultative Mechanism was held in London today. The most important issues of bilateral relations were addressed, such as progress in the implementation of government-to-government agreements on reconstruction and bicentenary schools. pic.twitter.com/9tvL7Yedgd

— Ministry of Foreign Affairs Peru ???? (@CancileriaPeru) 30 August 2022
The countries agreed to strengthen their cooperation in Peru by providing sustainable infrastructure, expanding trade and investment opportunities between the two countries, cooperating in the fight against climate change, protecting democracy and promoting human rights Of.
Among the main issues addressed, they highlighted the government-to-government (G2G) agreements signed with PEIP Escuelas del Bicentenario (2021) and Transformation with Reconstruction Authority (2020), through which 149 schools and 18 health centers were built Will go As well as integrated solutions systems for rivers, dams and aqueducts in 9 regions of Peru.
The parties highlighted that the United Kingdom is the main investor in Peru, highlighting the importance of the accelerated start-up of Anglo American's Queleveco mining project, and the cooperation between the regional government and the company in favor of the socioeconomic development of Moquegua. Works.
He also observed that the British company AstraZeneca is planning an investment of US$10 million to promote medical research in Peru.
In addition, the actions taken in relation to the commitments taken at the 26th Conference of the Parties on Climate Change (COP26) were reviewed.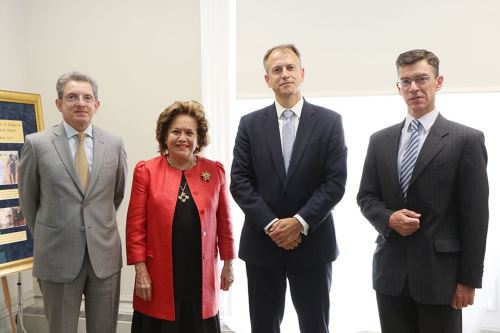 They highlighted that, over the next six years, the United Kingdom will invest approximately US$20 million in Peru to promote energy transition, infrastructure and sustainable production, as well as community businesses, green finance and the prevention of environmental crimes. Will do
Peru, on the other hand, reiterated its request to the United Kingdom to support its candidacy to join the United Nations Human Rights Council in the period 2024-2026.
The British delegates reaffirmed their support for Peru's accession to the Organization for Economic Co-operation and Development (OECD), highlighting the opportunities that the accession process provides to promote structural reforms that strengthen democracy, economic development and promotes the reduction of inequality in its member countries. ,
Finally, the United Kingdom and Peru highlighted the importance of developing closer ties in the educational, cultural and scientific fields. They discussed opportunities to increase travel between the two countries, and Peru emphasized the challenges of the United Kingdom's short-stay visa system.
(FIN)NDP/GSR/JCR
More on endian:
, The executive branch paid tribute to Santa Rosa de Lima, the patron saint of America, the Indies and the Philippines, as well as @PoliciaPeru, for devotion to service, which contributes to the order and security of the motherland. https://t.co/8604dOen0s pic.twitter.com/p0JwRpHaKQ

— Andean Agency (@Agencia_Andina) 30 August 2022
Published: 8/30/2022