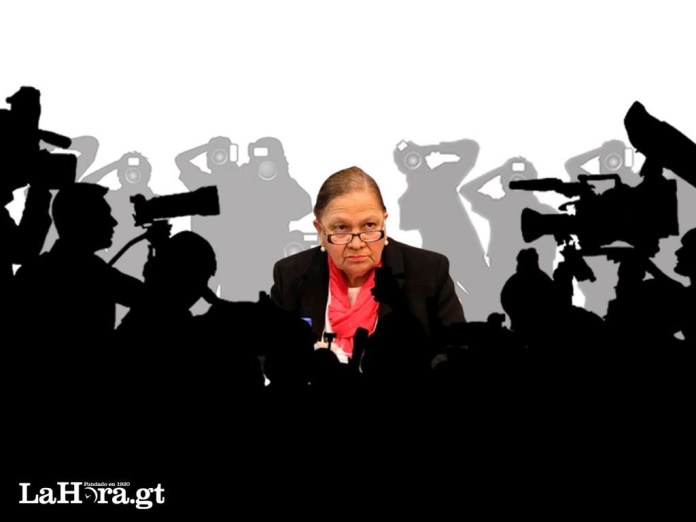 On September 5, the head of the Public Ministry (MP) and Attorney General, María Consuelo Porras, offered a "press conference" and assured that MP a "open institution that provides any information", but in the end it was not allowed to ask the press like on the previous occasions.
At that conference, Porras claimed that statements about the MP's anti-democratic actions were part of an alleged "hate campaign» who wants to interrupt his mandate.
The activity followed a meeting with the Organization of American States (OAS).
THE MEDIA "KNOW" ABOUT HIS OPENNESS
«We are open doors, all our lives. And you media know it.said Porras while nodding his head and reading his speech, which lasted less than ten minutes.
In addition, the Attorney General emphasized that the investigative unit she heads "It is transparent in its actions and will continue to carry out its constitutional and legal functions with full respect for democracy«.
After he finished his speech, the head of the information and press department of the Chamber of Deputies, Juan Luis Pantaleon, took the floor and before he could speak, the officials were already on their feet.
«Due to scheduling reasons, the authorities have to withdraw, we thank the media for their presence, wish you a nice evening" Pantaleon apologized while Porras and his work team quickly left the room.
Porras goes on the defensive in the face of pressure from the citizens: they want to interrupt my period
GENERATE CRITICS
After the said conference, users of social networks questioned Porras' actions. In addition, journalists and officials denied that the MP "Opening with press and information«.
This is not the first time Porra has been accused of opaqueness to the press, as he has repeatedly failed to reply to journalists' questions about Parliament's leadership on cases reported as political persecution.
On other occasions, meanwhile, only a few mediums have been called, but the call wasn't for everyone.
ABOUT THE CONFERENCE
During the conference, which was almost two hours late, Porras called the accusations leveled against the deputy false, irresponsible and undemocratic, that there was an attempted coup by this institution, so that Bernardo Arévalo would not take office as president from January 14.
Luis Almagro, Secretary General of the OAS, arrived in the country as part of the agenda, which includes the transition process, to which he was invited by President Alejandro Giammattei and for which he arrived on September 4th. Porras had held a meeting with him minutes earlier.
He also asked Almagro to highlight the following in his report to the OAS Permanent Council:the deputy's opening up to the provision of information, as this is the right way to be informed about the reality of what is happening in the institution officially authorized to do so«.