Wednesday, May 18th 2022, 10:15 am – Potential for record-setting strong winds that could impact ferry travel and also cause power outages through Wednesday in southern BC
Batten down the hatches, BC, it's going to be a very bumpy ride on Wednesday. An unusually strong and fall-like storm is expected to unleash mighty winds that could bring widespread power cuts and cancel or postpone ferry services, among other travel interruptions. The system won't be as intense for rainfall, but a good soaking is still forecast, while the alpine regions are in for hefty amounts of snowfall. More on what to expect with the impending storm and beyond, below.
MUST SEE: Spring gives Canada the cold shoulder for the unofficial kick-off to summer
WEDNESDAY: POTENT STORM BRINGS RAIN, SNOW AND WIND
An unseasonably strong low-pressure system made its presence felt on Vancouver Island Tuesday overnight, bringing intense southeasterly winds and heavy precipitation to much of the South Coast early Wednesday. Special weather statements and wind warnings are in place.
A low like this can generate wave heights of 5-7 meters off the northwestern tip of Vancouver Island, including hurricane force wind gusts.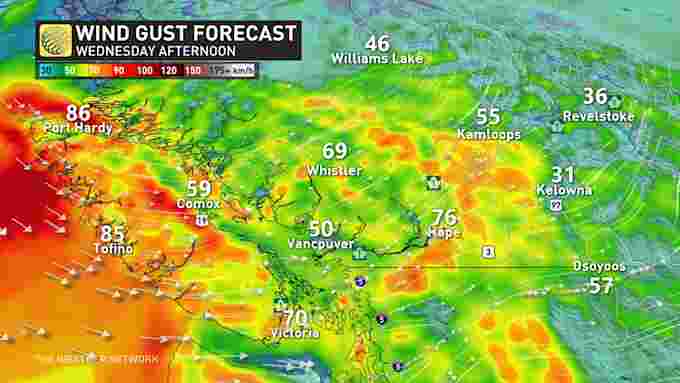 As the cold front passes, winds will shift to intense westerlies or southwesterlies, impacting Vancouver western Island, and potentially Qualicum, Victoria, Lower Mainland and the Fraser Valley by early Wednesday afternoon. Strong southerners will also funnel up the Sea to Sky.
The most intense winds will spread inland later on Wednesday, peaking along western Vancouver Island during the first half of the day, with gusts exceeding 90 km/h. Georgia Strait will see lower wind speeds, generally 40-70 km/h through most of Wednesday, but gustier southwest winds near Victoria might be problematic as they'll remain blustery right through the evening.
The winds aloft are enhanced across southern Vancouver Island, so it is possible to see mix-down gusts approaching 90 km/h for the Gulf Islands and Greater Victoria — this will cause power outages and probable ferry delays.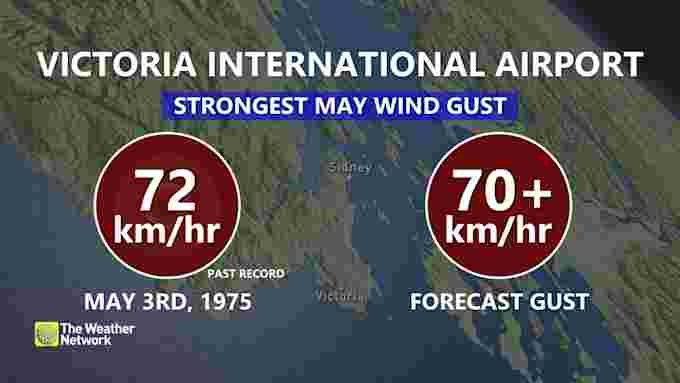 Strong wind gusts will continue through Wednesday afternoon and early evening, but will fall below warning criteria during the former.
"Damage to buildings, such as to roof shingles and windows, may occur. High winds may toss loose objects or cause tree branches to break. High winds may result in power outages and fallen tree branches. Be prepared to adjust your driving with changing road conditions due to high winds," Environment and Climate Change Canada (ECCC) says.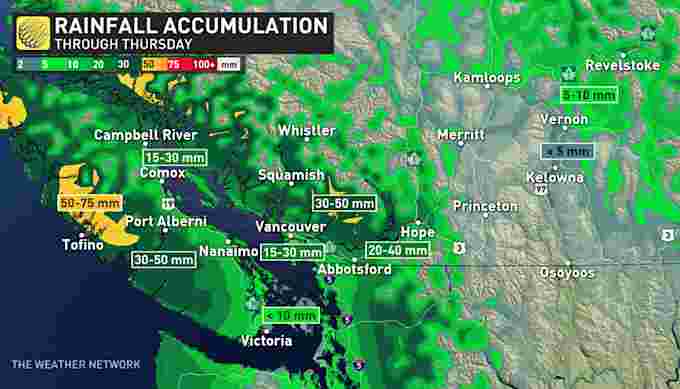 For the coast, rainfall will intensify through the day Wednesday, easing off in the overnight hours. Amounts will range from 15-40 mm for the Lower Mainland, and 50-75 mm for the Okanagan Valley and western Vancouver Island. A strong rain shadow will drastically lower rainfall amounts across the southern sections of the Lower Mainland and East Vancouver Island.
As well, the freezing level is also stubbornly low, meaning it will likely only be a few hundred meters above sea level at times on Wednesday across Vancouver Island. The mountain passes across the Interior will also be coated in snowfall once again, thanks to freezing levels around 1000 to 1500 meters at night.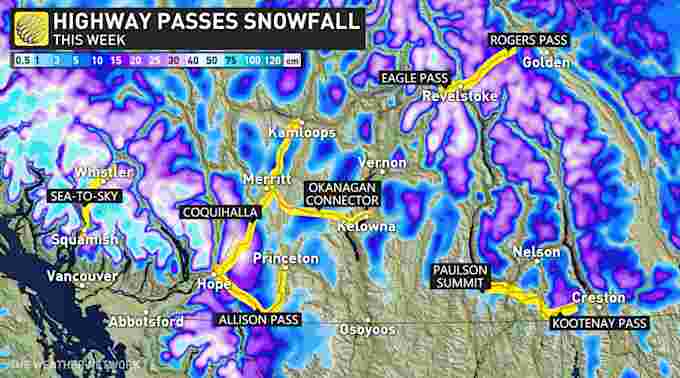 However, during the daytime, levels will rise to 2000 meters, so mixing is likely. Snow will ramp up early Wednesday morning, likely meaning hazardous travel through the mountain passes. Snowfall amounts will be heaviest in the Sea to Sky, Coquihalla and Allison Pass regions, where 15-30+ cm of snow is possible this week.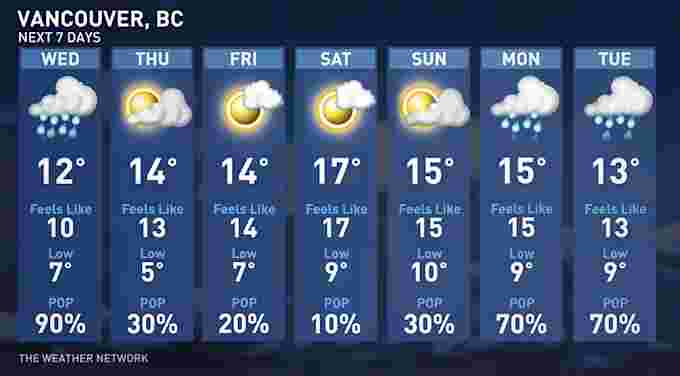 Conditions become drier late week and will continue through most of the weekend. The risk for showers returns Monday, but no major storms in are sight at this point. Cooler than seasonal temperatures will dominate for the next two weeks, right through the end of May.
Stay tuned to The Weather Network for the latest forecast updates for BC
,