Global inflation, the effects of the pandemic and the war in Ukraine create problems on a global scale. and the President of Colombia, Gustavo Petro blames America for the economic crisis that are seen in the world. The president said that "in the case of Latin America, economies are being looted."
Gustavo Petro insisted that North American power "It's practically ruining every economy in the world". The South American head of state expressed that the officials of the United States "sometimes make decisions to defend themselves without thinking about what is going to happen through their measures." Words of the President in various Colombian territories Citizens fall in the middle of their days of dialogue.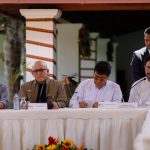 The president also said that in relation to the impact on Latin America that "our currencies all fall. Not just the Colombian peso." At the same time, he mentioned the war between Ukraine and Russia, as he believes it is "collapsing" the European continent. boss of bogota Identified the crises facing Germany, the United Kingdom and France,
Radio W learns that Francisco Palmeri, the US ambassador to Colombia, rejected the South American president's statements. The US diplomat insisted that "we should not think about where we blame." the officer said that "We should focus on working together",
Francisco Palmieri recommended to Colombia that "We can improve and promote the development necessary for growth", The ambassador also allowed himself to say that the United States has always been the first country to provide humanitarian aid to countries and is always ready to help Latin America.