Latinos and Puerto Ricans enjoy the activity that seeks to honor the Puerto Rican Christmas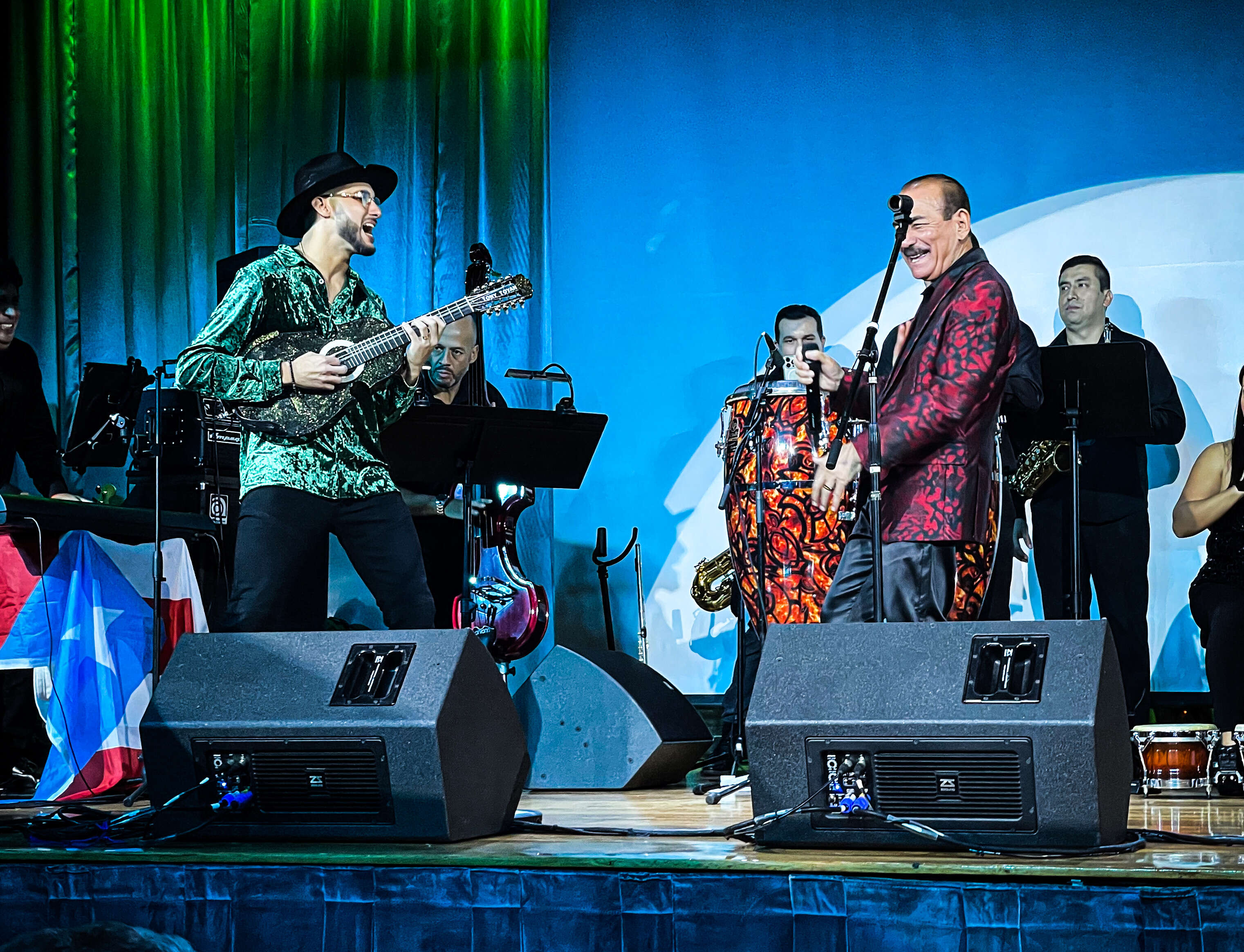 To usher in the Christmas season, Puerto Ricans and Latinos gathered yesterday at the Crystal Ballroom of the Bonaventure Town Center Club in Broward, Florida, to celebrate the second Christmas Lighting, which brought together more than four Puerto Rican performers.
The activity sought to honor the Puerto Rican Christmas for a second time, which is known to be the longest in the world. Likewise, the event managed to bring together on stage salsa singer Charlie Aponte and cuatro player Anthony Rodriguez (Tony Toyn).
"We are happy, overwhelmed. We can say that it was a phenomenal project that brought together more than four Puerto Rican artists, most of them exponents of the native music of Puerto Rico in Broward, Florida. Although this county north of Miami-Dade is home to the largest concentration of Puerto Ricans in South Florida, it doesn't typically represent our culture and our music at this level," Rodriguez explained.
The activity was a "sell out", and people were happy to sing Puerto Rican music classics. Similarly, Toyon introduced Gustavo Hernandez Roman, a 12-year-old boy who delighted the public with Christmas songs such as "Allegre Vengo", "Give Me Your Hand, Dove", "Es Poor Lechon" and "El Fu".
As part of the activity, Puerto Rican comedian Yasmin Mejias participated in Encendido and surprised the public with her character Altagracia. while Aponte appeared at the end with "Arbolito", "Desenfunda", "El Jolgorio", "La Loma del Tamarindo", "Brujería", "Telefono" and "There's No Bed for So Many People". The artist left Puerto Ricans and Latinos enjoying the activity with songs that marked salsa history.
Aponte, who was the main voice of El Gran Combo de Puerto Rico and has in recent years toured in several countries, especially in Latin America, "attracted audiences from Colombia, Venezuela, the Dominican Republic and Peru, among others".
"It turned out awesome and phenomenal! I've never sat in my front seat! We haven't danced this much in a long time. We needed something like this here in Broward. Congratulations to the team", shared Janice Guerez, who organized the activity. Enjoyed
© 360 Telecom Corporation