The fairytale magic carpet ride of giant-killing Group 1 winner Shelby Sixtysix isn't over – not by a long stretch.
Trainer Danny Williams has outlined two more potential Group 1 targets for the bush horse which has captured the imagination of Australian racing fans and surged to an extraordinary win in The Galaxy at Rosehill on Saturday.
If it's a dream, don't wake me up.
He's done it, SHELBY SIXTYSIX now a Group 1 winner, and we're so thrilled to do it with @ZRKD pic.twitter.com/EMjysx03xB

— Danny Williams (@GoulburnTrainer) March 19, 2022
And one involves an interstate trip with Williams pondering a mission to Queensland for the Sunshine State's most prestigious race after a likely tilt at the Group 1 TJ Smith Stakes in Sydney on April 2.
"We will have a meeting with the rest of the owners to determine whether we pay up the late entry fee for the TJ Smith – that is certainly now on the cards," Williams told Radio Tab on Sunday.
"I know how difficult it is and the things that can happen if you stop horses and try to mollycoddle them and try and look after them, then things can go wrong.
"I think while he is enjoying what he does and pulling up well he will continue to race and if he is coming through races as well as he did yesterday, you might even see me up there in Queensland for the Stradbroke.
"The future is very exciting but it could now be very difficult to try and place him in the future.
"So I think for the short term we are looking at continuing his preparation and keeping him running."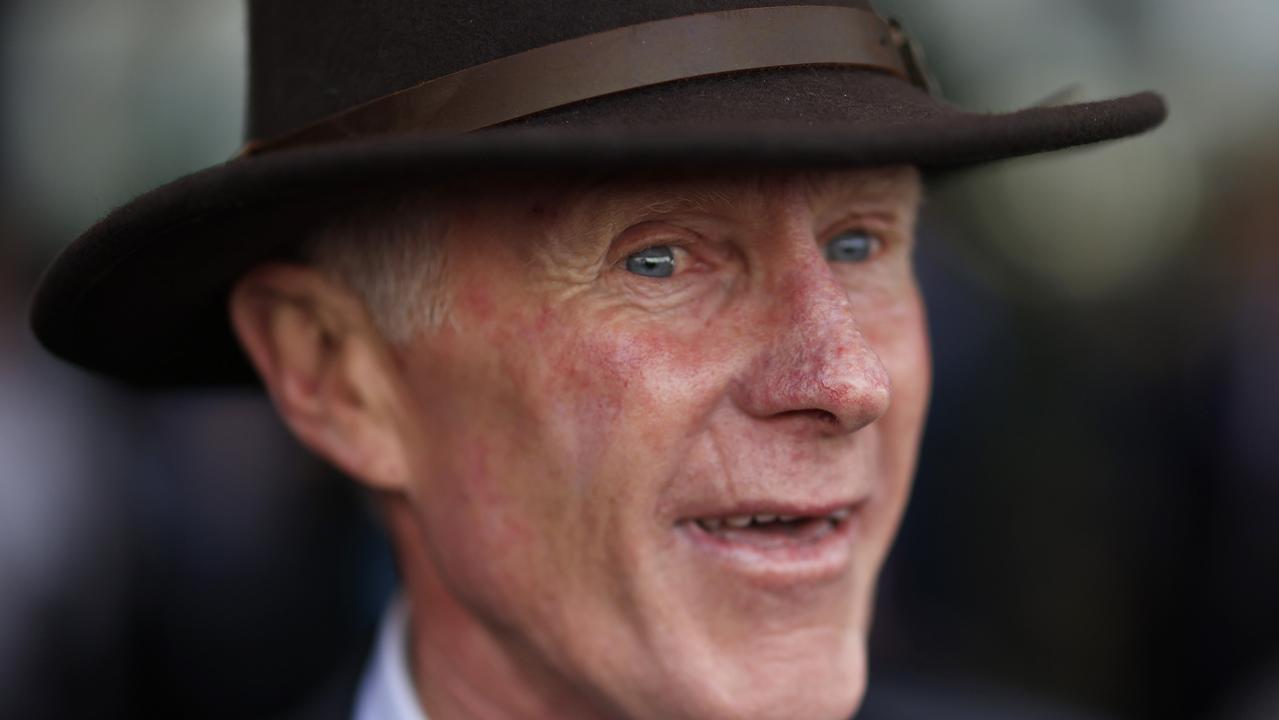 Danny Williams looks on after winning the Galaxy with Shelby Sixtysix. Pic – Getty.
After racing on five consecutive Saturdays – and eight times in nine weeks – it will be a rare day next Saturday when Shelby Sixtysix isn't seen at the races.
"Unfortunately he is weighted out of races next week so we can't run him next Saturday," Williams quipped.
ICYMI – David Fowler and @bendorries76 are joined by Danny Williams, trainer of Shelby Sixtysix.https://t.co/S5q2Mcfnhz

— RadioTAB Australia (@RadioTABus) March 20, 2022
The Shelby Sixtysix story is so remarkable that they might make a movie – or at least a documentary – about it one day.
In late January the then modestly performed gelding got beaten at the Sapphire Coast on a Sunday.
But he came of age earlier this month when the $61 chance went within a whisker of producing one of racing's great upsets when narrowly going down to Eduardo in the Challenge Stakes.
A Group 3 win followed the Saturday after, followed by the memorable win in The Galaxy which had grizzled old racing folks shaking their heads and saying they had never seen anything like it.
But as remarkable as the story of Shelby Sixtysix is, so too is that of trainer Williams, a former amateur jockey.
Williams freely admits his training business was deep in debt and he was struggling to find a way out until hope arrived in the shape of classy two-year-old Hot 'N' Hazy.
But the trainer plunged into the depths of despair and depression when Hot 'N' Hazy went to the Rosehill races in 2020 and never came home after a shocking race fall.
"The last four years have been pretty tough financially, we spent a lot of money on credit (buying yearlings) and it put us into a lot of debt which we have been struggling to pay off ever since," Williams said.
"We gave ourselves a five year goal to try and achieve something and if that didn't work, I was going to give it away.
"We finally got an opportunity to get a horse like Hot 'N' Hazy who looked to be a way out of our financial situation.
"To be taken away as he was, I was in quite a low time of my whole life.
"It's a very dark period that I wouldn't like anyone to go through.
"I also had a really severe injury in that period of time, I nearly lost my life breaking my pelvis on a horse that bucked.
"To come out and win a Group 1 race on Saturday and with what's happened in the last three weeks alone, it's just been an amazing turnaround."
The TAB fixed odds market has Shelby Sixtysix as a $26 chance in the TJ Smith.