President of the Republic, Guillermo Lasso, announced this Tuesday, January 3, that its first objective is to improve healthcare for citizens Government For this New Year.
Trade deal: talks between Ecuador and China concluded "successfully"
read more
Lasso made the announcement ahead of a meeting with dozens of hospital managers and directors ministry of public health (MSP) and Ecuadorian Institute of Social Security (IESS) In a hall of the Guayas government building.
According to the President, it was expected that the Minister of Health, Jose Ruales; And the chairman of the board of directors of IESS, Alfredo Ortega, presented a plan to meet that goal.
Vice President of the Republic, alfredo borrero, who leads the health sector cabinet; Deputy Director of National Public Procurement Service (sarcop), Elisa Jaramillo, and several ministers of state from other sectors, including government and economy.
Shortage of medicines and medical supplies The government has so far had a persistent problem with the extensive public health network. This is consistently criticized by users of the public system such as IESS Collaborators. Media and social networks.
Lasso also said before making the announcement, "There are complaints from patients who don't get medication. Our response shouldn't be to deny the problem." Manta and Pedernales, in Manabi, And will build five more in the country which will add 400 more beds.
Similarly, he stressed that he would prioritize the supply of medicines, especially for patients with devastating and rare diseases, who are most affected by drug shortages.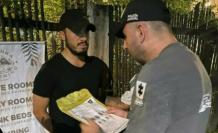 Germán Cáceres already flies from Bogota to Quito
read more
Lasso told the directors of hospitals and dispensaries to do their part by first thinking about how to improve user care; announced that this year there will be indicators to measure the performance of health homes; And said he would personally make surprise visits to hospitals to verify their care and collect complaints and observations from users.
behind Interference De Lasso, the media were asked to leave the room so that the IESS and MSP leaders could present the plan to the attendees of the meeting, which was scheduled to last for about two hours and the results of which would be announced later.