February 1, 2022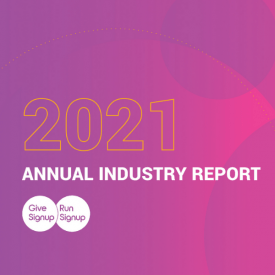 Moorestown, New Jersey /SPORT ENDURANCE WIRE/ – RunSignup, the leading technology solution for endurance racing in the US, has released its annual RaceTrends Report, which evaluates the state of the endurance racing industry. The overarching theme was simple: recovery and adaptation. While the 2021 data reflects some uncertainty and disruption, the overall patterns show a clear and definite trend towards a return to "normal".
The top row of the report looks at endurance competition participation in each event and shows that participation in 2021 is up significantly from 2020 but still lagging behind 2019. While the events that took place on the platform in both 2020 and 2021 showed an average growth of 21.6%. , participation was still lower than in pre-pandemic years, with 2021 events seeing an average decline of 23% compared to 2019. Changing event types from in-person to virtual and vice versa has contributed to lower levels of loyalty and fewer attendees returning to the same event year after year. Key findings regarding overall participation include:
Participation rates in 2021 have been improving throughout the year, with participation in October 2021 only 11.9% lower than the same month in 2019.
18% of the events of 2019 did not happen again in 2020, including 10.7% that did not happen either in 2020 or 2021.
In-person events have rebounded, with 79.6% of attendees choosing in-person events (up from 59.8% in 2020), but remained significantly higher than in 2019, when just 1% of attendees were virtual.
Despite the ongoing impact of the pandemic on overall participation, most of the data points showed patterns that were remarkably similar to pre-pandemic years. Registration deadlines, demographics and average prices are back to 2019 levels. Notable trends include:
4% of the participants identified as women, which corresponds to 55.8% who registered as women in 2019.
2% of participants registered in race week, which is very similar to 24.2% of race week registrations in 2019.
Despite downward pricing pressure from virtual events, 5K in 2021 is down just 2.3% from 2019 to an average of $27.40.
Race day trends this year include the growth of the services offered by race timekeepers, the rapid adoption of the RaceDay CheckIn app, and the increase in spectators at events using the RaceJoy runner tracking app.
The report was created based on RunSignup's collection of registration and finish data over a five-year period to provide transparent statistics, identify industry trends, and provide recommendations for conducting endurance events in times of crisis. RunSignup data is estimated to account for 30-40% of the US endurance market, and the data in the 2021 report includes over 59,000 race events and 6.3 million registrations.
CEO and Founder Bob Bickel said, "Given the challenges the industry has faced over the past two years, it's amazing the recovery we've seen this year. We expect to see some lingering effects, but are encouraged by the enthusiasm of the members returning in person and the marked trend towards a return to normalcy."
Join our February 2, 2022 webinar to learn more about the key takeaways from the 2021 RaceTrends report, or read the full report for free at: https://runsignup.com/trends.
About RunSignup
RunSignup is the leading event solution that brings the art of technology to endurance competition and non-profit organizations. Over 25,000 events use our free and open platform to register 7 million participants per year, raise over $1 billion and expand their events. Our professionally designed, open and all-in-one solution drives event revenue and fan engagement with flexible registration, free event websites, free email marketing, integrated fundraising and the RaceDay Toolkit. No subscriptions, no plans, no monthly fees.
To find out why clients like the Philadelphia Marathon, American Cancer Society, AACR, and RaceDay Events use RunSignup, visit www.runsignup.com.