Kyiv, Ukraine—Ministry of Defense Russia announced that his army launched this Tuesday New attacks on Ukrainian energy facilities, While in a new round—with at least 12 missiles—it hit the city zaporizia (South), where the death of a person is reported.
"Today the Russian Armed Forces continue to conduct large-scale attacks with high-precision long-range weapons from land or sea targets against Ukrainian military and electrical installations.", said the Russian Ministry. "All objectives were achieved. All had reached the specified points. ,
In Zaporizhia, shells hit a school, a medical center and a residential building., indicated the city secretary Antoly Kurtaev. According to the State Emergency Service, twelve S-300 missiles crashed into public facilities and a major fire broke out.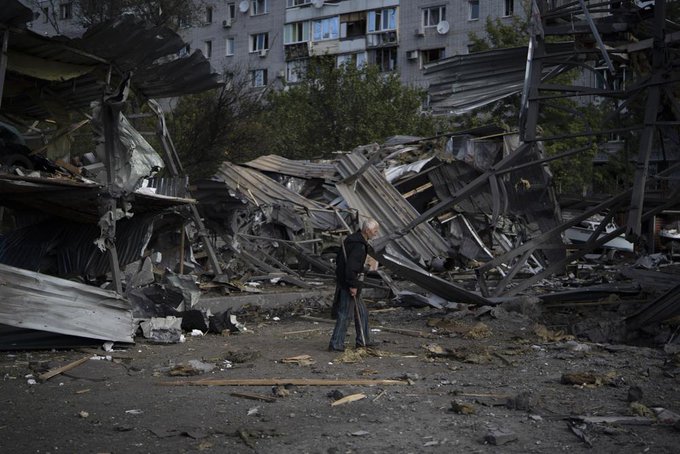 In addition to the usual sirens, Ukraine's capital, Kyiv, d. residents ofThey wake this mart at dawn with another type of alarm automatically activated on their cell phone, A warning message about the possibility of missile attacks was accompanied by a crackling sound.
So far, the State Emergency Service has indicated that 19 people were killed and 105 were injured in Monday's attacks, which affected critical infrastructure in Kyiv and 12 other regions. From the capital of Ukraine to Lviv on the Polish border, more than 300 cities and towns were without electricity.
Ukraine's Foreign Minister Dmitry Kuleba accused Russia of doing this "war crime" By deliberately bombing critical infrastructure to leavecitizens in unbearable conditions. , while the president Volodymyr Zelensky asked for new air defense systems from the G-7 To counter Russian attacks.
The G7 nations condemned the recent Russian missile attacks on Ukraine, noting that the bombing of civilians is a war crime: "We will hold President Putin and those responsible", reads the joint statement issued this Tuesday after a meeting by videoconferencing.
,We condemn escalation measures, including reservoir mobilization and irresponsible nuclear rhetoric, which are endangering world peace and security. We confirm that any use of chemical, biological or nuclear weapons by Russia will have dire consequences."G7 leaders said in a statement.
G7 leaders reiterate their support for Ukraine "As long as it took." "We will continue to provide financial, humanitarian, military, diplomatic and legal assistance and we stand firmly with Ukraine. We assure President Zelensky that we will not be intimidated and we stand firm in our commitment to providing Ukraine with the assistance it needs."
We recommend you:
Russia bombed Kyiv and other Ukrainian cities
AM.MX/dsc
notes
notes