Tuesday, September 6, 2022 – 18:46 WIB
Live Techno – Folding mobile devices are increasingly attracting public interest. IDC notes that shipments smart fone fold to reach 7.1 million units in 2021, an increase of 264.3 percent over the previous year which was only 1.9 million units.
It is inseparable from the technology of folding mobile devices which are increasingly sophisticated and provide more convenience for users. As a pioneer and leader in the foldable phone market, Samsung has played a major role in transforming folding screen devices, transforming them from fundamental innovations into smartphones that are becoming increasingly popular in various countries.
Samsung started the foldable journey in 2019 by launching the Galaxy Z series, and now with the Galaxy Z Flip 4 5G and Z Fold 4 5G, it comes with various upgrades in every aspect of the device, from the screen, the body of the device to the battery. And the camera that produces sharp and clear images.
Samsung Electronics Indonesia quoted Lo Khing Seng, Head of MX Business, via a press release on Tuesday, 6 September 2022, guaranteeing that the Galaxy Z Flip 4 5G and Z Fold 4 5G are designed with unmatched durability.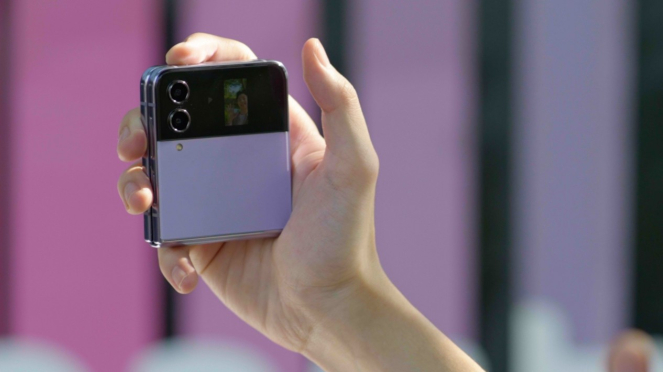 1. Ultra Thin Glass
Ultra Thin Glass, which was designed with intensive research and rigorous testing process, is equipped with Armor Aluminum and Gorilla Glass Victus+ as the strongest material and IPX8 water resistance making the latest Galaxy Z series the strongest foldable ever Is.
2. Form Factor
Samsung's Galaxy Z Flip4 5G further enhances the form factor of the device so that users can create content more easily and comfortably. The multi angle as well as integrated cover screen with Flexmode provided by Flexcam provides users with an innovative content creation experience. The quality is also guaranteed with the latest technology embedded in the 12MP Ultra Wide Camera and the 12MP Wide Camera on the Cover Screen and the 10MP Selfie Camera.