article material
Kieran and Miranda Corless say they haven't returned to England since 2019, when they got married.
article material
Saturday was a reminiscent of that time for the Sarnia couple, as they and their nine-month-old Caleb joined nearly 200 people for a garden party in Germain Park, celebrating the Queen's platinum anniversary.
"To be able to celebrate and feel that connection was something special," said Miranda Corless, who wore the same charmer three years earlier to the couple's wedding party in Yorkshire, England.
"It's great for us," she said.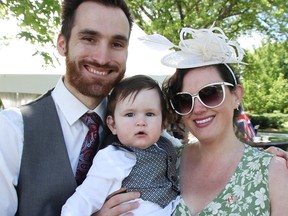 She said she is originally from Sarnia and met Kieran Corles, who hails from Yorkshire and works on cruise ships.
"Then I imported it," she said with a laugh.
He and others, prepared for the two-hour party, ate sandwiches and cupcakes, and drank tea among white tents.
A colorful party and the Sarnia Legion Pipe Band helped start the festivities, and players from the Theater of Sarnia dressed up to represent the different eras of the reign of Elizabeth II, Canada, the 96-year-old monarch as head of state of the United States. narrated the moments of 70 years of Empire and many other countries.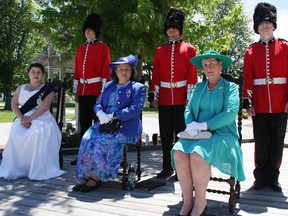 Rachel Veleaux of the City of Sarnia said it took less than 24 hours for registration to begin for the event, which had been planned since December.
"To see so many people excited and coming together and being really, really monumental – and something we are likely to never do again in our lifetimes – is an amazing thing," she said.
A table with memorabilia features a guest book and pen that the Queen signed when she and her late husband Prince Philip visited Sarnia in 1959, Weilux said.
article material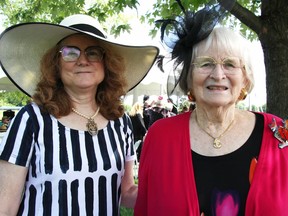 Madeline Mahone said she has been following the life of the Queen since she was a little girl.
"I absolutely love the woman," she said. "She's awesome. She's so kind."
The self-described "devoted fan" said her grandmother was English, and recalled a scrapbook of the Queen and Princess Margaret from when they were children.
"I have followed him all my life," said the recipient of the Golden Jubilee Medal for her volunteer work 20 years ago.
"It's almost been like a hobby," she said. "We have all kinds of royal books in our family. We have read everything we could have read and we had everything we could have."