Three more people were injured before police shot and killed the suspect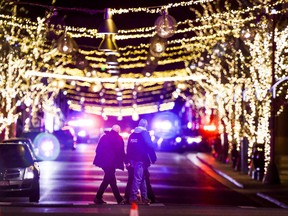 The content of the article
DENVER. A lone gunman shot four people and injured three, including a police officer, on Monday during a shootout in the Denver area that unfolded in multiple locations and ended in the murder of a suspect by police, authorities said.
The content of the article
Investigators have yet to determine the cause of the rampage, which began around 5:00 pm, when the perpetrator shot and wounded two women near downtown Denver, Police Chief Paul Pazin said at a briefing.
The suspect then fled in a car and shot and killed a man in the Cheeseman Park area of ​​east Denver, and then opened fire again in an area of ​​west Denver where no one was hurt, Pazin said. According to Pazin, the suspect twice fired from his car with the pursuing Denver officers, as a result of which the police cruiser was incapacitated.
From there, the gunman drove into the nearby town of Lakewood, where he shot and killed a fourth man in an unidentified facility, according to Lakewood police spokesman John Romero.
The content of the article
According to Romero, the gunman escaped from the Lakewood police when they tried to stop him and engaged in a shootout with the officers, then fled on foot and entered the hotel, where he shot and wounded the clerk.
He then fired at the police again, wounding one of them before the police shot him, Romero told reporters. The authorities have not publicly identified the suspect, and the circumstances leading to the shooting are still under investigation.
The conditions of the injured officer and civilians are unknown, Romero said.
Anne Wilson, a shopper who was at a cell phone store in Lakewood when the shooting occurred nearby, told Denver-based NBC that she heard "seven or eight shots, and then another burst, maybe five more."
Wilson said she and other shoppers were quickly escorted by store employees to a back room outside security gates before the danger was over. "We live in terrible, terrible times," she said.