The ceremony to award the Chevening Scholarships to the seven young people selected to complete their master's studies at prestigious British universities took place at the official residence of the heads of the UK diplomatic mission.
This year marks the 40th anniversary of the Chevening Scholarship Program in Venezuela, which has enabled several hundred young people to specialize in various fields.
Seven university students were selected from the 2022 call: Andrés Salerno Ocanto, Giorgio Cunto Morales, Eddward José Rangel Medina, Samuel Isaías Espinoza Matheus, Marian Da Silva Parra, Alexandra Claret Delsol González and Roxanne del Carmen Cabrera Baptista.
This group, like the previous ones, was chosen because of its excellent academic performance, leadership qualities and willingness to commit to the development of Venezuela, as noted on the afternoon of the presentation of the certificates.
This program not only enables them to grow academically, both in humanistic and scientific terms, but also expands their vision as global citizens through contact with other cultures.
The program offers full financial support to study all Masters courses offered by universities in England, Wales, Scotland and Northern Ireland.
The scholarship recipients were addressed by Alexander Kushnarev, Chevening Scholarship Officer at the Embassy of the United Kingdom, who highlighted the importance of this program, which benefits young people from all over the world; and Colin Dick, Chargé d'Affaires of the British diplomatic delegation, who noted the importance of the program, which aims to benefit developing countries by training young people in various disciplines.
On September 12, the application period for the Chevening Scholarship reopened, offering a new opportunity to have an enriching experience while becoming part of a lifelong global leadership network. Those interested can visit the page 𝘄𝘄𝘄.𝗰𝗵𝗲𝘃𝗲𝗻𝗶𝗻𝗴.𝗼𝗿𝗴 or their social networks (@ukinvenezuela) for more information about participating in this program.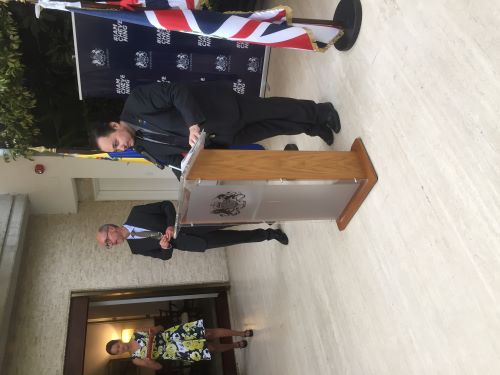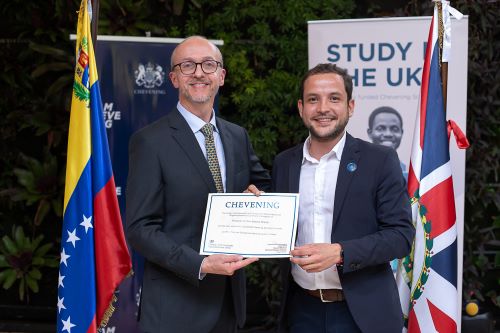 Colin Dick and Fernando Andrés Salerno Ocanto, who will study at the University of Sussex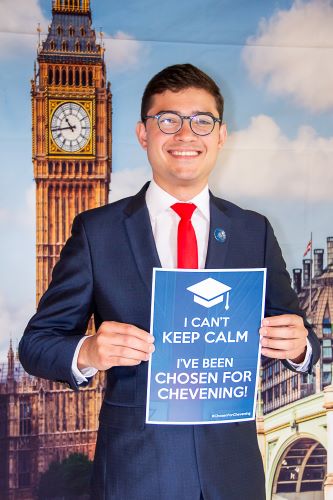 Eddward José Rangel Medina, who will study for a Masters in Energy Law and Policy at the University of Dundee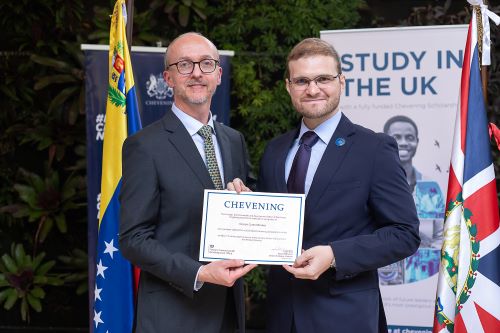 Colin Dick and Giorgio Cunto Morales, who will study at the London School of Economic and Political Financial Science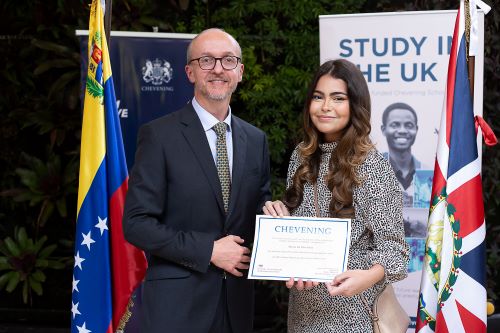 Marian Da Silva Parra receives the eligibility of her scholarship for a master's degree in human rights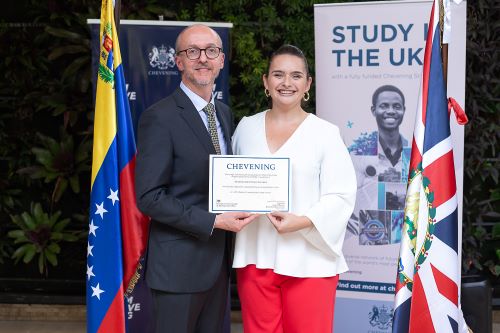 Colin Dick presents Alexandra Claret Delsol González with his master's degree in law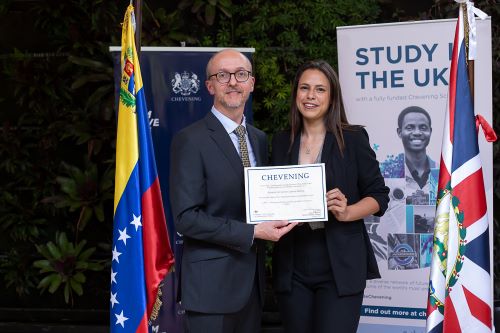 Roxanne del Carmen Cabrera Baptista will study at the University of London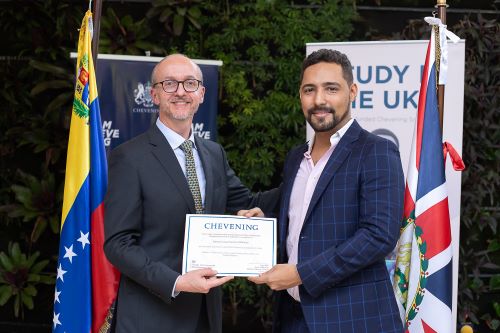 Samuel Isaías Espinoza Matheus will pursue a Masters in Public Policy