Despite the progress in infrastructure, Spain still manages to get closer to its electromobility goals compared to its European neighbors such as Portugal, which ranks first
In one second trimester characterized by changes and challenges, the panorama of Electromobility in Spain It continues to be a story of insufficient progress. As the European Union continues its journey towards a more sustainable future, Spain is moving forward, but at a pace that cannot match that of its European neighbors.
An increase that remains in the shadow of Europe
During 2023 the following were installed in Spain: 4,632 new publicly accessible charging points Raising the a total of 22,760 throughout the country. However, there is a problem behind this number. There are more to the 22,760 operating points 6,704 that although installed, remain inactive due to bureaucratic processes and technical problems.
He Electromobility barometer For the second quarter of 2023, which takes into account electrified vehicle penetration and the deployment of publicly accessible charging infrastructure relative to 2030 targets, there is an increase of one point overall 12 out of 100. In contrast, this is The European average is already 25 points which widens the gap between Spain and the continent.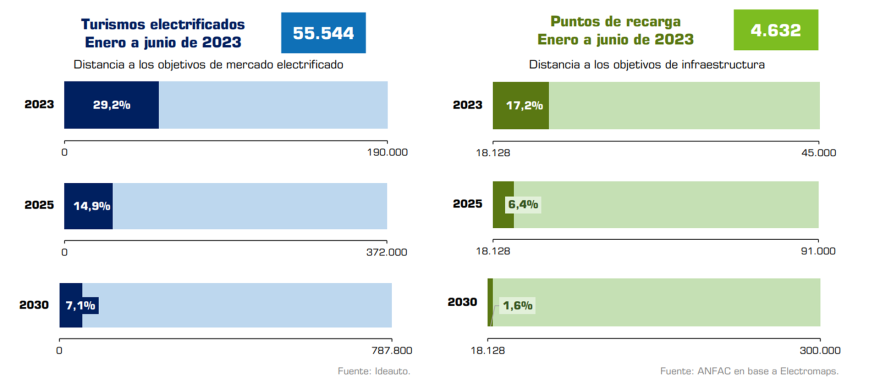 The example of Portugal
Out of ANFAC the case of Portugal is cited as a model. Portugal recorded growth of more than two points in its electromobility indicator, moving closer to the European average and moving away from lagging countries such as Spain and Italy. The Portugal's tax policy has encouraged the purchase of electric vehicles, particularly among companies, a key segment to drive change. In addition, an efficient system for setting up the charging infrastructure contributed significantly to the success.
A long way
With regard to the market penetration of electric vehicles Spain achieved an average rating of 18.9 points in the second quarter of 2023, representing an increase of 1.5 points compared to the previous quarter. However, it is still very below 38.7 points that achieves that media European and leaves Spain 20 points behind.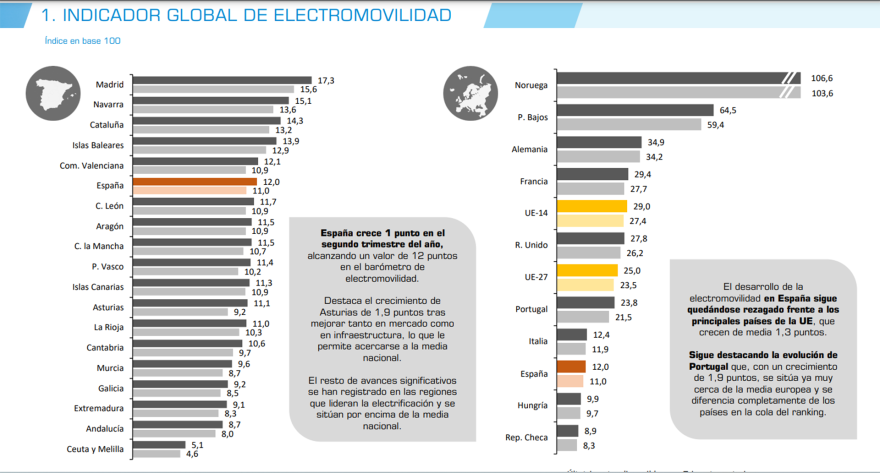 Inside European ranking Spain ranks last, far from leaders such as the Netherlands, Germany and the United Kingdom, which are above the European average. One more time, Portugal highlights by making a growth of 4 points and placing it 39.2 out of 100 in the overall rating.
In the first half of 2023, Spain A total of 55,544 electrified cars (BEV+PHEV) were registered and thus exceeded the previous year's records. However, we are still a long way from this number Goal of 190,000 sales required for the entire year to meet Brussels' emission reduction requirements. Among the Autonomous Communities, Madrid, Navarre and Catalonia lead the ranking, underlining the growth of Asturias, which increased by 1.9 points thanks to improvements in both the market and infrastructure.
Slow public access infrastructure
The development of publicly accessible charging infrastructure in Spain is progressing at an insufficient pace. In the second quarter of 2023, Spain achieved a modest increase of 0.6 points and reached overall 5.1 out of 100 points located Second to last in the European ranking.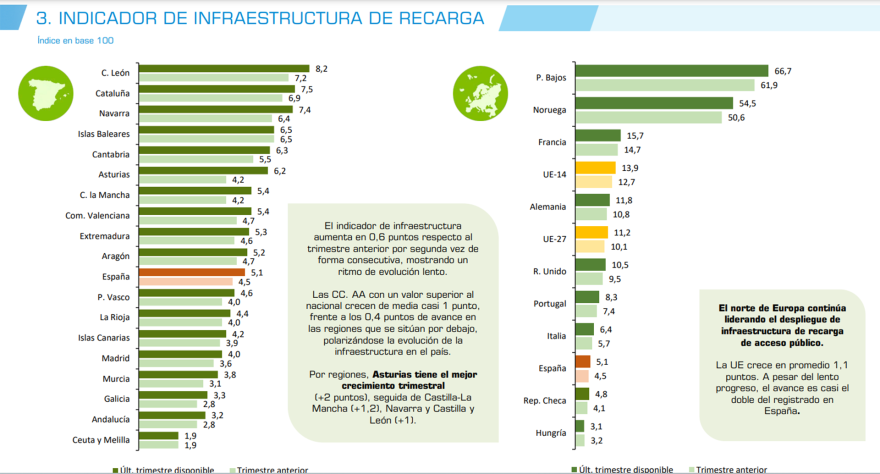 However, according to the ANFAC electromobility barometer, overall progress at the European level is slow. The The European average reaches a rating of 11.2 points in the second quarter, with an increase of 1.1 points. Only northern European countries, such as Netherlands and Norway stand out with ratings that are above and beyond 50 points.
In Spain, Castilla y León leads the rankings with 8.2 points over 100, but Asturias and Castile-La Mancha recorded the greatest growth during this period.
Need for high performance infrastructure
Despite installing 2,517 new charging points in the second quarter, e.g a total of 4,632 in 2023 The public access infrastructure remains inadequate, both in terms of quantity and performance. About the new charging points 1,843 have an output of up to 22 kW, which accounts for 73% of the growth. At the moment, only 4% of the charging network across the country (875 points) offers an output of more than 150 kW. This highlights the urgent need to develop high-performance infrastructure to enable rapid charging, similar to filling the tank of an internal combustion engine vehicle. Currently there 6,475 points out of service which clearly reflects the administrative difficulties in the installation process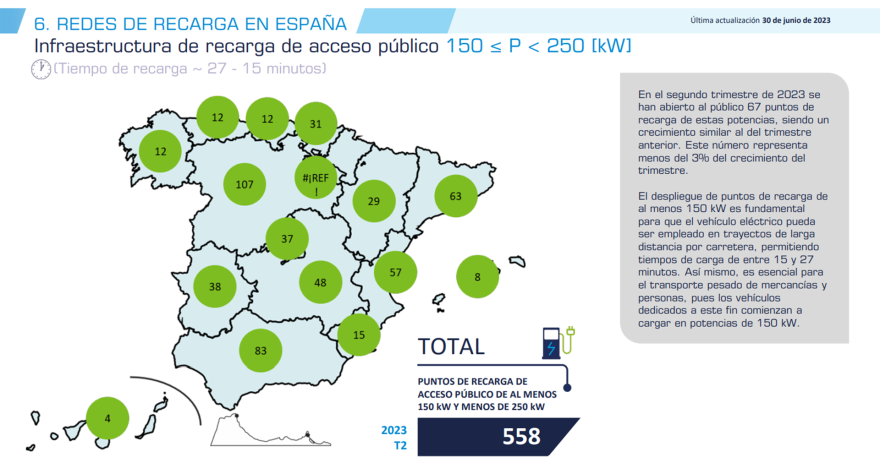 A call to action
ANFAC, representative of automotive brands in Spain, recognizes the urgency of accelerating electrification of transport and the development of a robust charging network and wants to raise awareness. In January the industry presented the Roadmap 2023-2025 This includes urgent measures to improve funding plans, taxation and the expansion of publicly accessible charging infrastructure. This is in line with the association's work to set minimum development milestones and achieve European goals by 2035.
"Spain is moving towards electrification, but not at the pace necessary to achieve the required goals. "When you set yourself ambitious goals, you have to realize that you are starting an endless race in which every day is crucial," he stressed. José López-Tafall, General Director of ANFAC.