Here's the best evidence I've ever seen of water on Mars: NASA's Perseverance rover came across a tangled mess of rope on Mars, looking like a tangled fishing line left behind by a frustrated fisherman. Where there is fish, there has to be water, right?
In reality, this little piece of junk is likely something left over from Perseverance's parachute, descent stage, or even rear casing, which all worked together to bring the rover safely to the surface of Mars in February 2021. .
Our main image is a close-up view of the rope entangled with the right front camera to avoid Perseverance A risks. You can see how small the rope is in this image below, by comparing it to the rover's wheel and the end of the rover's robotic arm.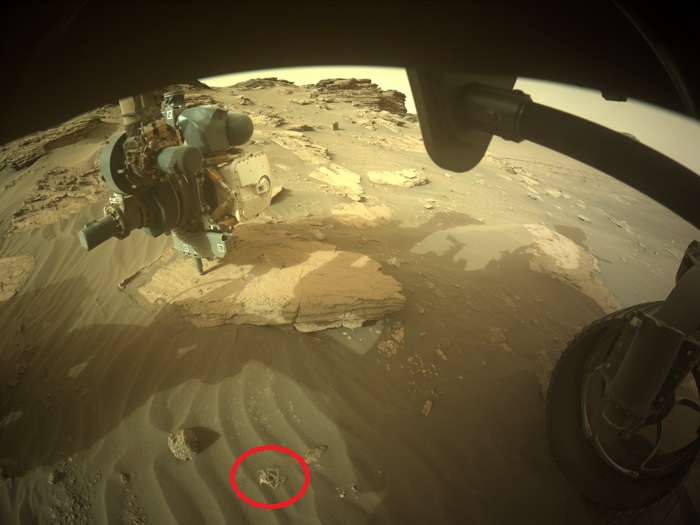 A red circle highlights the string on July 12 (Sol 495). (NASA/JPL-Caltech)
The arm "tower" is touching a rock that the rover's drill has probably just taken a sample from. The turret is like a hand that carries scientific cameras, mineral and chemical analyzers to study the past habitability of Mars and to choose the most scientifically valuable sample for storage in a possible future return of samples to Earth.
Most likely, the Martian wind blew the rope close to the rover. And like a falling tumbleweed, the rope has now moved, as only a few days later, the rope is missing from the scene.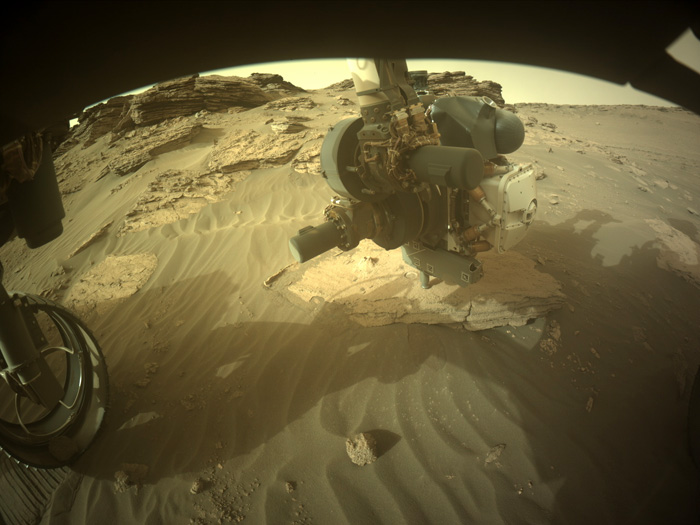 Near the same place as the photo above on July 16 (Sol 499). (NASA/JPL-Caltech)
Perseverance found several items left over from the landing, including her own parachute, and the Ingenuity helicopter flew over and took photos of the broken rear casing.
Worried about all the trash the rover leaves behind? Don't worry, says our friend and image editing specialist Stuart Atkinson. "A hundred years from now, Martians will be eagerly collecting all these things and displaying them in museums or turning them into 'historical gems', as we do with fossils, amber and meteorites.
Martian Tumbleweed? No. More "stuff" from the descent stage or rear shell of the Perseverance rover that has been blown near the rover by the whisper of the Martian wind. If you're worried this is crap, don't… pic.twitter.com/VwgO0z0oFO

— Stuart Atkinson (@mars_stu) July 13, 2022
Learn more about the proposed sample return mission in a recent article in UT by Laurence Tognetti, who discusses how Perseverance is currently looking for a good landing site for such a mission.
This article was originally published by Universe Today. Read the original article.