Plano police said three suspects have already been traced and arrested in a series of robberies in the city and other states.
Asian/Indian residents of Plano had a significant trend of burglaries in 2022. The modus operandi of these robberies was similar. The victims' apartment doors were forced open and the suspects targeted the master bedroom and bathroom for gold or jewelry. There was at least one Asian/Indian resident in every stolen apartment.
Plano burglary detectives recognized the pattern and, through an extensive investigation, identified persons of interest and were later confirmed as criminal suspects responsible for dozens of residential burglaries in several states.
The information showed detectives tracing the suspects' criminal paths through Texas, Georgia, North Carolina and Florida, all of which targeted Asian or Indian residents.
The three suspects were identified as Jose Gonzalez (02/24/1964), Libardo Soto (06/26/1987) and Melba Gaitan (04/03/1969). All three are of Colombian nationality. Gaitan is a permanent resident of the United States. Soto is on a work visa and Gonzalez has expired.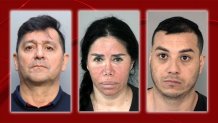 Plano detectives contacted several law enforcement agencies in the jurisdictions where the suspects were located, and nearly all agencies confirmed crimes related to them. Confirmed burglaries currently include eight crimes in Plano, seven in surrounding DFW cities, five in North Carolina, three in Florida and one in Georgia.
Two teams of detectives traveled to Houston, Texas and Orlando, Florida to arrest the suspects. In Florida, Plano detectives were assisted by the Orange County Sheriff's Office and the Miami Beach Police Department. In Houston, Plano detectives were assisted by the U.S. Marshals Service, the Harris County Sheriff's Office, and the Fort Bend County Sheriff's Office.
All three suspects were taken into custody without injury or incident.
Their homes were searched under evidence search warrants. During the Orlando search warrant, $35,000 in cash and jewelry valued at approximately $100,000 to $150,000 were recovered, as well as jewelry destruction equipment and contact information for retailers who buy gold and silver. A search of the Houston apartment of the other two suspects yielded approximately $50,000 worth of jewelry, jewelry tools and equipment used in the robberies.
Soto and Gaitan are currently being held at the Fort Bend County Jail. Gonzalez is currently in custody at a Miami Dade jail and has been detained by DHS ICE due to his expired visa.