Buying a second hand mobile phone or sweatshirt in Spain has been considered cheap for years. But ecological awareness, and now inflation too, is changing the mindset of more and more people, who are buying used products without premises. used, now, is cool, Especially among the youth. Applications such as Wallpop – whose shipments grew 200% in two years – or Vinted, which allows buying and selling between individuals and together have 23 million monthly users, almost as many as Milanuncios (22 million), A website that last year it moved 5,600 million in transactions. Everything from cars to bikes and furniture to books is susceptible to reuse. and old barriers begin to break down: old clothes become vintage And the second hand enters the world of large supermarkets, fashion stores and luxury.
The Humana Vintage store on Calle Hortaleza next to Madrid's Gran Vía exemplifies this trend. Mannequins with old clothes in the window. Inside, exposed brick walls, metal pipes and lively music accompany the original and brightly colored clothing in a setting that feels like it's straight out of London's Portobello Road flea market. Word vintage read everywhere. The only difference with a new clothing store is that clothes here are not worth 50 or 100 euros, but ten times less. There are youth and tourists; English and French are heard.
"Buying second-hand is no longer considered tacky, it's becoming more and more fashionable among young people," says Marian Ortiz, 19, who carries several sweatshirts for five euros each. Jose Luis Minaro, 25, usually buys used hats, scarves, jackets and T-shirts: "It's cheaper, more ecological, more original and from a creative point of view, you get out of the fashion that everyone else wears." Is." Mar Garcia, 21, dresses in vintage clothing and emphasizes sustainability: "I hardly buy anything new anymore, there are so many manufactured things that can be used to prevent over-production." There are not only twenty in this store, although they are the majority. Pedro Quiñones, 43, is looking for a jacket: "Second hand is taking off the label of the poor, and anyone can buy it."
The brand has gone from 36 stores in 2015 to 48 in 2022 – the majority in Madrid and Barcelona, ​​seven of them vintage— and nearly double the amount of clothing sold in that period (from 3.18 million to 5.91 million). "These stores used to have cluttered, flea market-like clothes, but now they're refining the experience to give it a neat and clean tone. cool, says David Corden, professor of consumer behavior at Complutense University. Marina Marquez, president of the NGO Vision Circular, gives another idea: "In northern Europe, buying second-hand has been a trend for years, and it is finally starting to spread to Spain as well."
Information is the first tool against climate change. Subscribe to it.
to subscribe
albert vinylan expert in consumer psychology at the Autonomous University of Barcelona, ​​put it this way: "In Spain we are spoiled as consumers and marked by what they will say, which is why others The focus was on hand and we wanted everything new. But there has been a change in values ​​driven by greater environmental awareness. The pandemic has a lot to do with it, which has made us reflect more on how we buy . You no longer deserve to wear a used item. According to a survey by Milanuncios, 70% of consumers say they have bought second-hand goods, mainly because of price (77%) and sustainability (39%). Hand bought something.
Cordon, from Complutense, third: "Spanish society is turning to reusable products, especially in the age group of 30 to 45 years, as more and more studies show." In his opinion, this is due in large part to apps that allow buying and selling between individuals, such as Wallapop (17 million users per month in Spain) or Vinted (six million) specialized in clothing: "They are simple and intuitive platforms, they are used on mobile phones , and it's also an automated marketplace, you can browse through thousands of products, select them, bargain, and then meet the seller or ask him to send it to you from the comfort of your home. You save time and money And it's more ecological. That simplicity is breaking down a lot of barriers."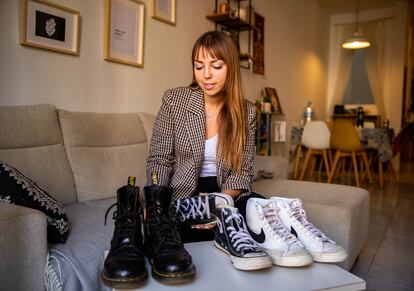 sneakers closed
Sol Rodriguez, a 26-year-old from Argentina, discovered Wallapop when she moved to Barcelona because she needed cheap furniture. "I started with an economic issue, but then I got involved with the circular economy," he says. Since then, he's bought cameras, books, computers, clothes… "And some shoes that weren't made anymore and I loved them," he says. He recommends it to all his friends. "Why buy something new if it already exists and no one uses it?" Manel Lande, 45, from Barcelona, ​​​​finds application Board games, cards and collectibles. "I have a bunch of friends who get together to play modern board games. Some are no longer sold, so they are highly valuable if you get them second hand", he explains.
John Karega, a 24-year-old environmental activist, has gone ahead and sealed the alliance with the application camperized Forest [convertirla en caravana] Only with products purchased on Wallapop. "You can buy everything second hand, from wood to screws and hinges to solar panels," he explains. "Sustainability is essential to me, and the environmental cost of the things used is zero, just the transportation," he continues.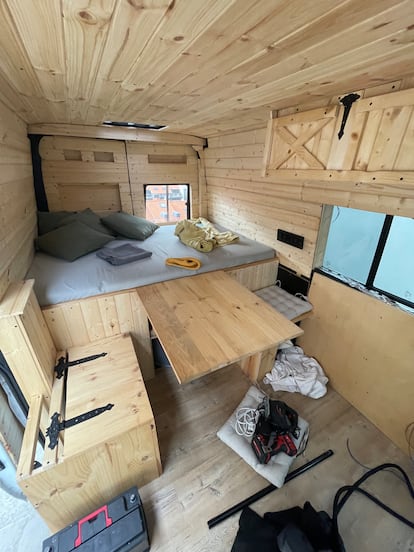 This new reality has prompted the creation of the Spanish Second-hand Association (Esema), which includes Cash Converters, Milanuncios, Walpop, CEX and GAMES (these last two mainly sell mobile phones, computers and video games). According to the institution's spokeswoman, Blanca Piedrola, ASEMA intends to "dignify this type of business" and "improve regulations for the sector". Piedrola also deals in cash converters, which has 73 stores throughout Spain, where all kinds of products (except clothing) are bought and sold, especially mobile phones, electronics, computers and small household appliances. Their turnover increased by 19% in 2021 and has increased by 12% so far this year.
His storefront in Tetuan (Madrid) has everything from violins to PlayStation 2 to jewelry and computers. Baby carriage for 89 euros, laptop for 200 and motorcycle helmet for 25. Very well done. The prices are between 10% and 50% cheaper, you can compare them to the original price", explains Jose Hernandez, who looks after the customers. Eduardo Borquez, a 45-year-old Chilean: "I'm leaving, but Chile I usually buy old appliances and video games, they're so cheap and they're almost like new." Her son juggles an electric scooter. A young woman compares different models of mobiles (some haven't left their original packaging is), while Guillermo de la Obra, 68, checks the drill. "I like to look for bargains. I'm looking at a jump starter, which is hard to find, and it's only 49 Euros. But I'm going to ask a clerk if it works. In fact, used products have a two-year guarantee.
supermarket supplies
Larger supermarkets are joining the trend. Carrefour has sealed an alliance with Cash Converters to create Carrefour Opportunities, a place to buy and sell products at one of its centers in Madrid. Elcampo goes further: it has 15 locations for secondhand clothing in several establishments in collaboration with Moda Rey, a Caritas brand, and 40 stores for secondhand electronics managed by ReWare from Malaga.
Both chains – in addition to grocery stores and restaurants – also use Too Good To Go, a application Allows you to buy food or food that has not been sold at the end of the service for one-third of its value. App hits 10 million sales pack Since 2019, four of them last year. Meanwhile, Decathlon has launched Segunda Vida, where customers can sell sports products they no longer use; The French brand buys them, reviews them and then sells them cheaply through its website or in some stores. And it carries a three-year warranty (same as new products).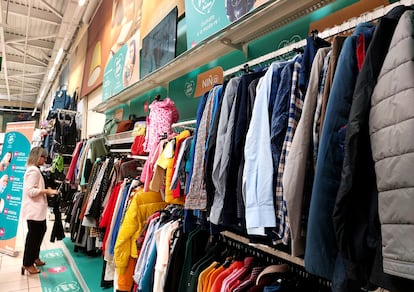 The Used Bike Sector Is One Of The Fastest Growing Sectors- Driven By Its Scarcity stores— , as shown by data from the two platforms: Bike Occasiona has grown from selling 1,600 velocipedes in 2019 to nearly 4,000 this year (still not closed), while Tuvalam has grown by an average of 60% per year since 2020. But the trend reaches entry sector: Re-Read, which sells secondhand books, had 42 bookstores in Spain in 2019 and now 55, and has gone from selling 1.6 million books this year to nearly 2. According to coches.net and motos.net, for every new car, 2.3 used cars are sold, and 2.5 motorcycles (up from 2.1 before the pandemic).
Even the most niche brands have jumped on the bandwagon. "Second-hand luxury is on the rise," says José Luis Nueno, IESE's Chair of Changes in Consumer Behavior. "This happens because the commercialization of luxury sales channels online, because people want to change products more often, because there is not always availability in stores, and also partly for sustainability. This flow is channeled through websites such as Vestiaire Collective or TheRealReal, which guarantee that clothing or accessories are authentic. "If a Gucci jacket costs €3,500, these websites sell it for around €2,000, so you know you can buy it and resell it without losing much value, and then buy another are," he adds. StockX does the same with exclusive sneakers and the platform already does 2,000 million.
According to Nueno, this sector is growing at 18% per year, which is three times faster than the general trade. For now, several luxury brands are cracking down on this market. "However, something is changing: Gucci has teamed up with The RealReal to put an old product and a new product on their page," says the professor. And it will reach more brands: in November, Zara launched a platform to repair used clothing in the United Kingdom (Zara Pre-Owned) and resell purchases from any collection with a brand guarantee . Although they still don't have a date to bring the service to Spain, it's set to be a testing ground that will change the world of fashion.
You can follow the climate and environment on Facebook why Twitterpoint here to get our weekly newsletter