From farm to pizza. This has been the motto from the beginning of Sartoria Panatieri, the pizzeria in Barcelona that has just become the best in the list "European 50 Top Pizza 2023", a ranking that began in 2017 and in which almost a thousand inspectors were spread throughout Europe has risen in the world and that excludes Italian pizzerias. Returning to the origins of food, always looking for the new, seasonal and authentic, has proven to be a winning formula. Chefs Rafa Panatieri and Jorge Sastre's pizzeria also won the Latteria Sorrentina Special Award for Best Pizza of the Year and the Green Oven Award for its sustainable practices. At a ceremony held in Barcelona this Wednesday, the influential leader announced the 50 best European pizzerias, including Bæst in Copenhagen in second place and 50 Kalò in London in third place. Two other Spaniards appear in the top 10: Fratelli Figurato from Madrid in sixth place and La Balmesina from Barcelona in tenth place.
They started last year third in the European list and 21st in the 50 best pizzerias in the world, but this afternoon they have climbed the rankings and been named the best pizzeria in Europe. A feat achieved by Panatieri and Sastre with their slogan "From farm to pizza", clearly visible in black letters on a blackboard in their premises on Provenza Street, opened a few years ago, and which allowed them to to grow after shining in 2018 with their small pizzeria at 5 Encarnació Street. They also include the latest Brabo, dedicated to barbecue, at 28 Séneca Street.
The two chefs met as part of the Roca brothers' team at the now-defunct Roca Moo in the Omm Hotel in Barcelona. Five years ago they joined forces to create Garden Pizza, the origin of today's Sartoria Pantieri. The menu is based on artisan pizzas with organic, local and seasonal products, from the basic pizza with tomato, mozzarella and basil (10.90 euros) to the mortadella with pistachios, spinach, raisins and ricotta cream (14.90 euros). The one with roasted cherry tomato sauce, mozzarella and Dutch basil cream (12.90 euros) won the award for best pizza of the year at the aforementioned "50 Best Pizza" gala.
Using carefully selected ingredients from local producers, the menu also includes pizzas such as bacon, mozzarella, fried potato, egg yolk and tuna bottarga (14.90 euros) or sausage, seasonal leaves, La Serena cake and mozzarella (14.50 euros). All can be topped off with pickled anchovies, stracciatella, braised ham or truffles and there is a special recipe on the board every day.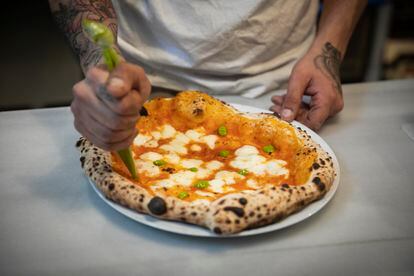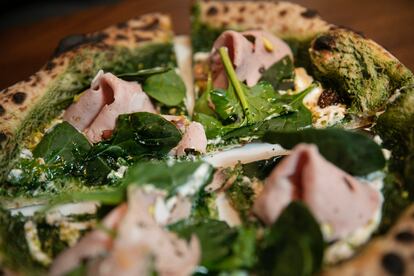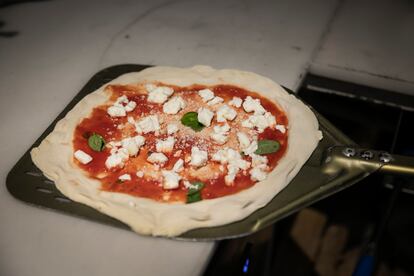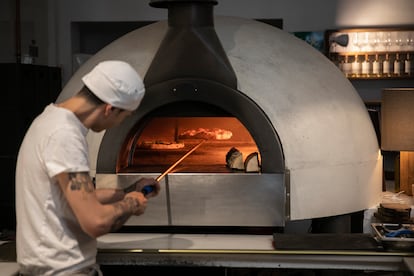 In this temple of pizza worship, they also make their own sausages using pork from Gascony. It's worth starting with a starter of loin (12.90 euros), bacon (10.90 euros), cured sirloin (12.90 euros) or braised ham (12.90 euros), and then with starters such as roasted cauliflower (8.90 euros) or leek (9.90 euros to continue), parmigiana with eggplant (14.90 euros), fried porchetta with suckling pig hollandaise sauce (11.90 euros) or burrata, capullata and truffles (18.90 euros) . In addition to their own fermented products, with La Destilateca they produce their distillates, such as Terrae, made from beets, aromatic plants, spices and kaffir.
A large window transforms the local background into a bright space. Everything is designed to make guests feel like they are in an old house where everything was used and valuable. Long wooden tables mix with vintage desks, cupboards full of utensils, wooden dish drainers, chipped mirrors, worn sofas and metal lamps. An eclectically neat interior that dominates the wood-fired oven, in a kitchen made of white tiles and marble, where the pizzas are kneaded and prepared in front of everyone.
This entire philosophy of using and caring for the ecological footprint has also led to them winning the Green Oven Award for their sustainable practices. In addition, the pizzeria has also become a dynamic place where events with professional colleagues take place, such as the Sartoria Panatieri Sessions, multi-party evenings with other renowned pizza makers. Last December Francesco Martucci, who is considered the best pizzaiolo in the world with his restaurant I Masanielli, was in Caserta (Naples).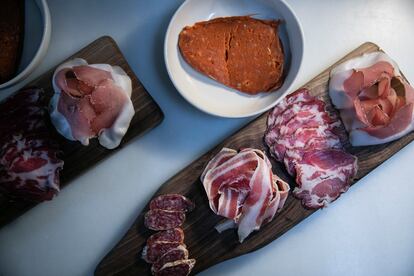 Sartoria Panatieri
Address: Calle de Provença, 330, Barcelona.
Telephone: 931 055 795
Address: Calle de L'Encarnació, 51, Barcelona.
Telephone: 931 376 385