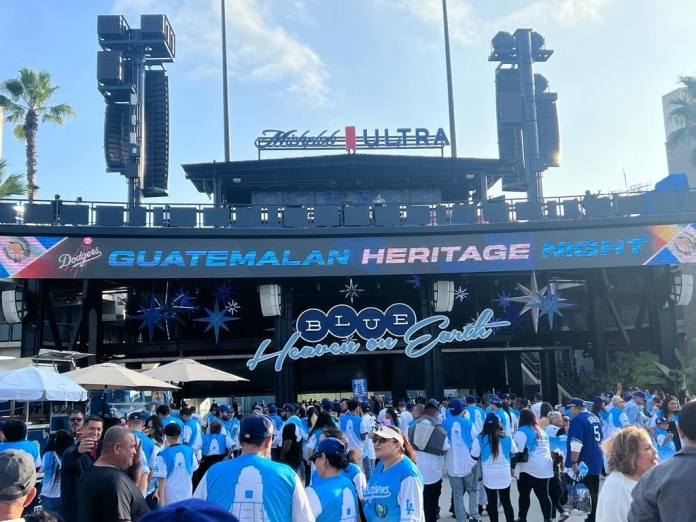 On the night of this September 20, hundreds of Guatemalans living in the United States, together with the Los Angeles Dodgers baseball team, celebrated the "Guatemalan Heritage Night" or Night of Guatemalan Heritage, which featured various local artists who celebrated the culture of the country.
Hours before the game between the Los Angeles Dodgers and the Detroit Tigers began, Guatemalans enjoyed food stalls, souvenirs and live music from the wooden keys of the Guatemalan marimba to rock music.
Compatriots filled the dressing rooms at Dodger Stadium wearing T-shirts with the distinctive blue of the Guatemalan flag, the coat of arms on the chest and the Temple of the Great Jaguar of Tikal on the back, which the Los Angeles team designed for the evening. .
https://twitter.com/_brandonxo/status/1704679310416921002?ref_src=twsrc%5Etfw
The celebration, which took place on the night of this Wednesday, September 20, is part of the celebration of Hispanic Heritage Month, which the Dodgers took advantage of to hold a celebration unique to Guatemala.
GABY MORENO PLAYS THE ANTHEM
Angelenos and Guatemalans vibrated with the voice of Guatemalan singer Gaby Moreno, who was responsible for singing the Guatemalan national anthem before the meeting.
In a live event shared on her official Facebook account, the singer-songwriter stated, "You can't imagine how nerve-wracking it is to sing in a stadium, Dodger Stadium, and another thing, What makes me very happy is that we are going to be with Arturo Castro."
"Arturo will throw the first pitch and what a thrill to experience this with so many Chapines. It's just before the game starts (…) come and celebrate the Guatemalan heritage in Los Angeles, it will be very nice to be there "honestly," he said.
CASTRO MAKES THE FIRST PITCH
Well-known Guatemalan actor Arturo Castro had the opportunity to take the mound and throw out the opening pitch in the game between the Dodgers and Detroit Tigers.
Hours earlier, the actor, who plays Jaime Castro on the Comedy Central series Broad City, showed off his trip to Dodger Stadium wearing a Guatemala national soccer team jersey, along with other migrants living in the North American country.
"I'm going to throw," he wrote in an Instagram story while showing the Guatemalans he met on his way to give the first throw of the game.
OLD RADIO IS ALSO AVAILABLE
The band Radio Viejo also announced that they would be present that evening. "Today we will be playing Chapín rock at full volume at Dodger Stadium as part of Guatemalan Heritage Night," the Guatemalan band said on its X username, formerly Twitter.
https://twitter.com/bandaradioviejo/status/1704634131492335751?ref_src=twsrc%5Etfw