CCGS Vincent Massey, the Canadian Coast Guard's new medium-class icebreaker, was inaugurated on Monday.
It is the last of three ships to be built as icebreakers as part of a $610 million contract awarded to the Davie shipyard in Lévis in 2018.
In service since December 2022, the boat officially joins the NGCC Jean Goodwill and the NGCC Captain Molly Kool to provide icebreaking services on the river, in the Gulf of St. Lawrence and the Atlantic.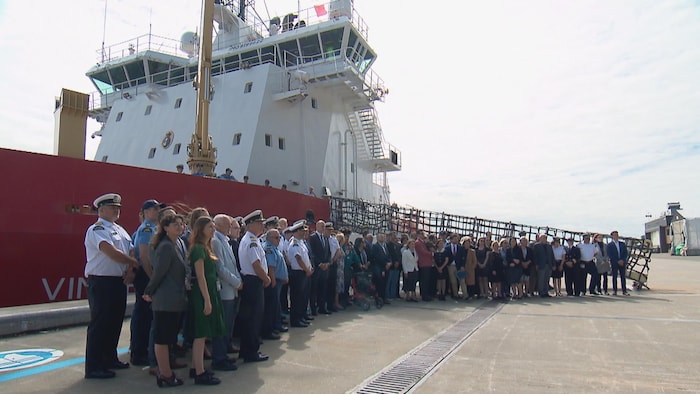 The ship was inaugurated with great fanfare.
Like all Canadian Coast Guard vessels, the NGCC Vincent Masseywhich is 92.3 meters long and 18 meters wide, is also equipped to support, if necessary, environmental interventions and search and rescue operations, indicates the Guard.
Safety at sea
It is important to ensure that the waterways around us are safe and accessibleappeared on Monday by the Federal Minister of Public Services and Procurement, Jean-Yves Duclos.
He, who is also a member of Parliament for Quebec, participated in the inauguration on behalf of his colleague Diane Lebouthillier, Minister of Fisheries, Oceans and Canadian Coast Guard.
This is a mission entrusted by the Canadian government to the Canadian Coast Guard, a world leader in maritime security and services.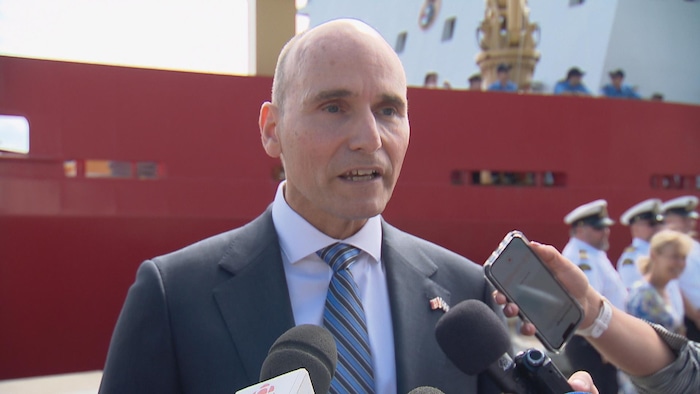 Jean-Yves Duclos, Federal Minister of Public Services and Procurement.
As part of the National Shipbuilding Strategy (…), Canada has allocated significant funds to modernize the Canadian Coast Guard fleet in the coming years.he added. Investments of around $16 billion aim to build up to 18 large ships.
To ensure the continuity of essential services during the construction of new ships, he added that up to $2 billion will be used to extend the life of existing ships, including refit, repair and maintenance work.
Le radoub is the dry docking of a ship for maintenance or repair of its hull.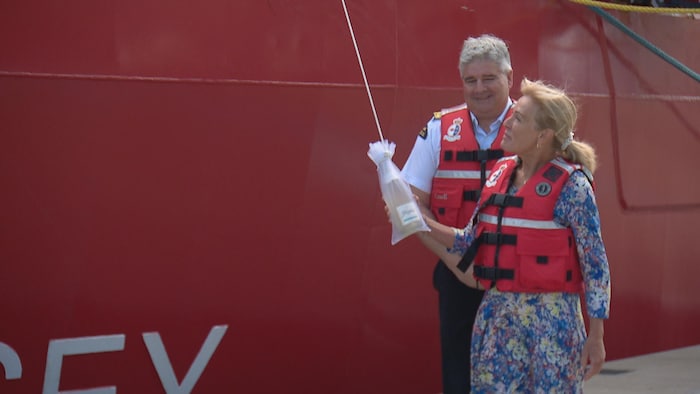 Mario Pelletier, Commissioner of the Canadian Coast Guard, and renowned Canadian children's novelist Dominique Demers, godmother of CCGS Vincent Massey.
You are a godmother touched and happy
The name given to the ship refers to Canada's first Canadian-born governor general after Confederation. He served in this role from 1952 to 1959.
spill its close connection with the outstanding achievements of the Right Honorable Vincent Massey in promoting the arts, including literaturethe Canadian Coast Guard's choice to sponsor CCGS Vincent Massey fell to Dominique Demers, Canadian children's novelist known for the series Miss Charlotte.
On Monday, the woman who celebrated her 50th career this year said that she touched and happy to be the godmother of NGCC Vincent Massey, whose noble mission I admire, which is an opening mission!
In the maritime tradition, the person who sponsors a ship is a civilian person who participates in the inauguration ceremony of a ship and who has a close interest in the operations of the ship, specifies the Canadian Coast Guard.